Roy Kronk, Man Who Discovered Caylee Anthony, Sues Casey Anthony (VIDEO)
Roy Kronk, Man Who Discovered Caylee Anthony, Sues Casey Anthony (VIDEO)
Roy Kronk, who discovered the body of Caylee Anthony and reported it to the authorities, is suing Casey Anthony for defamation for comments made in the months after the investigation began.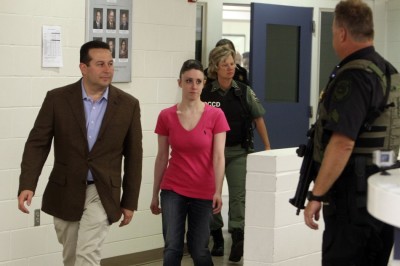 The six page lawsuit filed by Roy Kronk in Orange Circuit Court alleges defamation on its face and defamation by innuendo.
Roy Kronk accuses the Florida woman and her lawyers of trying to shift the blame for Caylee Anthony's tragic death onto him by providing baseless statements to various media outlets, Reuters reported.
"Casey Anthony, through her attorneys, made statements too numerous to recite," states the lawsuit filed by Kronks' attorney Howard Marks.
The "false and defamatory" statements that were given by Anthony when she was describing Kronk, include that he was "Caylee's killer; he is a child snatcher; he is guilty; he played a role in placing the body; he removed the remains; he planted the remains;" and "is morally bankrupt, took the body and hid it," according to the lawsuit.
Earlier this year, Casey Anthony was found not guilty of first degree murder of her child; in a case that drew international attention and national scrutiny.
Kronk is the third entity to sue the 25-year-old since she was set free. Anthony has remained out of the public eye most of the time since her release.
Zenaida Gonzalez, who has a name that closely resembles the name of the nanny who Anthony had told authorities abducted Caylee, has sued her for defamation.
Man Who Found Caylee's Body Sues Casey
Texas EquuSearch, the company that organized many searches for the child in 2008, is also suing Anthony to try and get back the one million dollars it spent conducting the searches.
In September, Kronk sued the National Enquirer for $15 million over a story headlined, "Meter reader killed Caylee," with "Casey Anthony says" in smaller print below, according to the NY Daily News.
The National Enquirer is arguing that it simply reported Anthony's claims against Kronk and gave them context.
"We state that Anthony's allegations were not supported by police reports or prior convictions," Mark Antonello, general counsel for the Enquirer's publisher, told the Orlando Sentinel in September.