Samsung Galaxy S7 Rumors: Exynos 8890, Release Date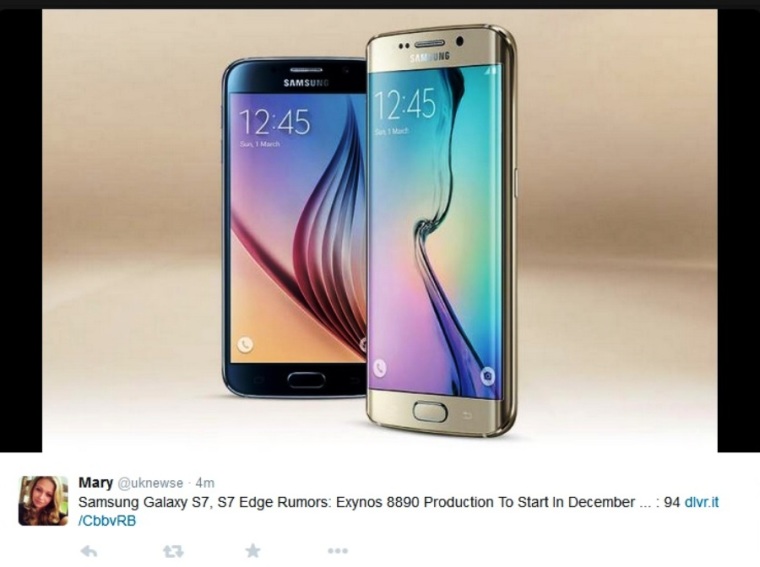 Rumors have begun to gather about Samsung's upcoming flagship, the Galaxy S7, that's expected to carry the new Exynos 8890 chipset when it launches.
With news emerging Samsung's in-house Exynos 8890 SoC is due to begin production in December, speculations have arisen that the South Korean tech giant is planning to unleash its latest flagship, the Galaxy S7, on the public by 2016, already carrying the latest chip.
According to the International Business Times, the Galaxy S7 is expected to have its official unveiling at the Mobile World Congress in Barcelona, Spain in February 2016, but other rumors have emerged Samsung is planning to jump the gun on the MWC, and announce the new handset in January next year instead.
There are speculations Samsung may do away with a flat screen smartphone model entirely, and come out with curved displays with two different sizes, a 5.2-inch iteration and a 5.7-inch variant, similar to what the company did with the S6 Edge and S6 Edge Plus.
The Galaxy S7 may also be equipped with the new smaller 16MP camera Samsung announced in July, which is geared to trim down the camera bulge users complained about in the Galaxy S6.
While there has been no concrete information about the Galaxy S7's processor, it is rumored the company will be utilizing the new Qualcomm Snapdragon 820 SoC for handsets geared for the US and China markets, with its latest Exynos 8890 chipset installed on models for all its other markets, including Europe and the UK.
Speculations on storage run to 32GB, 64GB, and 129GB iterations, similar to the Galaxy S6, while the new Android 6.0 Marshmallow is expected to power the Galaxy S7 when it arrives in the market.
There have also been speculations Samsung is planning to unveil three new models of Galaxy S7 handsets, with a completely new design to turn the competition on its head, and the information points towards a Galaxy S7, S7 Edge, and S7 Edge+ to see simultaneous release in the first half of 2016.