Samsung Gear S2 Vs. Apple Watch: Smartwear Specs Battle (VIDEO)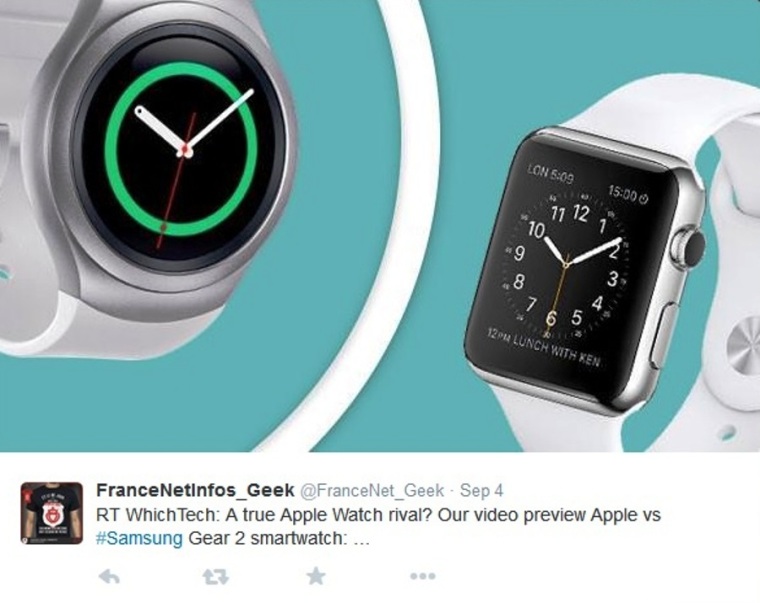 Users in the market for a smartwatch will have a host of options to choose from among the latest models, which include the Samsung Gear S2 and the Apple Watch.
Depending on users' preferences, the two brands offer different specs and features, as well as separate designs to choose from.
While the Apple Watch's 1.32-inch and 1.5-inch rectangular screen sports a sharper 326 ppi Force Touch technology, the Gear S2 only has a standard 1.2-inch 302 ppi touchscreen display.
The Apple Watch carries an S1 system-on-a-chip, while the Gear S2 may pack a 1GHz dual-core Exynos processor when it arrives in the market. Both wearables are supported by 512MP of RAM, with the Gear S2 featuring 4GB of internal storage to the Apple Watch's 8GB.
While the Gear S2 runs Samsung's in-house Tizen mobile OS, it is compatible with Android, which WatchOS 2 does not support. Both wearables also allow users to make phone calls, but the Apple Watch needs to be connected to an iPhone to access the function.
Users can navigate through the Apple Watch's menu either through its display touchscreen or its digital crown that allows zooming and scrolling. On the other hand, the Gear S2's rotating bezel on its round face presents another way to scroll through menus and adjust the watch's settings.
Both wearables are water resistant, feature fitness tracking with sensors to monitor users' daily activities, as well as heart rate sensors. Both pack voice control systems, with the Apple's Siri, and Gear S2's S-voice. The timepieces also have their own mobile payment systems on board, the Apple Pay and Samsung Pay.
The Apple Watch's 205mAh battery can last a day with full use, but is trumped by the Gear S2's 250mAh battery that can run for two to three days. Both wearables feature wireless charging capabilities.
Samsung's smartwatch has three variants, the Gear S2 in dark gray and silver, the black Gear S2 Classic, and the heavier and thicker Gear S2 3G. The Apple Watch, meanwhile comes in 38mm and 42mm sizes. While both smartwatch brands are encased in stainless steel, the Apple Watch also has aluminum and 18-karat gold variants available.
In terms of strap design, the Gear S2 sports a leather strap with a 20mm fastening, and the Apple Watch comes in a variety of band choices, with both timepieces sporting replaceable straps.
The Apple Watch has been in the market since April with a $349 price tag, while the Samsung Gear S2 is due out in October with an as-yet-unannounced price point.