Sofia Vergara: 'Most Desirable Woman's' Red Carpet Diet
This year's "Most Desirable Woman" Sofia Vergara has opened up about how she stays in shape for the red carpet.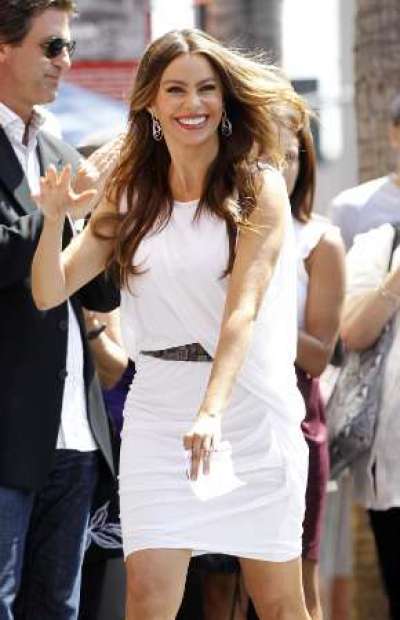 At 2012's Golden Globe Awards, the actress divulged that she ate popcorn in her limo on the way to making her red carpet appearance. More recently at the SAG Awards red carpet, the "Modern Family" star opened up about what she had eaten for breakfast.
"Day of show you can eat whatever you want," said Vergara according to Entertainment Tonight. She explained, "Not like I'm gonna get fat 10 a.m. to now."
Vergara then specified what foods she chooses ahead of red carpet events.
The 39-year-old Colombian actress said she prefers "salad, chicken, pizza, and FONUTS…" referring to the donuts that are baked and not fried.
In a past interview with Shape magazine, Vergara said that she keeps cake in her house at all times and eats it almost every day. Additionally, while at the SAG Awards Sunday, the actress tweeted a photo of herself enjoying sweet treats with the caption, "Dessert!!!"
The cast of ABC's "Modern Family" including Vergara accepted the Screen Actor's Guild Award for Outstanding Performance by an Ensemble in a Comedy Series.
Although she lost to Betty White, Vergara said she was "happy" be have been nominated for Best Actress at the awards ceremony.
"For me these events are like a big 'Modern Family' party," said Vergara according to E! News.
It is no surprise that the brunette actress tops the list of "Most Desirable Women." Vergara appears in advertising campaigns for both Diet Pepsi and CoverGirl. In response to her number one spot on AskMen's list, Tuesday the actress tweeted, "Gracias gracias! Luv it!"
AskMen.com's list also saw Sports Illustrated model Kate Upton, actress Rooney Mara, and Victoria's Secret model Miranda Kerr. To the complete list of "Most Desirable Women of 2012," visit AskMen.com.