St Louis Rams vs Arizona Cardinals Live Stream: Watch Free Online NFL Sunday Football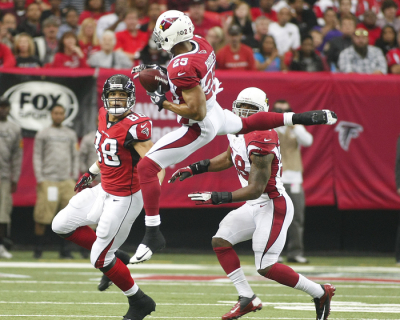 The Arizona Cardinals will face off against the St Louis Rams on Sunday afternoon in an all-NFC West match up.
A loss for either side today would likely be the end of any lingering hopes of making the playoffs, making this a must-win clash for both teams.
The game will start at 4.25 p.m. ET and can be watched online through free live stream by clicking on the link provided below.
The two teams have similar records coming into this game, with the Cardinals on 4-6 and the Rams on 3-6-1; good enough for third and fourth place respectively in an NFC West division led by the 7-2 San Francisco 49ers.
It is amazing to think that the Arizona Cardinals started this season with four straight wins. That start had people immediately marking the Cardinals down for a playoff spot, but a run of six straight losses has almost extinguished that dream. Despite many pundits now giving up on the Cardinals as postseason participants, a number of the Arizona players have come out recently to publicly state the team still believes.
Both linebacker Daryl Washington and defensive end Calais Campbell have come out this week to tell The Arizona Republic that the Cardinals are still in with a shout, and have not written off the chances of reversing the six straight losses to post six wins in a row to finish with 10-6.
Washington has said, "The season is never over until it's over. As easily as we've lost six straight, we can easily win six games in a row. Is it tough to do in the NFL? Yes, it will be. But I think these guys are still positive around here and I'm positive in believing we can finish the season off strong."
Campbell has also added, "We know we can beat anybody that we play, so if we get that one win that sparks us, we're going to try and go on a run here and make a push for the playoffs. I think 10 wins usually gets you in the playoffs. It's going to be hard to win six games in a row, but it's very possible."
Some Cardinals fans will also point out that this is simply what Arizona does; last season they were in a much worse position at 1-6, but experienced a massive turn around of form once they received that first win. They closed off the season with a run of 7-2, allowing them to end the season on 8-8.
Arizona Cardinals vs St Louis Rams is scheduled to start at 4.25 p.m. ET and can be watched online through free live stream by clicking here.