Tyson 50 Shades of Gray Spoof: Scary Movie 5 Features Mike Tyson in Christian Grey Sketch
Former world heavyweight champion Mike Tyson has spoofed "50 Shades of Grey" even before the movie has been filmed. The former boxing champ features in new film "Scary Movie 5" which hits theaters this month and mocks the popular novel, which is set to be turned into a film in the coming years.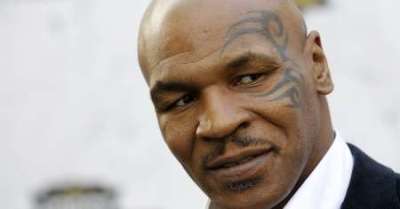 In the new film Jerry O'Connell, Ashley Tisdale and Tyson work together to mock the upcoming movie. O'Connell reportedly features as "Christian Grey," and attempts to seduce Ashley Tisdale, however, things do not turn out quite as planned.
According to the New York Post, O'Connell blindfolds Tisdale and tells her: "Prepare for a night of unparalleled passion. Your safe word is . . . deeper."
Mike Tyson then comes in from another room and tells Grey: "Golly . . . thanks for working on my prostrate like it was a speed bag. I was surprised by your performance as well."
Scary Movie 5 will be released in theaters on April 12.
Tisdale has admitted to the New York Post that she was "nervous" after finding out that 50 Shades of Grey was going to be spoofed on the new Scary Movie film.
The 50 Shades of Grey movie is famous for its erotic narrative, and Tisdale was obviously scared about what kind of content the Scary Movie would want to mock.
However, even though Tisdale explained that meeting Mike Tyson was intimidating, she admitted that the spoof was hilarious.
Scary Movie 5 is the first installment of the franchise not to feature protagonists Cindy Campbell (played by Anna Faris) or Brenda Meeks (Regina Hall), who appeared in the first four movies. Like the previous two films in the franchise, Scary Movie 5 is rated PG-13.
The only actors from any of the previous installments that appear in this film are Charlie Sheen, Chris Elliott, Simon Rex, and Molly Shannon. However, they do not portray their original characters, as Sheen stars as himself, Rex plays Dan, Shannon plays Heather, and Elliott's character is unknown.
Here is a video news report of Tyson landing the role to feature in the new Scary Movie film: