UFC President Dana White Says Tyron Woodley Is Inaccurate About Fight vs. Nate Diaz; Woodley Retaliates
UFC President Dana White Says Tyron Woodley Is Inaccurate About Fight vs. Nate Diaz; Woodley Retaliates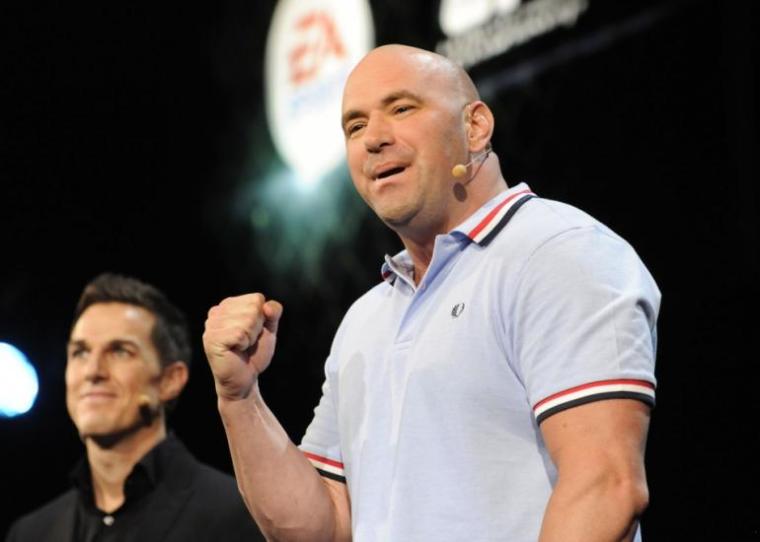 Ultimate Fighting Championship president Dana White said Tyron Woodley's claims that his fight with Nate Diaz was on the table were inaccurate. However, Woodley then retaliated by asking who between him and White had a history of lying.
Reigning welterweight champion Woodley recently said there were "conversations" being held for him to fight in July. He went as far as to claim that the UFC officials had formally offered Diaz the said fight.
However, White immediately shot down Woodley's claims.
"[Woodley's] full of s***," White said in an interview on "UFC Tonight." "That fight was never made, you couldn't be more wrong, he couldn't be more full of s***, and it's absolutely not true. It's so not true that our lawyer hit him up today and said he needs to stop saying these kind of things, because it's absolutely not true."
On the other hand, what caused Woodley's claims to make some sense was the fact that Diaz had also shown interest in fighting welterweight in the octagon, until White spoke to clear the air.
Considering that Diaz's last fight was back in 2016 where he lost a rematch against Conor McGregor, the 32-year-old fighter is understandably hungry to make a big comeback, while also pointing out that he is not getting any younger. With that, he told ESPN that Woodley was his "best option" and that he was willing to make adjustments to qualify for the welterweight division.
In the same "UFC Tonight" interview, however, White explained that they were looking to match Woodley versus Rafael dos Anjos.
"That's the fair fight, he just won a great fight against Robbie Lawler and looked good and what I love about that fight is dos Anjos will bring it. He will come after Tyron Woodley and it will be a great fight. That's the fight that's gonna happen," White further explained.
As for Diaz's case, White claimed that they had offered him at least five fights in the previous months which the latter reportedly turned down. The UFC president reiterated that he did not expect Diaz to get back in the octagon anytime soon.
"Will he fight this year? Maybe he'll come out and see he wants to fight eventually, but no, he's turned down every fight we've offered," White added.
Following White's statements, Woodley fired back on social media and asked his Twitter followers: "Who has a history of being full of s***. TW or DW?"
While Woodley did not elaborate, he was obviously referring to several instances when White was caught providing inaccurate statements, like the time when the latter denied that UFC was being sold for up to $4 billion when ESPN reported it in May 2016. Days later, White told the Las Vegas Review-Journal that the article was "overblown" and ESPN reporter Darren Rovell was "not a fan of facts."
However, in July, the news turned out to be true as WME-IMG, Silver Lake Partners, Kohlberg Kravis Roberts, and MSD Capital took over UFC's operation.