Vanessa Bryant Arrives in London Amid Kobe Partying Shirtless Scandal
Vanessa Bryant Arrives in London Amid Kobe Partying Shirtless Scandal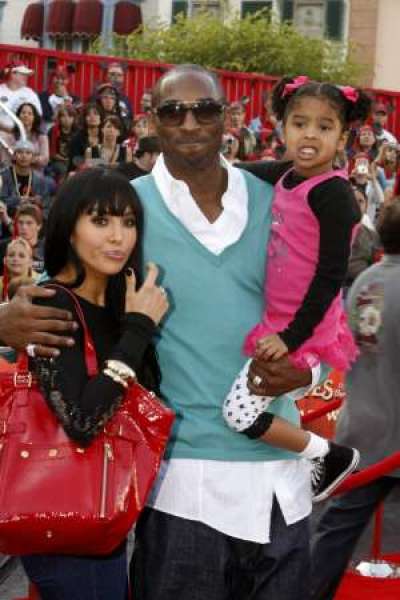 Vanessa Bryant has landed in London for the Olympics just days after her husband Kobe was photographed shirtless while partying with two women at an after party in Spain.
Kobe, who is playing for Team USA in the 2012 Olympic games, was recently photographed in the compromising position, which some critics suspect prompted Vanessa to become suspicious and fly over.
Photographs of the 33-year-old partying without his shirt and surrounded by females went viral on social networking site Twitter and while some fans questioned his behavior, new reports have quoted a source as explaining that he was without a shirt only because "someone spilled an entire drink on him ... his shirt was soaking wet," according to TMZ.com.
The report goes on, claiming that both of the women who appeared in the photos alongside Kobe attended the party with their significant others and that nothing unhealthy had occurred.
The controversy comes just one month after Vanessa, 29, reportedly called off her divorce from Kobe to work toward repairing their marriage.
The mother of two had initially filed for divorce on December 16, 2011 amid reports of infidelity, although six months later, she chose not to sign the documents that would make the divorce final.
Carla Dibello, who works as a producer for the E! Network, was identified as being the other woman in Kobe's alleged string of affairs by several media outlets, although these reports have never been confirmed.
Kobe is no stranger to sex scandals. In 2002, the Lakers shooting guard was accused of sexually assaulting a 19-year-old Colorado woman, although prosecutors eventually dropped the case after the two agreed on a private settlement.
Vanessa has allegedly had trust issues in the marriage ever since, despite staying married to Kobe for 10 years. She is said to have agreed to a reconciliation particularly for their two daughters Natalia Diamante Bryant, 9, and Gianna Maria-Onore Bryant, 5.
Kobe Bryant DIVORCE - Wife Knew About Cheating