Walmart Black Friday 2012: iPad Deal - $75 Gift Card to Fight Amazon Sales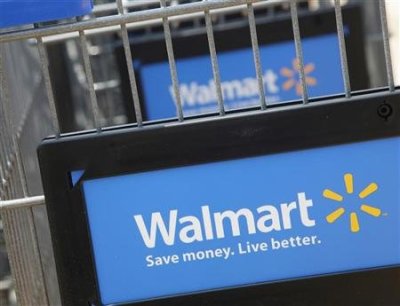 Black Friday 2012 and Cyber Monday are approaching, and Walmart has revealed a number of new deals for customers to try and help fight off competition from online retailers such as Amazon.
With Black Friday being the busiest shopping day of the year, customers would be prudent to check out deals and plan ahead where and what to shop for in advance.
Many customers this year are wondering whether to avoid the chaos of going to stores to stay at home and order deals online. Walmart has recognized the online threat and acknowledged that many shoppers will be having that thought.
In order to fight off online competition it has now released an extensive list of deals that will be available in its stores are various times, guaranteeing they will be in stock for certain time periods. It is hoping that the top savings being featured will help it fight off competition from other prominent online stores such as Amazon.
Online shopping experts, Amazon has already posted up offers of daily deals in the countdown to Black Friday. It appears as though the entire week of shopping around Black Friday and Cyber Monday will be packed with deals at the online retailer.
However, Walmart is attempting to muscle in on the competition and has recently announced that it will be offering numerous low-priced electronics goods to get shoppers into their stores.
Walmart sent out an email ad recently detailing many of its deals, and describing that its Black Friday 2012 sales drive would begin as early as 8 p.m. on Thanksgiving night.
Traditionally major stores have opened up for Black Friday days on midnight after Thanksgiving and have attracted lines of shoppers fresh from their Thanksgiving dinners. However, Walmart is not allowing shoppers to digest their food this year and is starting its sales early.
At 8 p.m. on Thanksgiving night Walmart will start a two hour sales event in its stores. As soon as those sales end they will launch a separate two hour event starting at 10 p.m.
According to the store's ads the 10 p.m. event will feature low-priced Blu-Ray players from LG at just $38. In addition iPads will go for $399 but will include $75 gift cards with the purchase. In another special deal Walmart will be selling 32 inch LCD TVs for just $148.
All three of those items are "guaranteed" by Walmart to be in stock in its stores for at least the first hour that the sale starts. That no doubt will spark thousands of shoppers to fight it out to get their hands on those deals before the shelves are empty.
The Walmart flyer is extensive and is a massive 45 pages long. It includes goods from video games to toys, and other high end electrical equipment.