WWE Announces Biggest Royal Rumble Yet; Venue Set in Saudi Arabia
WWE Announces Biggest Royal Rumble Yet; Venue Set in Saudi Arabia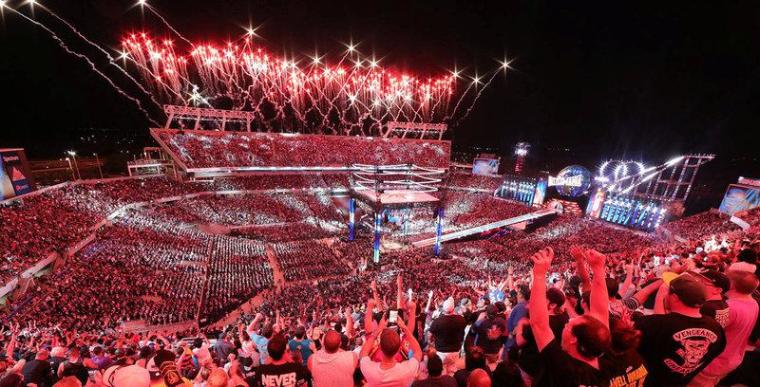 The WWE has recently announced that the Greatest Royal Rumble match will occur in Saudi Arabia this year.
The upcoming event is expected to be filled with "firsts" for the entertainment network. This is going to be the most massive Royal Rumble event in the history of the WWE since it will feature at least 50 professional wrestlers in the ring.
The WWE has named a few of the superstars who will be joining the occasion, and these include AJ Styles, Braun Strowman, John Cena, Triple H, Roman Reigns, The New Day, Randy Orton, Bray Wyatt and Shinsuke Nakamura.
To make the event happen, the WWE partnered with the Saudi General Sports Authority.
The Greatest Royal Rumble will happen at the King Abdullah Sports City in Jeddah, Saudi Arabia, on Friday, April 27. It has yet to be confirmed if the historic Royal Rumble match will be shown in pay-per-view or will be filmed for a later telecast for fans in the West. But the WWE promised that more details on this matter will be released "in the coming weeks."
"This event is part of a 10-year strategic multiplatform partnership in support of Vision 2030, Saudi Arabia's social and economic reform program," WWE's announcement said.
Meanwhile, WWE Chairman & CEO Vince McMahon also said: "Our partnership with the Saudi General Sports Authority reflects a long-term commitment to present WWE's world-class entertainment to a global audience on a grander scale than ever before."
It appears that the upcoming Greatest Royal Rumble in Saudi Arabia is just one of several major WWE events to be held overseas. Earlier this month, the Herald Sun (via Wrestling Inc) reported that the entertainment company was collaborating with several local Australian companies and agencies to hold another major WWE event.
The target venue for the rumored Australia event is no less than the Melbourne Cricket Ground which can accommodate more than 100,000 spectators. It is likely to occur in October since the MCG will also host the AFL Grand Final on Sept. 29.