5 Common Causes of Conflict in Marriage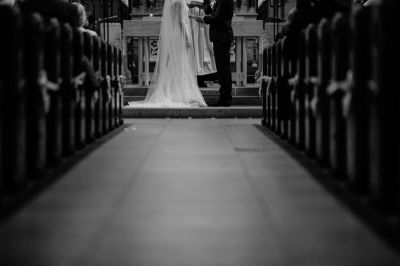 Our first fight as a married couple was at our wedding reception. More accurately, it was in the car immediately after the reception—but it started at the reception. For months prior to our wedding, my soon-to-be wife, Terrie, had invested untold hours into making reception favors—fabric roses with a candied almond as the center—for our special day. She explained to me ahead of time that during the reception she and I were to take a basket of these around and personally thank each person who was there, giving them a rose as we did so.
To Terrie, this labor of love was a way to express personal gratitude to those who had invested in our lives. I viewed it as a thoughtful idea and didn't think much more of it—until the reception. After we had delivered roses to about six people, I realized this was going to take way too long. Totally forgetting the reasons Terrie had made the roses and why she wanted to hand deliver each of them, I saw that basket only as an obstacle to getting out of the reception and on to our honeymoon.
Inspired with a great idea, I grabbed the mic from our emcee and announced, "If there is anyone who would like one of these roses, come up and get one!" My idea was a success. We were immediately flocked by every child in the room, and I watched with joy as the roses disappeared. I, the rose-conquering hero, whisked Terrie out to the car, and we were off.
We were hardly away from the church when I looked over and saw Terrie's lip quivering and her eyes filling with tears. I couldn't believe it! How in the world could she be unhappy? We were just starting the happiest week of our lives!
"What's wrong, honey?" Through broken sobs she got out, "How could you give out all the roses—to the kids? I didn't even get to thank those ladies who came to our wedding, who mentored me, who invested in our lives. They came to our wedding, and we just ignored them..."
So there it was—we had been married less than an hour and already we had conflict. In that moment, Terrie and I both thought that our disagreement was over candied-almond roses. Looking back, that wasn't the issue at all. The conflict was actually over a difference of perspective and was rooted in insensitivity on my part. So what does cause conflict in marriage? There are many surface causes, but we can boil them down to five common root issues:
1. Selfishness—I'm not saying that every disagreement should be solved by one spouse continually yielding or saying that what does matter to him or her doesn't matter. But often conflict is caused because we care more about ourselves than we do about the other person or the relationship—at least at that moment.
Selfishness is not the absence of love; it is self-love. James 4:1 gets to the heart of it: "From whence come wars and fightings among you? come they not hence, even of your lusts that war in your members?" It is our insistence on having what we want—even at the expense of the other person's happiness—that can create conflict.
2. Pride—Proverbs 13:10 says, "Only by pride cometh contention: but with the well advised is wisdom." Conflict and contention do not have to be synonymous. It is possible to disagree without being contentious, but constant conflict usually includes contention. Pride makes us unwilling to admit when we are wrong or to acknowledge another person's point of view. Rather than apologizing, we defend our behavior. Where there is contention in a relationship, pride is at work.
3. Pettiness—Some things really are too small to argue about. Pathological pettiness turns every disagreement into right versus wrong, with one person having to be proven right. This is usually rooted in selfishness and pride.
4. Fear and insecurity—When someone who has been hurt feels a conflict coming on, often they withdraw to avoid it, rather than engaging in resolution. Unfortunately, problems left unsolved or with only surface solutions usually fester. The increasing tension from what could have been solved grows larger, which, in turn, makes an insecure or fearful person even less likely to be willing to deal with it.
First John 4:18 provides the answer to fear: "There is no fear in love; but perfect love casteth out fear: because fear hath torment. He that feareth is not made perfect in love." Where fear is involved, couples need to identify that fear before solving a conflict and assure the other that in whatever way the conflict is solved, their non-negotiable is their love for one another.
5. Satanic attack—There can be no doubt that marriage faces enemies that are designed and empowered by Satan himself. Because marriage is a picture of Christ and the church (Ephesians 5:32), Satan hates it and wants to destroy it. Every time a Christian family is broken, the testimony of Christ is harmed. Every time a couple lets conflict grow between them, their own walk with the Lord is harmed.
You have an enemy who is out to destroy your relationship. First Peter 5:8 warns, "Be sober, be vigilant; because your adversary the devil, as a roaring lion, walketh about, seeking whom he may devour." Recognizing this shouldn't make you afraid or "see a demon behind every bush" in conflict. But it should add urgency to dealing with conflict in a godly way rather than reacting in pride or selfishness or pretending no conflict exists.
One or more of these five causes is usually at the heart of ongoing conflict within marriage. Often they seem small (what's a little selfishness in an otherwise okay relationship?), but if these unhealthy roots are allowed to remain without being addressed, the relationship will weaken over time.
Dr. Paul Chappell is the senior pastor of Lancaster Baptist Church and the president of West Coast Baptist College in Southern California. Follow him on Twitter
@PaulChappell
and find him on
Facebook
. He and his wife, Terrie, have written the book titled 'Are We There Yet?: Marriage—A Perfect Journey for Imperfect Couples.'