Artificial intelligence: Blessing or curse?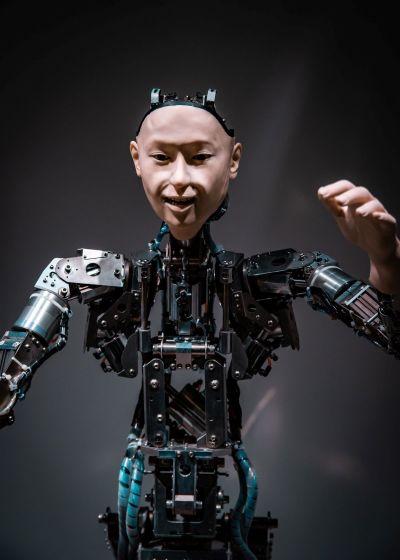 In order not to hear about the positive and negative factors related to the recent significant advances in Artificial Intelligence (A.I.) in the last year or so, one would have to be either hearing or sight impaired. Leading experts in the field are talking about scenarios everywhere from a new golden age to dystopian visions of the end of humanity as we know it. 
What are Americans to think when they read such disparate interpretations of the possible consequences of the rapidly expanding technological expertise in A.I.? Should our government seek to appoint experts to regulate how the technology is to be applied? We know how the Chinese Communists in particular are rapidly advancing their research in this area and many feel Americans cannot fall behind China from a national security perspective.
As American citizens ponder the answers to these questions, there are several critical factors that must be kept in mind.
First, one must constantly challenge the all-too-often belief that change inevitably means "progress." Americans seem peculiarly susceptible to this myth, and all too often it leads them to enthusiastically embrace new, technological advances without asking important questions such as what the prices are to be paid for this or that technological advance, financial, social and cultural.
And there are always prices to be paid for technological "advancement." We should always ask what the anticipated negative changes are, what their impact is, and how they can be mitigated and ameliorated.
For example, air conditioning was a tremendous technological advance, making the "sunbelt" possible. Having been raised in Houston, known locally as "sweat city," I, as an adolescent, looked upon air conditioning as a miraculous invention and a tremendous blessing. And it was.
However, it also destroyed neighborhoods as Americans hermetically sealed themselves in their homes to insulate themselves and conserve the expensive air-conditioned air. Consequently, we did not know our neighbors in the same way we did previously. I grew up in a Houston neighborhood in the late 1940s through the mid-1960s, and we knew every family on our street and all of their family members. Gradually, as home after home was air-conditioned, we lost touch with family after family as we no longer sat on our porches and yards and visited with each other. How many neighbors do you know now that air-conditioning has become almost ubiquitous?
Second, how are we going to regulate the development of this new technology to mitigate abuses? This assumes there will be abuses (and there will be) since the inventions are being made by human beings, and human beings are flawed both in their desires and judgments. As the confessional statement of my own Southern Baptist faith tradition puts it,
"Through the temptation of Satan man transgressed the command of God, and fell from his original innocence; whereby his posterity inherit a nature and an environment inclined toward sin, and as soon as they are capable of moral action became transgressors and are capable of moral action became transgressors and are under condemnations." (The Baptist Faith and Message, Article III)
The prophet Jeremiah proclaimed,
"The heart is more deceitful than all else
And is desperately sick;
Who can understand it." (Jer. 17:9)
It has been said that the scientific revolution was led by devout Christians who saw God as a revealed God of order and that they could "think God's thoughts after Him." Unfortunately, unlike God, all humanity has a fallen, sinful human nature.
Consequently, the will to power, the will to exploit, the will to subjugate fellow human beings will always be close at hand, like a ravenous wolf, waiting to pounce at the opportune time.
It is somewhat unnerving to witness human beings who are blissfully unaware of the flaws in human nature. We must constantly remind ourselves of the potential depravity always lurking, ready to blind, ready to pounce.
William Golding's Lord of the Flies serves as a cautionary tale in this regard. In this now-famous 1954 novel, English schoolmaster William Golding writes of a group of English school boys who are marooned after their plane crashes on a tropical island in which all the adults are killed. Golding wrote Lord of the Flies in response to one of the most popular novels of the late 19th and first half of the 20th century, R.M. Ballantyne's The Coral Island published in 1857.
Generations of British school boys had loved this tale of adolescent boys, left without adult leadership after their ship crashes on a desert island. They proceed to overcome obstacles, and "civilize" things in a very British colonial way.
Golding said, "I teach English school boys. This is not what would happen if they were left alone without adult supervision." He believed they would quickly revert to savagery against each other.
If the 20th century's experience is taken seriously, Golding's dystopian novel is far more realistic in reflecting human nature.  
The terrible experiences of the first half of the 20th century in Europe thoroughly disimbued Golding of any illusions about human nature. Golding said that The Coral Island "rotted to compost" in his mind, and in the compost "a new myth put down roots."
Observation tells us that Lord of the Flies is far more indicative of true human nature unredeemed by Christ than the Victorian colonial myth of The Coral Island.
As Christians, as Americans, as human beings, we have a moral obligation to ask as many penetrating questions about technical miracles like A.I. What are the advantages? What are the possible negative consequences? How can those consequences be mitigated? Is this something that should be done; and if yes, under what ethical guidelines?
To ignore these issues is to fail our responsibilities to our fellow human beings.
So, let us be about the business of asking the right questions, and seeking the Lord's guidance every step of the way.
Dr. Richard Land, BA (Princeton, magna cum laude); D.Phil. (Oxford); Th.M (New Orleans Seminary). Dr. Land served as President of Southern Evangelical Seminary from July 2013 until July 2021. Upon his retirement, he was honored as President Emeritus and he continues to serve as an Adjunct Professor of Theology & Ethics. Dr. Land previously served as President of the Southern Baptist Convention's Ethics & Religious Liberty Commission (1988-2013) where he was also honored as President Emeritus upon his retirement. Dr. Land has also served as an Executive Editor and columnist for The Christian Post since 2011.
Dr. Land explores many timely and critical topics in his daily radio feature, "Bringing Every Thought Captive," and in his weekly column for CP.