Christian Billboard Removed: A Pastoral Perspective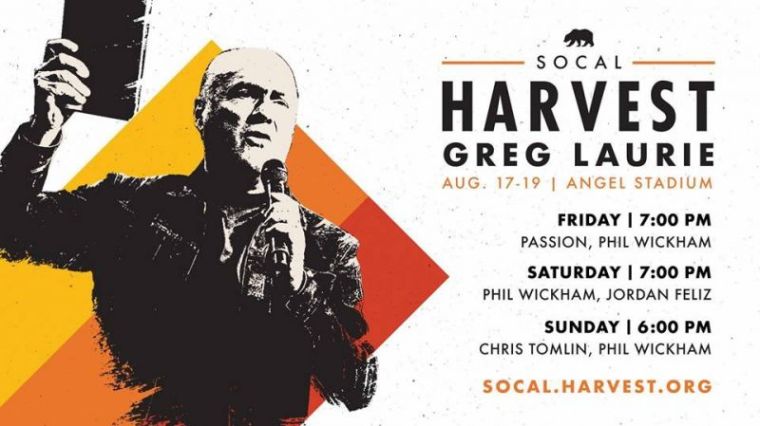 Earlier this month, billboards that hung on the property of Newport Beach's Fashion Island and the Irvine Spectrum were taken down after several complaints were directed toward the Irvine Company. This is the SoCal Harvest Crusade, which has posted up ads around the Southern California area for a few years. Yet, this is the first incident of its kind in which a SoCal Harvest ad received complaints and was forced to be taken down due to peer pressure. A full refund was given to Harvest Riverside Church.
What was on this billboard that caused some people to be offended? As Pastor Greg Laurie of Harvest Riverside explains to CBS News, "This is a Christian event ... but notice on the poster it says Harvest, my name." The banner depicts Greg Laurie speaking and holding a black colored book, which is not explicitly labeled as a Bible. But apparently, it was obvious to some people, and that's when they got offended.
Laurie shares some further thoughts, "I'm offended all the time. In malls, things I see in billboards, but I'm not out to boycott it, especially if they paid for it."
Technically, the owner of the malls can do whatever they want with the billboards. The discussion at hand is not about whether it is right or wrong to post up religious based events on public property. The real issue is whether the posting or taking down of such ads are in line with our nation's belief in free speech, and to some degree, freedom of religion.
God's word tells us that the world and all that is in it was created and sustained by God. When humanity fell due to the original sin of Adam, the entire human race took on a sin nature that caused them to be innately distanced and fearful of the Lord God. Jesus Christ, the Son of God, came to this world to reconcile sinners onto God, which He did through His substitutionary death on the cross to pay the penalty for our sin debt. Sin brings about the expectation of God's wrath in hell, but Jesus paid the fine with His life so that we can be forgiven and made righteous when we believe in Jesus as Lord and Savior. Christ promised that He will return again in the future to establish His physical kingdom on earth. But until then, this world's economic, social, and political culture will not resemble the kingdom of God. Christians are kingdom citizens who live in this sin-cursed world, which will not be receptive to the light of God's word and His rule.
It's interesting to note that the Bible does not advocate freedom of speech and freedom of religion, because He created all people in this world to live a certain way, which is to worship God and not idols. A failure to live up to that standard leads to accountability and final judgment. However, God has used freedom of speech and freedom of religion, in countries such as the US, as a means of common grace for His people. It thus allows for Christians to freely practice and live out their faith in a culture that would be otherwise against them. Freedom of speech can be an agent of tremendous good, but also of tremendous evil if exercised by a wicked person.
If America wants to live by freedom of speech, then Christians should certainly be entitled to benefit from that philosophy as well. This means no one has any right to silence or harass another person's worldview or ideology. But this incident with the SoCal Harvest banner isn't the first, and most likely will not be the last, time that we see a double standard being played out in regards to Christianity. It's odd to believe in free speech but at the same time lash out at the actions of a person who is simply expressing what he believes, in this case an invitation to a Christian event.
This begs the question of what would have happened if the mall displayed a paid ad promoting gay pride, abortion, or Sharia law? Would people have complained about that? If so, what would the mall have done? Either they would have to take it down out of respect for those bothered by it, or continue to keep the ad up in the name of political correctness.
As Proverbs 26:5 says, "Answer a fool as his folly deserves, that he not be wise in his own eyes." Because fools often times live by a incoherent standard, it is sometimes necessary to call it out and expose it in order to bolster the truth and consistency of the Christian worldview. When people live by God's law, then everything in life is true, sensible, harmonious, and edifying. Any other worldview would prove confusing if not detrimental to live by. This is an example we are seeing in this situation with free speech.
The Bible does not call Christians to protest or take vengeance on unbelievers in instances like this. Matthew 5:44 says, "But I say to you, love your enemies and pray for those who persecute you ..." Christians are called to continue to be a good witness onto unbelievers, always praying for and working for their salvation in the Lord. In times of unjust treatment of the church by outsiders, God vindicates the cause of the church, as He has done many times in history.
We see instances in Scripture when God takes the unjust actions of the enemy and turns it around for good (Romans 8:28). In Acts 12, Herod does violence to the church and imprisons the Apostle Peter. This does not end in defeat for the church, as the Lord sends an angel to free Peter from prison. Moreover, God strikes Herod down in due time. This is not meant to say that God always strikes down unbelievers onto death for their actions, but He does take their attacks against the church and use it to further advance His gospel work.
So what is God's redeeming work in the SoCal Harvest incident? We cannot read the mind of God, but we see some great results of this tragedy. The event has gotten media publicity, which spread awareness of the gospel and the Crusade. Perhaps it might have even drawn some sympathy for the cause of the church. Perhaps this incident drew more people to the SoCal Harvest event, and led to the more professions of faith.
In any case, we are called to pray and to persevere in the work of God, trusting that God is on our side and will continue to vindicate the cause of the church. As Galatians 6:9 teaches, "Let us not lose heart in doing good, for in due time we will reap if we do not grow weary."
Steve Cha is teaching pastor of Grace City LA.