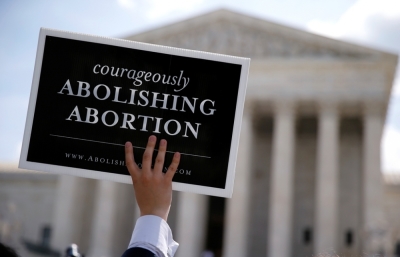 Across the country, Washington D.C. is well known in the pro-life movement as a haven for abortion on-demand. Not only does the nation's capital have zero laws regulating or restricting abortions, it also uses taxpayer dollars to fund them.
In 2016, Planned Parenthood opened a multi-million dollar mega center there, drawing national attention and outrage over both its opulence and its proximity to a neighboring elementary school. Since its opening, the location has hosted lavish fundraisers and even an interfaith religious ceremony in which a number of Christian, Muslim, Jewish, Hindu and secular leaders "blessed" it.
One of their goals was to "mobilize...communities of different faiths" in support of "reproductive freedoms."
Although without the fanfare or controversy of a Planned Parenthood, another center will soon be opening its doors in D.C. too. This spring, Capitol Hill Pregnancy Center, located just blocks from the Planned Parenthood, plans to open a satellite location on the city's southeast side.
The contrast between the two is stark: the one a $20 million spectacle professing to serve low-income women; the other a humble home donated by a solitary church in one of DC's most troubled areas. The one is made to feel like "a combination Apple Store, Starbucks, and Anthropologie;" the other is lovingly furnished by a pastor's wife.
Though Planned Parenthood pays lip service to mobilizing communities of faith, Capitol Hill Pregnancy Center owes its new location entirely to one community of faith that mobilized on its behalf.
A partnership is born
On Sanctity of Life Sunday 2016, a group of members from The New Macedonia Baptist Church in D.C. gathered to watch the documentary Maafa 21. The film, produced by Mark Crutcher of Life Dynamics Institute, explores how Planned Parenthood and the broader abortion industry have targeted minority communities throughout the last century.
Janet Durig, executive director of Capitol Hill Pregnancy Center, was invited to speak.
"They invited me to come in and talk about our clients, and the struggles of our clients, and how they could help," said Durig. "They were thrilled and touched by the work of the Capitol Hill Pregnancy Center. And I told them there are pregnancy centers all over the country, as well. And so out of that we gleaned some new volunteers, and a new church to be connected with."
Durig's talk went so well that the following year, the church invited her back. That year, during her talk, she mentioned something she and her team had been praying about: the call to open another center. It was something she always mentioned at events like this in case somebody had a space available.
At a break in the event, Durig saw the pastor, Reverend Patrick Walker, pull a group of people together and speak with them.
"After the break," she said. "He went to the microphone, and turned and looked at me and said, 'Janet, I want you to know that we have a small house right next door to the church, and it is empty. And I've been praying for a while asking God what does he want done with that.' And he said, 'We want to offer that to you to have your pregnancy center there.'"
Across the river
New Macedonia and the adjoining house are located in Southeast Washington D.C., across the river from Capitol Hill. Long considered one of the most dangerous parts of Washington D.C., it is also an area many of the center's clients belong to, as well as an area Durig and her team had been praying for.
"That's a neighborhood that really needs a pregnancy center," Durig said. "And we've been praying and praying for God to open up something that we'd be able to afford, or something that we might be able to use of someone else's for a long time."
Although her center draws clients from every zip code in D.C., Durig is hopeful that the new location will be more accessible to the many clients they see from the southeast side.
"Even though we get a lot of clients from there now, they have to take one or two buses to get to us," said Durig. "This will be much more convenient for them. And I'm assuming, and hoping, that we see an increase of clients because of the locality--and that we'll see even more clients than we've seen up to now on a yearly basis...that we can help even more people."
The entire church body
The new location, called simply "The Southeast Pregnancy Center," will be open on Mondays and Tuesdays, but Durig anticipates opening the center for more hours as their clientele grows. Currently, Capitol Hill Pregnancy Center serves over 2,000 people annually. Durig is hopeful that eventually, The Southeast Pregnancy Center will see hundreds.
Pastor Walker assured her, "As this ministry grows, we'll grow with you."
In February, Pastor Walker led supporters in a dedication of the new center to God.
"We at the center made public thanks to Pastor Walker and the entire church body," said Durig. "Because the entire church body has been behind this project to the point that even the pastor's wife, Priscella Walker, actually she did the decorating. And the church paid for the furniture that furnished our new pregnancy center. So it's really been a wonderful partnership and team effort."
For Durig, partnerships like this have been vital to her center's operations.
"You can't do a Christian pregnancy center without partnerships," said Durig. "You really can't. You cannot run a pregnancy center without good partnerships."
Aside from her partnership with New Macedonia, she cited a number of other area churches that host the center's parenting classes, post-abortion ministry meetings, and other gatherings.
"Many, many centers all across the country have these kind of partnerships," she said. "It really does take this to keep us alive. We are just tremendously grateful for all the outpouring."
Katie Franklin is managing editor for Pregnancy Help News and content writer at Heartbeat International. She previously served as director of communications for Ohio Right to Life and is a graduate of Denison University where she earned a B.A. in history in 2013. Katie lives in Columbus, Ohio with her husband Miles and daughter Elizabeth.