Diamonds in the Earth and Gemstones in Heaven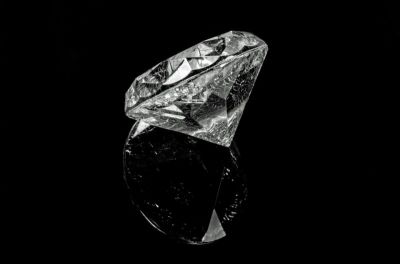 Researchers have recently discovered that there are a quadrillion tons of diamonds deep within the earth. That's a one with fifteen zeroes! Geologists used sound waves to make this astounding discovery. David Bressan reported, "Unfortunately, the diamonds are buried so deep, 90 to 150 miles below the earth's surface, that there is no way to get them."
Imagine for a moment that you could somehow get to this stash. Would you risk life and limb in an effort to secure a piece of this fortune? And what would you do with this earthly treasure if you somehow managed to hit such a massive jackpot?
It shouldn't surprise us that God placed diamonds inside the earth, especially since Scripture reveals that there are a variety of precious gemstones in heaven. The jewels of heaven are mentioned in the following Old Testament passage about Satan, who was originally created by God as a holy angel:
"You were the model of perfection, full of wisdom and perfect in beauty. You were in Eden, the garden of God; every precious stone adorned you: ruby, topaz and emerald, chrysolite, onyx and jasper, sapphire, turquoise and beryl. Your settings and mountings were made of gold; on the day you were created they were prepared. You were anointed as a guardian cherub, for so I ordained you. You were on the holy mount of God; you walked among the fiery stones. You were blameless in your ways from the day you were created till wickedness was found in you. Through your widespread trade you were filled with violence, and you sinned. So I drove you in disgrace from the mount of God, and I expelled you, O guardian cherub, from among the fiery stones. Your heart became proud on account of your beauty, and you corrupted your wisdom because of your splendor. So I threw you to the earth." (Ezekiel 28:12-17)
Jesus referred to this cataclysmic event when He said, "I saw Satan fall like lightning from heaven." (Luke 10:18)
Lucifer held a prominent position among the angels amidst all the gemstones of heaven, but this ambitious angel forfeited all of it in exchange for eternal suffering in the lake of fire. In the book of Revelation the apostle John reveals Satan's future abode: "And the devil, who deceived them, was thrown into the lake of burning sulfur, where the beast and the false prophet had been thrown. They will be tormented day and night forever and ever." (Rev. 20:10)
John also revealed these details about the gemstones of Christ's eternal kingdom:
"The wall was made of jasper, and the city of pure gold, as pure as glass. The foundations of the city walls were decorated with every kind of precious stone. The first foundation was jasper, the second sapphire, the third chalcedony, the fourth emerald, the fifth sardonyx, the sixth carnelian, the seventh chrysolite, the eighth beryl, the ninth topaz, the tenth chrysoprase, the eleventh jacinth, and the twelfth amethyst. The twelve gates were twelve pearls, each gate made of a single pearl. The street of the city was of pure gold, like transparent glass." (Revelation 21:18-21)
And so you see; there are definitely diamonds in the earth and gemstones in heaven!
The diamonds in the earth are out of reach and will eventually dissolve in fire: "The day of the Lord will come like a thief. The heavens will disappear with a roar; the elements will be destroyed by fire, and the earth and everything in it will be burned up." (2 Peter 3:10)
The gemstones in heaven, on the other hand, are not out of reach and will never be destroyed by fire or anything else. Christ's eternal kingdom is adorned with jewels and is actually within your reach today, but eternal life in Paradise is only given to those who repent of their sins and receive the King of heaven by faith. (see John 3:1-21)
One of the last verses of the Bible declares: "Whoever is thirsty, let him come; and whoever wishes, let him take the free gift of the water of life." (Revelation 22:17)
The bottom line is that you will exist forever in one of two places. I am not making this up. God's Word presents absolute truth. And you get to decide whether or not to take God at His Word. I hope you open your heart to the Lord my friend. Simply humble yourself before your Creator and accept Christ as your Savior by turning away from sin and trusting Jesus to forgive you.
What good are diamonds in the earth if you can't get to them? And what good are gemstones in heaven if you never get to see them? "Today is the day of salvation." (2 Cor. 6:2) Tomorrow is not promised to any of us. By the way, you might be interested in checking out a recent article I wrote entitled, "The Age of the Earth Is God's Business."
What will you do with Jesus? Where will you spend eternity? Would you like to actually see the gemstones of heaven in person one day? You make the call. And then be assured of this: God has never told a lie, unlike "the father of lies" (John 8:44) who got kicked out of heaven after becoming bored with the Lord and the gemstones of heaven. Lucifer wanted to become the focus of attention himself. So how is that working out for him?
When Jesus becomes your treasure and your Lord, you stop trying to impress others and you stop trying to usurp God's rightful place of authority over your life. Pride leads men and angels to rebel against their Creator and destroy themselves in the process. In response to man's sin and rebellion, "God commands all people everywhere to repent." (Acts 17:30) So what will be the final verdict regarding your immortal soul?
We have all broken God's commandments and the Lord's message to us is clear:
"God opposes the proud but gives grace to the humble. Submit yourselves, then, to God. Resist the devil, and he will flee from you. Come near to God and He will come near to you. Wash your hands, you sinners, and purify your hearts, you double-minded. Grieve, mourn and wail. Change your laughter to mourning and your joy to gloom. Humble yourselves before the Lord, and He will lift you up." (James 4:6-10)
John wrote, "At once I was in the Spirit, and there before me was a throne in heaven with someone sitting on it. And the one who sat there had the appearance of jasper and ruby. A rainbow, resembling an emerald, encircled the throne." (Revelation 4:2,3)
And guess who is sitting on the throne? I will give you a clue. He is not a created being, like angels and humans. And the sooner you bow down before your Creator in repentance and faith, the sooner your name will be written in heaven's reservation book.
Dan Delzell is the pastor of
Wellspring Church
in Papillion, Neb. He is a regular contributor to The Christian Post.