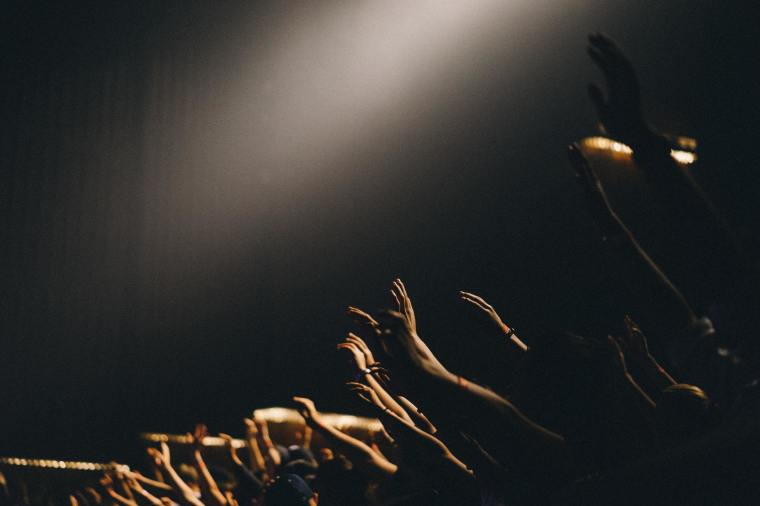 Several years ago I was at a place in my life where I had turned away from God and was living a very sinful life. During those days I was a bartender and a bouncer in a nightclub and was dating different girls at the same time. As the song lyric said back then: "four that wanted to own me, two that wanted to stone me, and one she was a friend of mine."
I then moved to Jacksonville, Florida, to try to start my life over. In the foolishness of my heart, however, I started right back into the same type of lifestyle that I had been living. One night at a nightclub in Jacksonville, a young woman approached me and asked me if she could buy me a drink. She was strikingly beautiful and I gladly accepted.
As conversations quickly do go there in a bar, it was not long and she was asking me what I did for a living. Well I wasn't about to admit what my day job was, so I told her I was a writer. She quickly responded "Oh I am too." She handed me her card, which tied her directly to one of the most famous rock bands in America. She had helped to write some of their songs. Her brother was the lead guitarist. So as to not glorify sin or the devil, I will not say more about that night, but it started us on a period of dating for about six months.
Even though I was a backslidden Christian, right away I began to notice activity of a demonic nature. However, I remember even the first night I met her she asked me who I thought was the most passionate man in history. She didn't wait long for an answer and blurted out "Jesus Christ." She seemed to love to talk about God and her relationship with Him, but also was quite open about her friendship with well-known people in the then Rock world who were practicing witchcraft, stating that she thought that was cool.
She was sporadically attending a very charismatic church but did not want to take me there. Instead she picked out a church she felt would be good for me and we went there together for a couple of services. She often spoke as if she knew God personally but also spoke of Satan as if she knew him personally too. I will never forget the "off look" and smirk on her face every time she spoke of the devil. She actually believed she knew them both!
I remember distinctly one afternoon going unannounced to her apartment. As I approached her door, I could hear music blaring inside. After knocking for what seemed like forever, she finally answered the door and reluctantly invited me in. She was dressed in an all black dress that seemed unusual to me for a summer afternoon. She had a lot of makeup on and her eyes were painted similarly to what I perceived to be an Egyptian look. Stevie Nicks music was playing loudly in the background and she seemed to be in an almost trance like state. This as you can imagine freaked me out and I graciously asked to be excused and left for the rest of that day.
After six months we broke off all contact. She was both a very passionate woman and a very spiritual woman at the same time. For years I never understood the mix and didn't really feel I could share this entire story. Eventually it all made sense to me spiritually and biblically. This now clearly connects with a more common trend at this point in history and we need to realize what we may be up against in our churches. Judges 21:25 (KJV) states: "In those days there were no judges in Israel so everyone did that which was right in their own eyes."
In 2nd Kings chapter 17:38-40, God says to his people, "And the covenant that I have made with you ye shall not forget; neither shall ye fear other gods. But the Lord your God you shall fear and He shall deliver you out of the hand of all your enemies. Howbeit they did not hearken, but they did after their former manner." How could it be possible that a people would believe that they could "fear" (revere) God and "fear" the false gods of their idols at the same time?
If you read over in verse 32 there is a clear picture of where these people's hearts were. "So they feared the Lord, and made unto themselves of the 'lowest of them' priests of the high places which sacrificed for them in the sacrifices of the high places. Backslidden of heart people often choose for themselves backslidden of heart pastors, who are likewise willing to compromise with them their lukewarm hearts toward God. Those people, who were sacrificing their own children to their demonic gods, also believed they could fear the God of Heaven too! What confusion, a confusion that has it roots in the most wicked form of sin and deception.
Years later I encountered an individual who happened to remind me very much of the other woman years ago. She openly declared her allegiance to and worship of the God of Heaven, yet also felt that she knew Satan. She had a philosophy that is becoming more common in this age; she believed that the Kingdom of Darkness and the Kingdom of Light are nearly equals and that they somehow work together. This dangerous deception of darkness does not set the true God up against a false God. Instead, it postulates two equal "gods" both of which are imposters.
Church leaders, beware! These individuals will cause great division in your churches. Servants of fleshly desires, they will also bring great immorality into your ranks, without so much as even batting an eyelash! Consider yourself warned of this increasingly popular evil!
Rev Nolan J Harkness is the President and CEO of Nolan Harkness Evangelistic Ministries Inc. since 1985. He spent most of his adult life working in youth ministry. He also felt the calling of Evangelist/Revivalist and traveled as the door was open holding evangelistic meetings in churches throughout the Northeast. His website is www.verticalsound.org.