Embracing 2 new lives rebuilt mine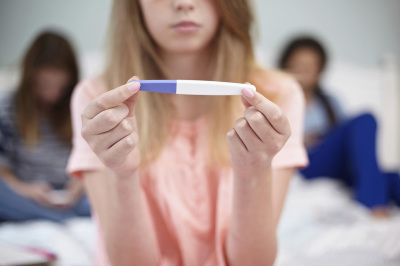 I was only 20 years old when I discovered one of the most terrifying things possible for an unmarried girl in a devout Christian family: I was pregnant.  
Terrified and ashamed, I remember hoping I had a miscarriage, an abortion — literally anything to remove the life inside of me, so that I could carry on with my own life as a college girl. 
Up until that point, I'd suffered the anxieties and scruples that come from trying to live a double life. At home, I was a devout Christian who attended services with my parents and talked about Jesus; with my friends, I was an avid partier, seeking endless validation from the wrong places. Unbeknownst to everyone, I was a suffering, hurt young woman who was simply trying to numb the shame and trauma of having been raped at the age of 15.  
I thought I'd rather die than tell my parents the shocking news. Instead, I succumbed to the pressure from my baby's father, and the misguided advice of my friends and scheduled an abortion appointment. I also confided in my cousin, who had recently married a loving man and had her first child.  
You can imagine my rage upon discovering that she told my parents. Yet from the very first, my mom, and especially my dad, were incredibly supportive and loving. Feeling more reassured by their support, I skipped my abortion appointment the next day; the next week I went to "Women's Hope Clinic," a pregnancy center in Alabama. 
It wasn't all uphill from there, however — I was still terrified of being a mom so young. When I started to experience symptoms of a miscarriage, I secretly hoped I would lose my baby. My heart was hardened, and I'd grown far too selfish and bitter to be open to the possibility that becoming a mom was not the end of the world, but rather the beginning of one.  
It wasn't until a few days later when I was laying on an ultrasound table that I discovered the truth. "Oh honey, we're going to need some tissues," the nurse told me, in a thick British accent, "it's twins."  
Panic and sobbing quickly ensued, yet ultimately, I knew that these little lives entrusted to me were precious. I know to this day I could never have gone through with an abortion.  
However, even after deciding to choose life, I suffered many sleepless nights worrying about how I could care for two little lives as a single mom. Thankfully, Women's Hope walked with me throughout the entire process, showering me with love, and supporting me with an abundance of medical and educational resources.
My dream pre-pregnancy had always been to work in the medical field. Thanks to the loving support from my family and family friends, I was able to go back to school when my boys were 6 months old. Though this was one of the most difficult phases of my life, I embraced the challenge and spent countless sleepless nights studying. Part of me wanted to defy the stigma surrounding single moms, and the lie that choosing life was incompatible with success. More importantly, I knew that I was willing and ready to do whatever it required to give my boys a good life. 
When my sons Jude and Finn were 4, I graduated from nursing school. After working various jobs within the nursing field, I ultimately came back to Women's Hope where I currently work as a full-time nurse.  
Returning to Women's Hope has provided me with the powerful opportunity to work and empathize with many other girls in similar situations as I once was. My own journey serves as a beautiful testimony for these women, to show them that they do not need to be crippled by fear, and that abortion is not the only option.  
Before I had my boys, I was incredibly selfish and self-centered. My relationship with my family suffered, and I had a lackluster interest in my faith. Opening my heart to life, and loving the two adorable gifts God sent me, however, helped me realize that life was not all about me. I soon experienced the immense joy and freedom that accompanied this revelation. 
It helped me to repair my broken relationship with my family, with whom I am now incredibly close. I bought a house right near my parents, and my sons and I have benefited enormously from this proximity to the people we love.  
It also led me closer to my faith, and through my renewed love for the Church, and years of prayer for a spouse and father to my boys, I ultimately met my fiancé whom I will marry in a month. God works in mysterious ways.  
I hope that any woman reading my story can see through the lie that an unexpected pregnancy means their life is over or must be put on hold.  
This was certainly not the case for me. To this day I am a witness that babies don't have to put life on hold, and that they are actually a powerful — and precious — catalyst for change in your life if you are open to endless love. 
Lauren Carter is a staff nurse at Women's Hope, and the proud mother of two beautiful boys.