Heaven will be diverse. Let's not forget that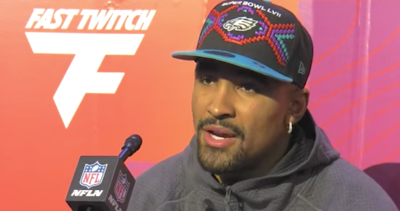 On Feb. 12, Jalen Hurts of the Philadelphia Eagles and Patrick Mahomes of the Kansas City Chiefs became the first two Black starting quarterbacks to face each other in a Super Bowl.
For many people, this fact may not seem like a big deal — but it is. It was not too long ago that my own brother's opportunity to play as an NFL quarterback was hindered because of his ethnicity. He was an All-American quarterback in college and received 18 Player of the Year awards. He then became the No. 1-rated passer in all college football.
It didn't matter. When the draft came around, the second-rated passer in the nation became the No. 1 draft pick, and my brother was drafted in the fifth round. No one explicitly stated that his color was a factor, of course, but they did suggest that his skinny legs and other non-circumstantial physical qualities would somehow correlate to poor performance in the quarterback role, despite being the runner-up to the Heisman.
Given all of that, I found it interesting how much pushback some reporters received for bringing up race during the game. According to First Coast News' Chris Porter, several of his viewers wrote to him with frustration. One viewer asked, "Why would you start off about two black quarterbacks competing in the Super Bowl? People don't look at it in terms of COLOR. Most of us are focused on two talented athletes playing their best game. … It makes me sick and feels racist. Just sayin."
Chris reminded his viewers that people have, in fact, looked at football in terms of color. "It was not that long ago that some NFL experts said that black quarterbacks aren't smart enough to play the position in the NFL." He went on to say, "There are some, including me, who will be proud to witness something that's never been done in the Super Bowl."
It is important to know where we came from so we can know where we are going and appreciate the victories along the way! I personally lived through a moment in time in which Black quarterbacks were not supported. And on Feb. 12, I was able to witness and celebrate history in my lifetime.
As Christians, we should always celebrate when we see the world around us begin to look more like Heaven. Do we not fervently pray, "Your kingdom come, Your will be done on earth as it is in Heaven?" Friends, seeing progress in racial relations on one of the biggest athletic stages in the United States is seeing earth look just a little more like Heaven. And how do I know this?
"After this I looked and there before me was a great multitude that no one could count, from every nation, tribe, people and language, standing before the throne and in front of the Lamb" (Revelation 7:9).
Revelation gives us a picture of what Heaven will look like, and it is clear that it will be beautifully diverse. I cannot wait to celebrate full unity in the midst of diversity one day. But for now, I'll celebrate the moments I see it on earth.
Speaking of unity in the midst of diversity, this is what Christians are called to. The body of Christ is diverse by its very nature, made up of a rich tapestry of different cultures, ethnicities and languages. We are also diverse as individuals. We each have unique talents and interests that shape the way we think and interact with the world. And because of this diversity — not in spite of it — we are able to come together for something bigger than ourselves.
The apostle Paul describes the diversity and unity of the body of Christ in 1 Corinthians 12:12-13: "The human body has many parts, but the many parts make up one whole body. So, it is with the body of Christ. Some of us are Jews, some are Gentiles, some are slaves, and some are free. But we have all been baptized into one body by one Spirit, and we all share the same Spirit."
Diversity in the body of Christ does not mean that we ignore our differences or pretend they do not exist. Rather, it means that we recognize the unique contributions that each person brings to the table and work together in unity, guided by the Holy Spirit.
So for me, what happened at Super Bowl LVII was a big deal. It was an opportunity to reflect on our history, celebrate our progress and dream about a future in which relationships between people of different ethnicities truly reflect Heaven's vision.
As Black History Month comes to an end, I hope we will all continue to strive toward unity in the midst of diversity. Take time to get to know someone who doesn't look like you. Invite them over to your house — or better yet, go over to their house and learn about their world! Develop genuine relationships with people who you do not understand or even agree with. We can't change history, but we sure can make it.