I took Jesus on a drug run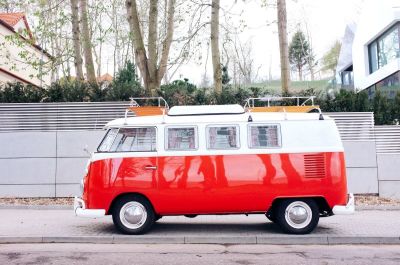 "A funny thing happened to me the other day on the way home…" I've heard a lot of jokes start off that way, but this time it's not a joke. It really did happen!      
It was an average Saturday and I was out with my wife at the Dollar Tree running some errands. While walking out of the store and back to the car we were approached by a stranger in the Dollar Tree parking lot asking us for a ride to his friend's house. That sentence speaks volumes on its own and I don't necessarily recommend giving strangers a drive, but I felt the Holy Spirit prompting me to agree. First, I asked how far he needed to go. (If I'm being honest, I was OK with going an extra mile, but 20 miles was another story.) It was only about two minutes down the road.
I quickly checked with my wife to make sure she would be comfortable with the situation, which she was, and then agreed to give him a lift. In order to converse easier with him, I had him sit in the front seat of our candy apple red… minivan.
After the intro formalities of names etc., I asked him how he was doing. I was priming the pump and getting ready to share the Gospel. His reply, however, shook me and made me question the whole scenario.
"I'm doing OK," he stated. "I'm trying to make a little extra money by selling some dope to some friends."
My brain began to whirl! Wait a minute! If this guy is trying to go someplace and sell dope (marijuana) then he must have it on him and that means - I'M ON A DRUG RUN!?
I was bewildered. The first words that came to mind were what came out of my mouth.  "You know that's not legal, right?"
Actually, I live in a state where recreational marijuana may be legally purchased and used as well as carried on your person up to certain amounts. In fact, if you start at Main Street in my home town you can reach 5 different "pot shops" in 10 minutes or less by car. Three of them are centrally located in my town and two border neighboring towns. He assured me that he had made the purchase at a local pot shop and was just bringing it to his friends. Sort of like a pot DoorDash!
What I said may not have been technically correct, but my emotions were boiling. I was ready to pull over and tell him to get out and walk. I wasn't going to have any part in passing around this poison to other people. I was most certainly prepared to dive into a monologue on how bad this stuff was. In fact, I was opening my mouth to begin my tirade when…
Have you ever been in a situation where a second seemed like an eternity? Time seemed to stop or at least go by in slow motion so that you can remember every intricate detail with clarity even though your thoughts and feelings were progressing so quickly that it seemed forever. In the time it took me to open my mouth to start my bloviating on the dangers of drug use and before the first words came out, the Holy Spirit jolted my attention and spoke to me. He clearly spoke to my spirit, "Drop the drug thing and tell him about Jesus."
I only had about two minutes with this guy and then I would likely never see or talk to him again. The Holy Spirit brought the realization that I needed to stop wasting my time and focus on the eternal soul.
The fire was still in my eyes and the attitude still present in my voice when the words, "So, do you ever go church?" came out. The grace of God had brought me to the realization that I could spend the next 120 seconds I had him as a captured audience in my vehicle lecturing about drugs or sharing the Gospel and I had chosen the latter.
His response was that he went to the Mormon church. Again, my brain first thought, "So no caffeine, but marijuana is OK. Stop it! He doesn't understand who the true Jesus is." 
My next question to him was, "So, what do you think of Jesus?" His reply was that he thought Jesus was a really great man. I first assured him that the Bible tells us that Jesus was more than a great man. He was God in the flesh – the God-man. The only One that was worthy to be the sacrifice for mankind's sin.
At this point, the conversation took a short, strange turn. Upon mentioning the Bible this fellow began to ramble about how he tried to read the Bible but every time he did, the ladies at the church would distract him… or something along those lines. It was really so incoherent that it was at this point I suspected he had been sampling the product he was about to sell.
But at this juncture, I realized I had less than 30 seconds before this whirlwind journey was finished and I had just one last question. "Do you think you need a Savior from your sins?" His initial response was that he thought he was good enough to save himself and didn't need anyone else. I was turning down the road of his friend's house at this point and I had to share with him just a bit more. I quickly shared that the Bible says that all have sinned and no one is good in the eyes of God – that our goodness is filthiness to Him. However, if anyone will confess to Jesus their sin, He is faithful and just to forgive us our sins and save us. We don't have to go to Hell. Jesus made a way for us to go to Heaven.
I then pulled up to the curb at this young man's destination. We shook hands, and he thanked me for the ride and then got out of the car and walked to the house. I drove off and that was it. I may never know his response to what I said on this side of eternity.
What is most important, takes the most time. Through this experience, the Holy Spirit helped me prioritize the eternal message of the Gospel over any other concern. My opinions about marijuana and drug use have not changed at all, but my focus on the Gospel priority is now sharper. That is what I learned the day I took Jesus on a drug run!
Dr. Adam Rondeau has served as a Christian educator and administrator as well as a pastor for over two decades. He is an author, adjunct professor of the Bible and currently serves as the director of ViewPoint Christian Academy in Southbridge, Massachusetts as well as the Assistant Administrative Director of Global Christian Educators Association. He holds three earned degrees in Christian Education, Theology and Leadership.