Invest Wisely to Make an Eternal Difference in the Lives of Others
Big Idea: We're a group of people who are so amazed by Jesus that we're ready to suffer to make an eternal difference in the lives of others.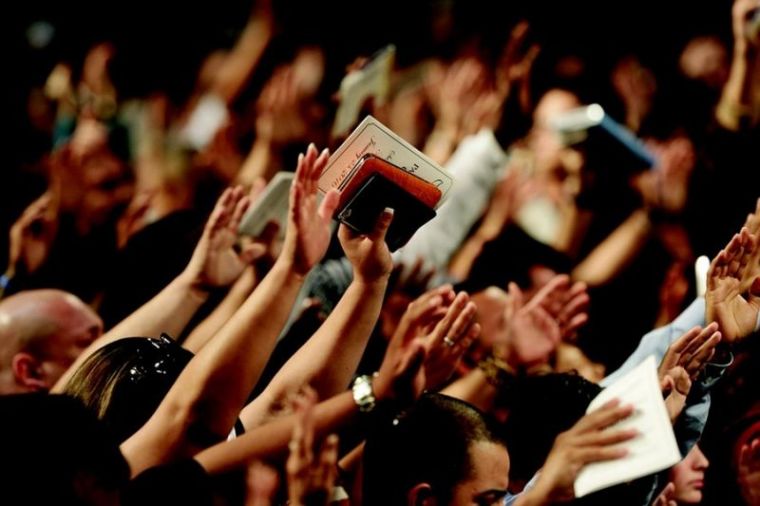 Big Idea: We're a group of people who are so amazed by Jesus that we're ready to suffer to make an eternal difference in the lives of others.
They had won it five times before. This time, though, they were the underdogs. They — the L.A. Dodgers — were playing the Oakland A's in the Major League Baseball World Series, and most people expected they would lose.
To make it worse, their star, Kirk Gibson, was injured. He wasn't just a little injured. He had sustained a torn hamstring in his right leg and ligament problems in his left knee. He was a mess, and could barely hobble.
When the game started, he wasn't even there. He was in the clubhouse watching the game on TV while getting physical therapy.
In the ninth inning, while the A's were trying to close out the series opener, Gibson was called to pinch hit. He stumbled his way out to the batter's box to face down Dennis Eckersley, one of the better closing pitchers of that era. With a 3-2 count he knocked a slider out of the park. He hobbled around the bases and pumped his right fist as his jubilant teammates stormed the field. The Dodgers won the game, 5–4, and would go on to win the World Series, four games to one. That play later became a finalist in a Major League Baseball contest to determine the sport's "Greatest Moment of All-Time."
What would cause someone with multiple leg injuries to hobble up to bat? Nobody likes to suffer. Nobody likes to go through that kind of pain. Well, Gibson did it because so much was at stake.
For the next few weeks, we're going through a short series on our life together at Liberty Grace Church. Today we're looking at our mission: to invite people into community to share in the beauty of relationship with Jesus. We want to be radically hospitable — to invite people into community — so that they can see the beauty of relationship with Jesus in our lives.
As we've talked about this as a church, we've talked about things like saturating Liberty Village with the gospel. We've begun to pray about the audacious goal of seeing 1% of the population of Liberty Village become followers of Jesus Christ. That's 100 people. We want to reproduce one day and plant another church. In a few weeks, I'm going to be asking you to consider committing and joining this church.
The question arises: why would we do this? It's a lot of work. It's uncomfortable. In the next few weeks we're going to be talking about what it means to be the church. It's going to cost. It's going to tick some of us off. Participating in the life of the church and following God's commands is costly. There's no other way. Dietrich Bonhoeffer nailed it years ago when he said, "When Christ calls a man, he bids him come and die."
Who's in? Who wants to die? This makes playing in the World Series with an injured leg look wimpy. Why would we even go there?
The answer is: Because of what's at stake. It's worth it.
My goal today is simple. My goal is to take a look at our mission through the lens of the passage that we just read. My goal is to challenge you to sign up in the mission we've been given, and to make your life really count, despite the cost.
First, a little background. Paul is writing this letter from prison in Rome. His friends have abandoned him. He expects to die soon. He's suffering. Paul is playing injured.
And yet he writes to Timothy and tells him to step up and suffer too.
As I stared at this passage this week, I noticed three themes that inform our mission as a church.
Start With the Beauty of Relationship With Jesus
As I said, our mission is to to invite people into community to share in the beauty of relationship with Jesus. That's a mouthful. We've thought of simplifying it. We even had one meeting in which we talked about getting rid of the beauty part just to shorten it. One of our leaders spoke up and said, "Wait a minute. The beauty is the whole point." He's right. We're going to do some hard things as a church, and the only way we're going to do them is if we start here: with the beauty of relationship with Jesus.
It's where Paul starts. I wrote out this passage and stared at it. I began to notice how much Paul talks about Jesus. He can't go very far without standing there, mouth wide open, admiring what Jesus has done for us. It's where it all begins for Paul.
And so Paul begins in verse 1, "You then, my child, be strengthened by the grace that is in Christ Jesus." It all starts by being strengthened by the grace of Jesus: that he has lavished his grace upon us, giving us the very opposite of what we deserved. Start there.
Then in verses 8 and 9 he says, "Remember Jesus Christ, risen from the dead, the offspring of David, as preached in my gospel, for which I am suffering, bound with chains as a criminal. But the word of God is not bound!" Paul comes back to where he started. Remember Jesus, he said. Keep focusing on him. Keep coming back to him. Begin and end there. In particular, remember his person: that he is the promised heir of David, the promised King who would come to save his people Remember his work: that he rose from the dead. This implicitly includes the full range of his work: his birth, life, death, resurrection, and ascension. Keep looking at Jesus. Never get over it.
It's interesting that Paul tells Timothy to remember. How could he ever forget? The answer is that we're all very good forgetters. It's so easy to take our eyes off Jesus. God knows that we will forget, which is why we celebrate the Lord's Supper every week — what one man calls Jesus' forget-me-not. Our most important task as a church is to never forget Jesus. It's harder than it seems. "Remember Jesus Christ," Paul writes.
You'd think that would be enough, but then Paul also ends this passage with Jesus again.
If we have died with him, we will also live with him;
if we endure, we will also reign with him;
if we deny him, he also will deny us;
if we are faithless, he remains faithful—
for he cannot deny himself.
(2 Timothy 2:11-13)
It looks like Paul is quoting a hymn or a well-known saying in the early church. He covers two sets of people: those who are faithful to Jesus, and those who aren't. For those who are faithful, Paul says, they will share in Jesus' life and reign with him. But what about those who aren't faithful? There's both a warning and an encouragement. The warning: that if we deny Jesus, he will deny us. But even then, God extends his grace to us even when we fail. He keeps giving us grace long after we deserve it. Peter denied Jesus, and Jesus restored him to relationship and to ministry. One old saint (Samuel Rutherford) said, "Often and often, I have in my folly torn up my copy of God's covenant with me; but, blessed be His name, He keeps it in heaven safe; and He stands by it always."
Paul can't stop talking about Jesus. And neither should we as a church. Our first job as a church is to stand wide-eyed and open-mouthed before the beauty of Jesus in sheer amazement. Our mission talks about introducing people to the beauty of relationship with Jesus. We can't show other the beauty if we're not seeing it ourselves. We're in the beauty business as a church. Not to make people beautiful, although I guess Jesus does that too, but to stare at the beauty of Jesus, and to invite others to stare too.
One of my favorite writers (Jared Wilson) likes to say that beholding is better than behaving. He gives the advice to keep staring at the glory of God until you see it. "Beholding Christ's glory is the number-one directive for following Jesus. And, in fact, it's sometimes the only effort we lousy disciples can muster up."
Paul would agree. Our number one job is to behold, to stare at, to be amazed by the beauty of Jesus. Keep staring at the cross. Keep remembering what he's done for us. Our mission as a church is to begin and end here. Let's major in the beauty of relationship with Jesus. It all begins here.
Keep Staring at Jesus Until You're Ready to Suffer
One of the reasons we need to stare at the beauty of Jesus so long is because of what's coming. We're calling you to suffer. We seem to have left this part out of our mission statement somehow, but whether or not it's part of our formal mission, it's still part of our mission.
Look at what Paul says:
Share in suffering as a good soldier of Christ Jesus. No soldier gets entangled in civilian pursuits, since his aim is to please the one who enlisted him. An athlete is not crowned unless he competes according to the rules. It is the hard-working farmer who ought to have the first share of the crops. Think over what I say, for the Lord will give you understanding in everything. (2 Timothy 2:3-7)
If you want to enlist in serving Jesus, you're enlisting in suffering. Paul even lists the kinds of suffering we can expect:
It means that we don't have complete freedom to engage in civilian pursuits. We can't invest our lives in ourselves and the things that make us happy, because we're investing in serving God. If you're in an army, you don't have complete freedom over your agenda, and the same is true when you're serving God. We don't belong to ourselves anymore. We live for his priorities, not just ours. Following God requires single-minded devotion.
It means we also have to play according to the rules. We're going to look at this in a couple of weeks. Frankly speaking, there are some things that God asks of us that are inconvenient and possibly even disagreeable. It's just like when being an athlete in the Winter Olympics. It requires that the athletes don't live as they choose. It means submitting to the rules of the game. When we follow God, that's what we're signing up for.
It also means hard work. Want an example of hard work? Look at a farmer. "The farmer's life involved: 1) early and long hours because he could not afford to lose time; 2) constant toil (plowing, sowing, tending, weeding, reaping, storing); 3) regular disappointments—frosts, pests, and disease; 4) much patience—everything happened at less than slow motion; and 5) boredom" (Kent Hughes). And so will our ministry.
Any other organization highlights the benefits and privileges of joining. When we invite you to sign up to join in following Jesus together, it's the very opposite. We're more like Gimli in The Lord of the Rings: "Certainty of death. Small chance of success. What are we waiting for?"
It's a great question. Do you want to waste your life on things that don't matter? Or do you want to invest your life in something that really matters, and will matter for eternity? We didn't include this in our mission, but we should have. We're asking you to live for more than yourself. We're asking you to play according to the rules. We're asking you to work hard. That's what's involved. Actually, God's asking you. Who's in?
So stare at Jesus. Keep staring until you're ready to suffer. What is God actually asking us to do?
Make an Eternal Difference in the Lives of Others
Let's get very clear about this.
We're all on a continuum in our relationship with God, from resistant to maturing.
What do we do with those who are resistant or questioning? Paul tells us in verse 10: "Therefore I endure everything for the sake of the elect, that they also may obtain the salvation that is in Christ Jesus with eternal glory." Paul says he will endure anything — prison, beatings, anything — for the sake of sharing the gospel with unbelievers who will one day believe. That's why we exist as a church too. We live in this community precisely because it's filled with people who don't believe in God. We want to endure everything for the sake of inviting them into the beauty of relationship with Jesus. We're all in on that.
How does that work? Paul says in verse 2: "What you have heard from me in the presence of many witnesses entrust to faithful men, who will be able to teach others also."
What Paul says is simple. Invest in others. Look for others who want to grow. Invest in them the same way that others invested in you.
We need you to grow. We need you to grow not just for your sake, but so that you can invest in others. You only need to be one step ahead. That's all it takes, and you can make an eternal difference in the life of someone else.
Our vision as a church is to invite people into community to share in the beauty of relationship with Jesus. Every one of you can play a role. All of us can be inviters. All of us can work to keep growing. All of us can invest in helping someone who's just a step behind us to take the next step.
In short, we're a group of people who are so amazed by Jesus that we're ready to suffer to make an eternal difference in the lives of others.
So we're going to do a crazy thing in a few weeks. Having heard what we're all about, we're going to say, "Who's in?" Who wants to keep staring at Jesus and majoring in the beauty of relationship with him? Who wants to suffer for the privilege of inviting others in and helping others grow? I hope a whole bunch of you are going to say, "I'm in. I can't think of a better way to live my life."
Kirk Gibson played injured to win a World Series. Let's play for something far more valuable: God's glory and the joy of making an eternal difference in the lives of others. You in?
Darryl Dash is a husband, pastor, and church planter who lives in downtown Toronto, Canada. You can find him at https://dashhouse.com