It's Good to Be Heard in DC — for a Change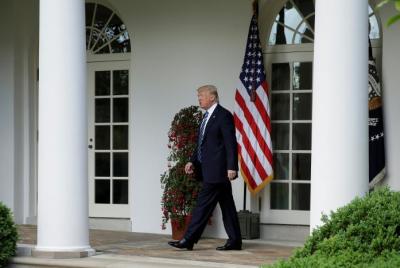 In April, I received an invitation from the White House to attend a briefing for leaders of conservative organizations. You never know about meetings like these. I have been to many that turned out to be just a dog and pony show without much substance. But that was not the case this time. About 40 groups were represented to hear directly from some of the top officials in the Trump administration, people who meet with the president on a regular basis.
Donald Trump was not my first choice for president. I voted for another candidate during the primary. With Trump, I would cheer what he said one day, and be aghast at something he would say the next. After the primaries, it was clear that Donald Trump or Hillary Clinton would be president of the United States.
As Trump went forward, he took some actions and made some pronouncements that made me more and more comfortable with his campaign. For one, he named Gov. Mike Pence of Indiana as his running mate. Pence is an evangelical Christian. He understands a biblical worldview. The one issue I did have with Gov. Pence is that he gave in to some of the demands of the LGBTQ mob on a religious freedom law in the Hoosier state a couple of years back. Even so, I thought that having Pence as Trump's vice presidential running mate meant that Trump wanted a committed Christian as his top confidant and adviser.
However, the most important statement Trump made to conservatives came when he issued a list of judges he would promote to the federal bench if elected. No other Republican candidate would dare do that. They are too afraid of what the liberal news media will do to them if they announce that only conservative judges need apply. Trump didn't care. He got those names from the Federalist Society, a stalwart conservative legal group that does not compromise on standing for the U.S. Constitution. But I think he was also smart enough to know that unless he was able to get conservatives excited about his candidacy, he had no shot at defeating Clinton. I am pleased to report that so far, President Trump has followed through on his promise to appoint only conservative judges to the federal bench, including the appointment and confirmation of Justice Neil Gorsuch to the Supreme Court.
Another issue candidate Trump made a commitment on was being a pro-life president. Again, he has followed through on this promise in many ways. Every pro-life leader I know has praised Trump as being the "most pro-life president since Ronald Reagan."
With any administration, there will be some good and some bad. I can honestly say that up to the time of this writing, President Trump has done a lot more good than bad on conservative issues across the board. This is despite the fact that he is attacked day and night, 24/7 by the liberal news media and the Democrats. Furthermore, he is often undermined by the Republican establishment.
Does Trump sometimes say and Tweet things many of his supporters, especially Christians, would cringe at? Yes. But you have to remember he's still a hardened New York businessman who has basically lived his whole life among liberals and degenerates, himself a playboy. If, however, you listen to people like the ones I met at the meeting in April, this is not the same man he was for his many decades in the celebrity limelight. He is more serious minded, and he is what I would call an old-school patriot.
In America we only have one president at a time. I do know one thing for certain—Hillary Clinton would have been a catastrophe for our country and a real enemy of Christians and the Constitution.
I can't do anything about what Donald Trump did 10, 20 or 30 years ago. But while he is our one president, I can do something now to help keep him on the straight and narrow on the issues the American Family Association cares about most. And if he and his administration want to hear from me, I will gladly go to Washington, D.C., to tell them what I think.
Tim Wildmon is the president of the American Family Association (AFA) a non-profit 501(c3) organization was founded in 1977 by Donald E. Wildmon in 1977.