My Faith Votes: 'We Need to Stop Treating Midterm Elections As If They're Insignificant'
2018 will be the most consequential voting year the nation has seen in decades.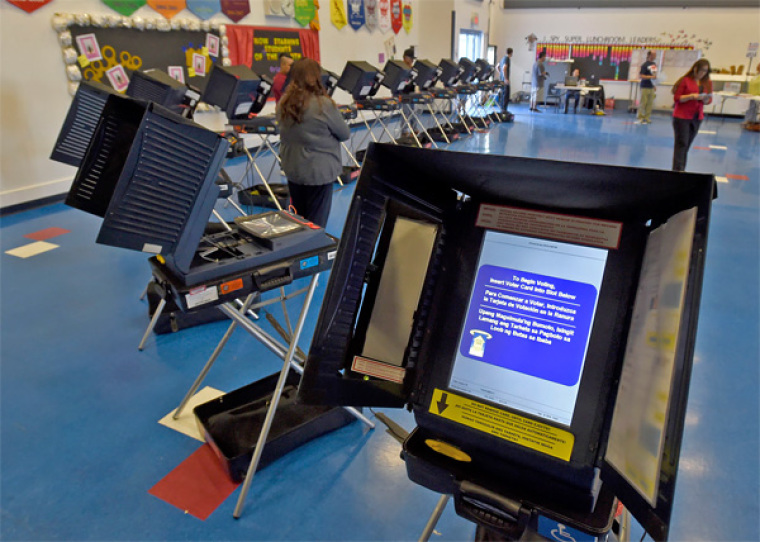 The power of unity truly does change everything and this includes at the ballot box. With the high-stakes midterm elections on the horizon—the burden is on believers to cast their vote. The organization, My Faith Votes, shares with us that many who voted in 2016, won't vote in 2018.
What is the importance of My Faith Votes?
My Faith Votes was born from the concern that there were 25 million evangelical Christians who were registered to vote but chose not to vote in the 2012 Presidential election. Christians could determine the outcome of every election just by showing up, but we've given up our influence in the public square. My Faith Votes is a non-partisan movement that represents 90 million Americans who stand for one name only, and that's Jesus. We recognize that voting represents more than a political preference, but a declaration for God and biblical values. Because we know that when 90 million believers stand to vote, we're standing in agreement. And the power of unity changes everything.
Our country is truly polarized after the General Election, what are your thoughts on many believing that faith and politics should be separate from the church?
First, we should recognize that politics are all around us, and out of politics come laws, policies and programs that reflect and influence the values of the society. As Christians, we have a choice to bring the influence of our faith into that discussion, or to stand aside and let the discussion go on without us. We shouldn't step aside. Isaiah says, "Come, let us reason together," and James tells us that faith without action is dead. And yet, too many churches today are not equipping their members to think well about the issues and take action whenever possible.
Second, we must approach our politics in humility and love. As Rev. Samuel Rodriguez said in a My Faith Votes LIVE interview, we should not serve the donkey or the elephant; we should only serve the lamb. And therefore, we each must humbly seek God for wisdom and love as we consider the difficult problems in our nation and as we vote.
What are you hearing from the voters on the ground, as we move toward the midterm elections?
A recent study conducted by the Washington-based research firm Lake Research Partners and released by The Voter Participation Center found that roughly 40 million people who voted in the 2016 presidential election will not cast ballots in the 2018 midterm elections. While this study is not specific to Christians, the sad reality is that Christians are not historically unlike other citizens in their voting habits. And the sad thing is that Christians who stay home will not only withhold their influence in elections for Senators and U.S. House Representatives. In 2018, America will elect 209 state executives (36 governors, 30 lieutenant governors, 26 secretaries of state, and more), 35 state attorney generals, 6,066 state legislative seats, 74 state supreme court judges, 224 state appellate court judges, and thousands of municipal officials and school board members (source: Ballotpedia.com). 2018 will be the most consequential voting year the nation has seen in decades. We need to stop treating midterm elections as if they're insignificant. This is why My Faith Votes exists: to motivate and empower millions of Christians to bring the influence of their faith to the challenges of our nation with their vote.
How do you convince people to become involved in the process as the game of (politics) never appears to be in the best interest of the voter?
Voting is not about one election or candidate. It's about stewardship: how we manage what's been entrusted to us. And in America, we are blessed to have the opportunity and responsibility to guide our nation through our vote. My Faith Votes helps Christians understand this responsibility in relation to their faith. Acting on our faith through our vote brings the influence of our biblical values into the process of electing leaders, both in the short and long term.
What has challenged or disappointed you since the start of My Faith Votes?
I think there are still many Christians who orient their faith around their politics, and not their politics around their faith. When we do this, we are not anchoring ourselves and our votes in either truth or love. We are tempted to use the Bible to justify our positions, instead of recognizing the inerrancy of the Bible and humbly seeking truth for the difficult problems we face. And we fail to see others the way that God sees them, as people he desperately loves and pursues. As we attempt to engage Christians to think well about tough issues, my prayer is that their passion would be to exalt God's truth and his love above all else in all they do, including how they cast their vote.
Why and how did Michael Huckabee involved and what is his role?
Governor Huckabee was a pastor, a Governor, and a Presidential candidate, and, he understands that the answers America seeks will not originate from Washington, D.C., but from Christians who take biblical truth outside the four walls of the church and bring it into their communities and into the voting booth. Because of his experiences and our shared desire to see Christians act on their faith by voting, we invited Governor Huckabee to be our Honorary National Chairman. We are proud to have him represent us.
What do you say to evangelicals who don't support Donald Trump and who refuse to vote in the next General Election?
We're not asking anyone to support any specific candidates. Whether a person supports the President, or not, is not our concern. What we do care about is whether they have prayed about their vote, taken the time to get informed about the issues and align their views with the Word of God, and then act on their faith with their vote. If they are not doing all three of these, they're not stewarding their responsibility as Christians in America well.
What are your concerns for Evangelicals in America?
2 Chronicles 7:14 calls us to humble ourselves and repent. My prayer is that we will take this seriously, and that there would be a movement of repentant prayer across the nation. Only then will we truly be united. And, I believe, only then will God heal our land. The nation is begging for unity. The body of Christ must lead the way.