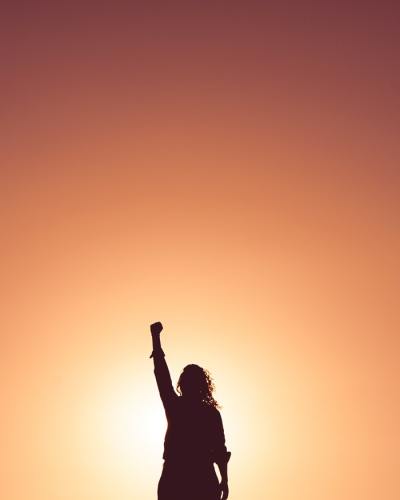 Jeremiah the prophet thundered these words to God's people in Jeremiah 5:31: (KJV) "The prophets prophesy falsely, and the priests bear rule by their means; and my people love to have it so: and what will you do in the end thereof?"
As I have said in other articles, when the church stops preaching the entire counsel of God, when it stops rightly dividing the Word of truth, then a void develops, a void which must be filled. Paul warned in 2nd Timothy 4:3 (KJV), "For the time will come when they will not endure sound doctrine; but after their own lusts shall they heap to themselves teachers, having itching ears."
I know we live in an information driven age, built on the foundation of the American educational system. It is no great revelation that for many years the educational system has been structured around concepts of Secular Humanism, which believes man is basically good, in spite of the fact that some do turn out evil. This belief is diametrically opposed to the teachings of scripture, which declare "The heart is deceitfully wicked: who can know it? Jeremiah 17:9 (KJV). Due to this covering of secular humanism the minds of the American people for several generations now have had their brains polluted by the self focused doctrines of man.
Whenever for whatever reason an emphasis on prayer and the power of the Holy Spirit are left behind, Satan is always more than ready to offer a substitute, a deception, an imposter, a replacement if you will for the real thing. As education became more and more of a primary focus to prepare young men and women for the ministry such sciences as the impact of marketing on the human mind began to be understood in the church. The question became "How do we get God's people to do what we want them to do, since we know in our heart of hearts, that very few of them are truly being led by God." Do they pray? Yes some. Do they read their Bibles? All surveys and studies show that overall American Christians read their Bibles very little. Therefore the supply and demand theories of marketing began to be implemented in what I am convinced are subtle yet at the core ungodly ways.
In Jeremiah's day, not everyone who was saying "Thus saieth the Lord" was actually speaking for God. As a matter of fact what he proved to be true over and over in his ministry was that he was one of the very few who was actually prophesying Gods words. He was often persecuted and regularly had his life threatened, but he continued to seek the Lord and proclaim what was mostly God's unpopular truth of judgment for over forty years.
I'm totally convinced that the former shyness of people declaring themselves to be prophets and prophetesses has long wore off in this country. What I like to remind people is that the New Testament gift of a prophet, like all the other gifts, is a gift of grace. Only by God's grace and mercy does He ever speak through anyone today. Yet today it is easy to see that thousands declare themselves to be prophets in this nation. It is an unfortunate footrace to see who has the most popular message or who has the most followers on Facebook. Would be to God that we would be leading followers of Christ to spend time in prayer seeking their God, and to spend time in His Word for the Word that they are seeking.
So couple the fact that we are a society saturated in the god of self with the fact that though education, social media, television, and the movie industry, our brains are wired to be constantly thinking about self and self-betterment. Add to that our search for a self-serving self proclaimed prophet who is always seeking that "good word" from the Lord for your behalf. He will never prophesy anything negative over your life since that just would not bring in good offerings, and in modern day thinking just couldn't be from God. In doing so we create this grandpa God who is never corrective, but is always warm and fuzzy, who has nothing but smiles and hugs for his children. The prophets words do not line up with a healthy balance of God's Word but hey "he's just sure he heard the "spirit" tell him this good word for the day.
Remember Jeremiah said, "The priests bear rule by them?" Now you have to understand that pastors are my favorite people in the whole world and I have several of them that are my close personal friends. However in many circles it's the Priests or the Pastors who want these very same prophets to come and minister in their churches because they know they will boost attendance. They often quote some of the best known ones, and in all actuality have built whole church leadership teams around what that prophet or prophetesses teaches.
Jeremiah revealed a three-fold cord that was not easily broken. "And my people love to have it so". Remember I mentioned supply and demand? Because we as a people have become so self focused in this hour. It's the only message we often long for. The prophets know it, sadly the Pastors know it. Jeremiah ends the passage by saying "What shall be the end thereof?" The end thereof for the church in America is now we have churches that no longer preach the cross. They no longer teach on self denial or personal sacrifice. Why that just wouldn't fill churches. Why? It really gets down to us. Paul declared "But if even we or an angel from God preach a gospel other than the one we preached to you, let them be under God's curse!" Galatians 1:8 (NIV) Lord please send revival to our hearts! May we repent of bowing down to the God of self, trying to serve two masters!
Rev Nolan J Harkness is the President and CEO of Nolan Harkness Evangelistic Ministries Inc. since 1985. He spent most of his adult life working in youth ministry. He also felt the calling of Evangelist/Revivalist and traveled as the door was open holding evangelistic meetings in churches throughout the Northeast. His website is www.verticalsound.org.