The freedom of religion or belief movement needs to be honest and talk about this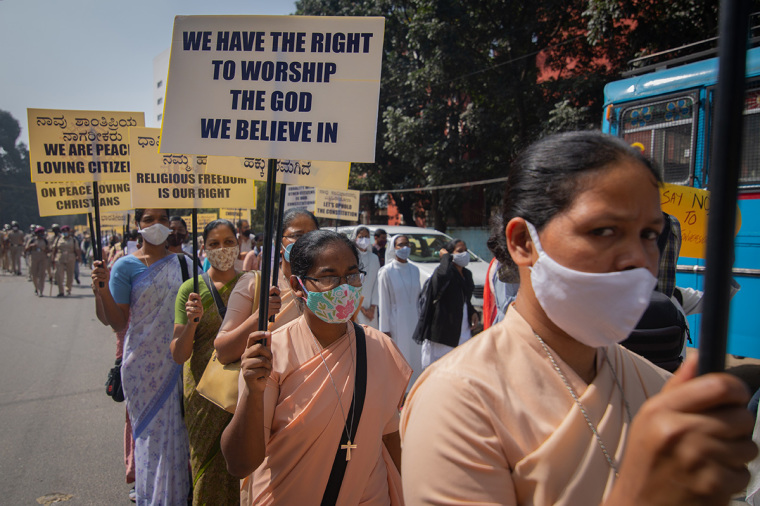 Everyone has the right to freedom of thought, conscience and religion; this right includes freedom to change his religion or belief, and freedom, either alone or in community with others and in public or private, to manifest his religion or belief in teaching, practice, worship and observance.
Article 18 of the Universal Declaration of Human Rights
As a Christian, I uphold the biblical basis for human rights that all people are created in God's image and therefore are worthy of dignity and respect regardless of their religion or belief. Therefore, I readily agree with the purpose of article 18 of the Universal Declaration of Human Rights. However, while the intentions of this statement are admirable – for persecution because one's faith or belief is wrong –there is an essential element missing in the freedom of religion or belief (FORB) discussions by the various political, religious, and special interest groups that champion it.
As the CEO of The Voice of the Martyrs (VOM) in Canada, I have engaged personally with persecuted Christians worldwide. In sifting through the complicating factors that intersect religious persecution, I have observed three leading causes of Christian persecution.
1. Christians are persecuted because of their religious identity
The religious difference of being a Christian often leads to cultural separation, which becomes a root cause of persecution. In many countries, the basis of one's religious identity depends on the family's faith tradition to which they were born. Therefore being born into a Christian family – whether nominal or devoted – one is recognized as Christian within their cultural constructs. These Christians are loyal citizens and desire to live peacefully within their communities, raise families, obtain meaningful work that will provide for their families, and engage in activities that enhance their communities while remaining free to practice their religious beliefs and customs. However, the reality is that as a minority people, Christians will encounter discrimination, often deprived of the advantages and opportunities enjoyed by those of the majority. This fact is actual for nominal and practicing Christians.
For example, in Pakistan, all Pakistani Christians face difficulty, discrimination, and persecution because of their Christian identity. Several large-scale attacks have occurred in Christian colonies recently, including during Christmas 2017 and Easter 2018. Christians are generally trapped in a cycle of poor education and poverty. Many are employed as indentured servants in brick kilns or tree nurseries, street sweepers, and sewage workers. A few Christians have been imprisoned for long periods, while many others cycle in and out of prison, charged under the country's infamous blasphemy laws. Recently the media has started to pick up reports of young Christian girls being abducted and forcefully married to a much older man who is not Christian.
2.  Christians are persecuted because of faithful Christian witness
A vital aspect of the Christian life is to share the Gospel with family, friends, neighbors and strangers. This activity is the biblical mandate called the Great Commission (Matthew 28:16-20). Therefore, Christians believe that evangelism is an essential component in practicing their faith, which is best accomplished in the spirit of the Great Commandment, "To love the Lord their God with all their heart, soul, and mind and to love their neighbor as themselves," found in Mark 12: 29-31. Evangelism is a means of sharing the Gospel (publicly and privately), which is the good news of Jesus Christ. 
A sizeable portion of the persecution comes as a direct result of Church growth. In other words, the more a church is active in preaching the Gospel, the more it grows and therefore faces opposition.  
For example in India, an estimated 27 million Christians live in India, but that is only 2.1 percent of the population. Christians in India are open and visible. Churches have been demolished and burned, worship gatherings have been disrupted, crosses in graveyards have been vandalized, Bibles and other Christian literature have been confiscated and burned, and more pastors are being beaten and jailed. Christians are often arrested and held for up to three weeks after being falsely accused of forcing Hindus to convert to Christianity. Vague policies such as anti-conversion laws (opposing the conversion of Hindus to other religions) have been passed in several Indian states. The push for a similar federal law is gaining support. The state anti-conversion laws have long been used against pastors, church planters, and evangelists.
3.  Converts to Christianity are persecuted because they decided to change their religion 
The outcomes of evangelism, whether through individual interactions or the deployment of technology like satellite TV and the internet, have resulted in tremendous church growth throughout non-Western nations. More compelling, however, is the distinct move of God to build His church, without human intervention, through dreams and visions. This phenomenon occurs primarily in, but is not restricted to, the Muslim world. Regardless of how a convert comes to Christ, they immediately experience a backlash of persecution and significant human rights abuses. Sadly, many of these abuses come from family, friends, and neighbors. The persecution at the hands of these "friendlies" comes through exclusion and social isolation, forcible detainment and torture, and in many cases, honor killings.   In addition, anti-conversion bills and blasphemy laws are commonly used as a means of discouraging conversions and a means to apply pressure on converts to reconsider their conversions. Conversions can sometimes result in lengthy prison sentences and even execution.
For example in Iran, the Iranian government is among the most oppressive regimes in the world. It is illegal to leave Islam, and those who do face the constant threat of imprisonment and being falsely charged with "acting against national security." Christian converts are routinely fired from their jobs, and it is difficult for a known believer to find a new job. They also are often evicted from rented homes. Several Christians are currently imprisoned, and many others are under house arrest awaiting sentencing. Bibles are highly restricted. It is illegal to import them and forbidden to have Bibles printed in the country.
I realize that what I have presented only scratches the surface of this critical issue. Difficulties for Christians are most common under communist/post-communist nations, religious nationalists, totalitarian/security states, and Islamic extremists. And while many religious freedom groups recognize these trends and agree that persecution of Christians because of their faith is unjust, little is said about the abuses Christians face as a result of the manifestation of their beliefs or conversion.
For article 18 to work and FORB to carry any real meaning, the conversation needs to move toward one's right and freedom to change their religion or belief, as well as to manifest their religion or belief in teaching, practice, worship, and observance. This will require those in the FORB movement to have tangible and honest discussions, which in my opinion, is sadly missing today. 
However, whether the advancement of FORB succeeds or fails, the Bible teaches Christians can expect opposition and persecution in this world because of their identity, their conversion, and their faithful witness of Christ. The Bible teaches a theology of suffering for righteousness which prepares Christians and helps them persevere in trials. This biblical understanding doesn't mean that we stop advocating for all those of faith who suffer repression, but for the Christian, true freedom is not granted by the state. We are compelled to serve Christ in a world that is hostile to His Gospel seeking to live godly lives in a world that is not our home.