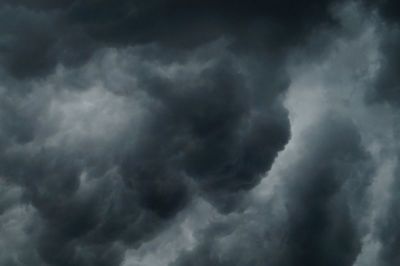 There is a judgment of God, which is to be feared and dreaded more than any other type of His judgment. The Father has set this in order to motivate us to continually be trying every spirit to see if it be of God. His goal is to cause us to have a bright yellow caution light at the first inkling of this greatly to be feared judgment occurring, along with a huge flashing red light, compelling us to fast and pray if necessary to ensure that it isn't taking place. The early church and Christians everywhere just a few decades ago said, "Never let this happen!"
What is this dreaded judgment and how will it affect us? It is the silent judgment of God. It's when God's people have so grieved the Spirit of God, that God does or says nothing!
For approximately four hundred years from the end of the writing of the last book of the Old Testament, Malachi, to God speaking for the first time in the New Testament God was silent. Traditionally a Hebrew generation is forty years long. So for ten generations of time there is no record of His actions; as far as we know, God said nothing, God did nothing. Think back to 1618 for a minute. Can you imaging where we would be today if God had not done anything or said anything since 1618?
Has anyone ever had their parent not want to talk to them? Maybe it was due to something you did or said that was really bad. It probably sounded something like this; "I'm really upset with you and I don't want to talk to you right now!" Wow, now that really hurts! Have you ever stopped to think that it's supposed to, by God's design? Sometimes He does the exact same thing! His silence will only end after we sincerely repent and claim the promise of 1st John 1:9; (KJV) "If we confess our sins, He is faithful and just to forgive our sins and to cleanse us from all unrighteousness." Never forget the second part of that verse!
Jesus demonstrated a life that was submersed in prayer. Jesus prayed often, and sometimes He even prayed all night. He understood that our prayer life, by Gods design is a barometer of where we are spiritually. In some of the "Christianity Lite" circles of the church in America today these truths are not taught. Through excesses in the grace message they are taught that God is always listening whether you sense His presence and whether or not you have sinned. This whole process of testing your spiritual atmosphere to see if the Spirit of God is in it, is sidestepped completely. This leaves people vulnerable to being deceived by voices out of their own heart or being deceived by the demonic. As I stated in another article "God never comes as Satan, but Satan the deceiver often comes masquerading as God."
Is God silent in your Church? If you cannot mark a single event of divine intervention in your church for the last six months you should be calling an emergency prayer meeting to knock on Heavens door to find the answer. I am well aware of some churches where God has not done anything significant for many years. What greatly grieves the Holy Spirit's heart is this question; why are you not crying out to God for His manifest presence and divine intervention?
I was invited to speak in a church down near New York City. I had gotten to know the Pastor through some mutual friends. My first service that weekend would be on a Sunday night. He said sadly; "Brother Nolan my people are good people I want you to know that. They are very faithful in attendance. A large percentage of them are tithers. Many of them volunteer to fill the needs of the church in all areas. However, I can preach my heart out with a message, which I feel that God has given me, and they just will not come to the altar to pray. With a sad heart I dismiss them and send them home each week knowing full well they have needs, and that God could touch them at the altar, but they just sit there and do not move."
As I prayed for that service, God did the most incredible thing. He challenged my heart to preach a message that I more often share more in the middle of the week. It is called "Healing for the Broken Hearted." It is designed to touch people whose life has been broken by calamity. When I obeyed the Lord and got to the part where we discuss the important step of forgiveness, heads began to drop in prayer all over the sanctuary. When the altar call was made dozens of people made their way forward to the altar for prayer. The Pastor was blessed to tears. Yes, God had done nothing significant in that church for a long time because he couldn't. Many members had unforgiveness in their heart toward others in that church. That night, through many tears, the altar carpet was no longer dry, and a new freedom came to the atmosphere, as God flooded the hearts of many believers. For some it was the first time in many years.
When God seems silent, it could just be a time of testing for us as individuals. It has been said that the definition of a trial is a time when you cannot see, hear, or feel God. It could be just that. However, from the Garden of Eden until now, whenever God separates Himself from us, it's for a reason. The reason is always to get our attention. The reason is always to get us seeking Him again. Why do you think its called seeking unless he wants to be found? Seek Him always and pray through until you find peace and be relieved of His silent position.
Rev Nolan J Harkness is the President and CEO of Nolan Harkness Evangelistic Ministries Inc. since 1985. He spent most of his adult life working in youth ministry. He also felt the calling of Evangelist/Revivalist and traveled as the door was open holding evangelistic meetings in churches throughout the Northeast. His website is www.verticalsound.org.