The man who helped us know God: A tribute to JI Packer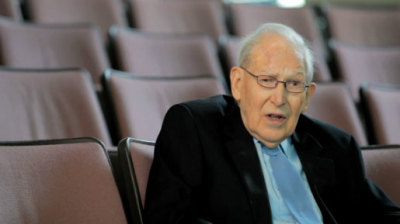 James Innell Packer, known to friends as Jim and to millions as J.I. Packer, died July 17 at the age of 93. A highly respected theologian and prolific writer, he authored more than 165 works, including one of the all-time bestselling Christian books, Knowing God (1973).
To Marcus Avery, he was a gift used by the Holy Spirit to salvage his life. For over 15 years, Avery read daily in select books about the doctrine of God, books by A.W. Tozer, Arthur Pink, Stephen Charnock, and, of course, Packer. A once "wayward son without Christ as first love," he said, "I discovered through the writings of these spiritual giants that God was good and desirable and enjoyable." So, as he came to know Packer through many phone conversations during the past three years, his gratitude for the privilege of Packer's mentorship sometimes broke through in heartfelt tears.
Avery sought out Packer's insight and blessing as we began a project to help newer generations rediscover some of these writings of the past, especially those that help us understand God's person and attributes. Although the aging Packer had reduced his workload, he graciously consented to support us with his consulting and prayers, saying, "I can see the God Seekers project as an extension of my own ministry."
"If I had my life to live over, I would write more on the doctrine of God," Packer said.
In the generous spirit of servant ministry that Packer lived all his years, he would name Avery "dear brother" even when Packer's wife, Kit, brought Avery's phone call to him at the dinner table. He offered content suggestions and encouraged us to continue, to write on these essential theological concepts in an understandable, engaging, and loving way.
For that charge, we must look to him as the example to follow. He communicated his fervent love for God and also his love for his audience. He set all of us right about the person of God and made us glad that he did so. He unveiled to us a God whom we may have never before known, a God who is powerful, loving, and generous, a triune Savior.
His depth of writing and teaching has been embraced by laity, students, pastors, and church leaders across most denominational and sectarian lines and by many in the worldwide spiritual community. And yet he never stopped seeking to learn. "To be a disciple of Christ means to be a learner," he said.
Packer set personal priorities to facilitate sound theological teaching in the church, along with the discipling and training that should follow. He gave strict attention to his own theological understanding and personal relationship with God. Through diligent study, prayer, and ministry, he loved the Lord his God with all his heart, soul, mind, and strength.
He was driven not just to discuss the lukewarm status of what he called "the wandering church" and its need for more Christ-centered teaching, Spirit-led ministry, and spiritual growth but also to pray on behalf of the church, for correction and support. To that end, perhaps the greatest tribute we can make to J.I. Packer is to quote some of his own words, because we must know that even now, he is interceding for us, face-to-face with the Lord, for us to understand.
Concerning Psalm 119, he wrote, "You will see that the psalmist's concern to get knowledge about God was not a theoretical but a practical concern. His supreme desire was to know and enjoy God Himself, and he valued knowledge about God simply as a means to this end. He wanted to understand God's truth in order that his heart might respond to it and his life be conformed to it. … This must be our attitude too. … We must seek, in studying God, to be led to God."
In the many tributes to Packer by those who knew him longest and best, we will find the lists of accomplishments and appointments, from his Oxford scholarship to his dissertation on a Puritan view of salvation, to his years as priest, librarian, principal, his professorship at Regent College, and his many years as editor and general editor for important publications and projects. We knew Packer personally only a short while. But that's really the point, isn't it? Because even for the least of us, Dr. Packer, you helped us know God.
Kelli Sallman has a Master of Theology degree from Dallas Theological Seminary and has spent 20 years writing and editing for publication and mentoring writers as they develop their books. Coauthor of Martin E. Hawkin's book, The Associate Pastor: Second Chair, Not Second Best, Sallman is a member of the Christian Editor Connection, a contributing writer for Made to Flourish, and writes regularly for her digital journal and blog, Inklings & Inspiration. She also assists and advises Marcus Avery, award-winning film producer, writer, and director whose credits include Fox, Vox, PBS networks as well as major film releases.