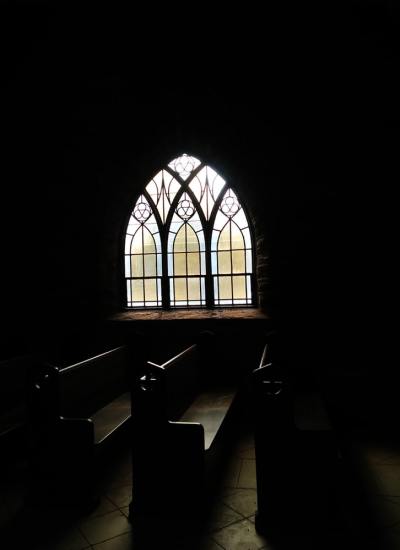 Paul said to Timothy "For the time will come when they will not endure sound doctrine; but after their own lusts shall they heap to themselves teachers having itching ears. (2nd Timothy 4:3 KJV). Today people are flocking to hear the testimonies of famous celebrities or big name sports figures. It's very trendy for a pastor to have one of his Bible school buddies from across the country come in and preach at a special meeting, or a series of meetings. While he is in town during the day, they enjoy a lot of hang time and fellowship with one another. Meanwhile, the God called evangelists struggle keeping a full calendar of places to preach and often have to secure either a pastorate or a "day job" to meet their everyday needs. If God called apostles, prophets, evangelists, pastors, and teachers according to Ephesians 4:11, then ask yourself the question why aren't we using them? It is any wonder why there is so much turmoil and failure in the body of Christ in America? Could it be we don't want part of the five fold ministry?
The analogy "itching ears" always caught my attention. I understand the common interpretation used by most for many years, which says that Paul was saying that ears are tingling for something new. That is certainly a possible conclusion. Interestingly, this analogy is not used anywhere else in scripture, making its meaning obscure.
The Lord knew that this analogy was on my heart and so He led me to an interesting truth. In reading a book on nutrition, I noticed that he, a PHD, noted that earwax buildup can be caused by too much gluten or sugar in someone's diet. In a more recent article, published by the highly regarded EI group, an environmental health and safety solutions company, entitled "Can what you eat cause excessive earwax," the answer is also yes! 
As gross as it is to talk about earwax, we need to realize that not only does it cause itching but it also caused hearing loss! Could Paul, a learned scholar, have known this back then? Could the Greek or Roman doctors of that day have figured this out? Only God knows the answer but it certainly would more clearly explain Paul's metaphor more concretely.
The entire fifth chapter of 1st Corinthians 5 deals with the subject of unrepentant sin. In verse two Paul states "And ye are puffed up, and have not rather mourned, that he that has done this deed might be taken away from among you. Later in the chapter goes into a very important truth concerning leaven, an ingredient in bread! The leaven of bread! He reminds the Corinthians that a little leaven, "leaveneth the whole lump." Comparing being puffed up with pride to the leaven of bread is a frequent analogy in scripture. The unleavened or "matzo" bread used in Passover has holes poked into it and stripes cut through it before it is baked to keep it from rising. Jesus At the last supper Jesus raised up a piece of that bread and, instead of saying "This is the bread of affliction our fathers ate in Egypt" as was the custom, speaking prophetically, He said "This is my body which is broken for you!" Just a few hours later, His body was broken as stripes were laid on him and holes pierced his head, his hands, his feet, and his side, for your sins and mine! 
That's too much truth for many in modern day churches. They would rather hear something to stroke their pride. "Pastor, preacher, give us more gluten for our diet so our ears will continue to be filled with wax and our lives filled with pride."
"After their own lusts" they would "heap to themselves" teachers having itching ears who only tell them what they want to hear. They are saying "Don't give us the dry unleavened bread of God's Word! Tell us something new? Tell us some new truth! Tell us something that is going to sound sweet to our already dulled hearing. Don't give us the meat of God's Word. Give us some more milk, or some more bread, but no pastor, don't send us home with that heavy stuff that's going to convict us of our sinful lives. Don't teach us about Hell, or repentance, or tell us Jesus calls all of his followers to be disciples. Please pastors tell us God loves us and that he has a wonderful plan for our lives. Please tell us 'peace peace when there is no peace' (Jeremiah 6:14b). Tell us that everything is going to be just fine and that God understands how hard it is to live in this day and time. Please tell us it's ok to sin a little bit every day because everyone does, but don't quote such hard scriptures as 'He that commiteth sin is of the devil' 1st John 3:8a (KJV). Please Pastor be nice like many other churches are in town and send us home at the end of the service feeling good about ourselves! Please don't make us feel guilty about not praying, or witnessing, or giving. Pastor you just need to leave these things with the Lord! Tell us Pastor how God loves us unconditionally and how that He doesn't love one above another."
The day that is coming which Paul spoke about is clearly already here now. The somber truth that we need to come to grips with is that countless churchgoers are not truly born again but have a form of godliness, denying the power thereof (2nd Timothy 3:5) . They do not long for truly Godly spiritual things because they are not Godly themselves. They have not been truly born into the Kingdom. They have heaped for themselves teachers having ears full of ear wax and they are declaring "more bread, more bread, will you pass me some more bread Pastor? Who will win these lost to Christ?
Rev Nolan J Harkness is the President and CEO of Nolan Harkness Evangelistic Ministries Inc. since 1985. He spent most of his adult life working in youth ministry. He also felt the calling of Evangelist/Revivalist and traveled as the door was open holding evangelistic meetings in churches throughout the Northeast. His website is www.verticalsound.org.