Washington has gone crazy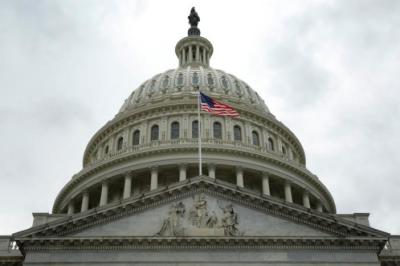 Like loved ones walking the corridors of a hospital for the mentally ill, and, midst tears, peering through a narrow window at their family member sinking into a deepening chasm of insanity, the American people look upon what is happening now in Washington with sorrow and bewilderment.
Washington has gone crazy.
Watergate Washington and the Nixon White House were havens of sanity and stability compared to the present state of the nation's capital and its institutions. I speak from firsthand experience, having worked in the White House 1970-1973.
The nervous breakdown in the House this week, the nonstop tweet-prattling from the Oval Office, leaders storming out of meetings, near physical fights in the Rose Garden, Rasputin-like frothing on the Hill, all point to the increasing craziness in Washington.
Nancy Pelosi called on the Trump family and his staff to stage an "intervention" after claiming that the president threw a "temper tantrum" in the presence of herself and Senate Minority Leader Chuck Schumer.
Pelosi calling for family intervention for Trump, thus implying his mental incapacitation, prompts a taunt us less perfect human beings shouted at aggravating playmates in childhood: "Takes one to know one!"  One wonders if Pelosi also needs "intervention" after her comments and abrupt exit from the House floor a couple of weeks later.
"I've been watching her... for a long period of time," said Trump after the Oval Office session prompting her call for intervention. "She's not the same person," he said. "She's lost it."
The President of the United States needs family intervention, and the Speaker of the House, third in line for the presidency, has "lost it."
God help us.
As a pastor I have heard families watching the apparently unstoppable descent of a loved one into physical or mental illness ask: "What are we to do?" That's the query of sorrowing citizens peering into the figurative padded cells that Washington institutions are becoming.
And so the "family" of the nation looks on this chaos and earnestly hopes for some sign of sanity in the Washington asylum.
As with any illness, causes must be identified if there is to be healing. Before there can be a prescription there must be a description, embodied in the key question: What is this disease whose symptoms we are observing?
There are actually two mental ailments that are causing the chaos we observe in Washington currently—and maybe more.
The first is Trump Derangement Syndrome. Rob Whitley, Ph.D., writing in Psychology Today, noted that 70,000 "mental health professionals" signed a petition asserting that Donald Trump is mentally ill and should be removed as president. But, says Whitley, "more and more people are suggesting that this 'medical gaze' should be reversed and refocused on President Trump's most embittered and partisan opponents," who may be suffering "a specific mental condition."
The second cause of Washington's craziness is Socialist Delusion Syndrome. From aged Bernie Sanders to youthful Alexandra Ocasio-Cortez, Socialist Delusion Syndrome is spreading among leftists like smallpox once did whole communities. Sanders has seen the horrific outcomes of socialism, yet still campaigns for it. Dewey-eyed Occasio-Cortez and her "fellow travelers" (yes, that's an old anti-communist term from the 1950s) are so delusional they can still dream of socialist paradise.
Within a year of the collapse of communism I traveled throughout the former Soviet Bloc speaking in leadership conferences where people yearned for political sanity after 75 years of Marxism in their countries. The more I traveled the more I moved from mere disagreement with socialism, to an outright hatred of the system. That occurred as I journeyed backstreets of Kiev, Prague, Riga, Budapest, Belgrade, Sofia, and other cities, and saw the emptiness in people's eyes.
If Pelosi wants to see "dehumanization" she can stare intensely at the faces of people who have been robbed of hope and enterprise through the kinds of policies increasingly revered in her Party. 
The present crisis is that the disease in Washington is spreading throughout the land. Pelosi, for example, was appalled that Donald Trump labeled members of a terrifying street gang as "animals."  She fired back by generalizing that in so labeling the gang, Trump was including all "undocumented immigrants." Pelosi wondered aloud: "does he not believe in the spark of divinity? In the dignity and worth of every person? Every day you think you've seen it all, along comes another manifestation of why their policies are so inhumane."
What? A woman who, with her Party, supports extending abortion right up to the point of birth, apparently fails to see the "spark of divinity" and "worth" of unborn innocents? Clearly the Speaker of the House suffers some form of legislative disassociation or policy schizophrenia.
That is among the many reasons that now is not a time for jeering and mockery, but a moment for grief and prayer for healing, and above all for the continual assertion of truth. Truth is a healing balm, an antidote to delusion.
However, that truth must not be mere political platforms, tweets from the Oval Office, partisan statements from the floors or the House and Senate, or great legal tomes from black-robed Supreme Court justices. Healing comes from the transcendent truth that sets people free and restores them to sanity.
To cast off the source of this truth is to slide into the abyss of chaos and madness. This source we have lost and this source we must recover, in Washington, D.C., and throughout the land.
We have to face the facts, America: Washington has gone crazy.
We must pray that the little bits of sanity nestling deep in the swamp will soon rise to the surface.
Wallace Henley is senior associate pastor at Houston's Second Baptist Church, and Chair of Belhaven University's Master of Ministry Leadership degree. He is a former White House and Congressional aide, and co-author of "God and Churchill", with Winston Churchill's great-grandson, Jonathan Sandys.