What Ephesians 5 really teaches about husband-wife submission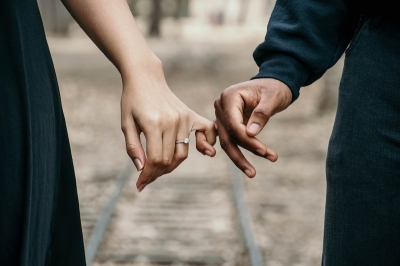 The sentence including Ephesians 5:22 actually starts at 5:18. Paul commands all believers, "Be filled with the Holy Spirit," followed by examples of what people do who are filled with the Spirit, concluding with 5:21, "submitting to one another out of reverence for Christ …"
Paul states that mutual submission is required of all believers. He continues this sentence in 5:22, "wives to your own husbands" without adding the verb "submit." The NIV paragraph break after verse 21 is in the middle of a sentence. This is not justified. It makes no sense for a new paragraph to begin, "Wives to your own husbands" with no verb. Splitting this sentence into two paragraphs separates "wives to your own husbands" from the context Paul gives it -- namely mutual submission.
Originally there was no verb in Ephesians 5:22. The earliest manuscripts of Ephesians 5:22 (including Vaticanus) do not include the verb "submit." Nor does its citations by Clement of Alexandria (Stromata 4.8.64), Origen, and Theodore of Mopsuestia. Jerome even writes that in Greek manuscripts verse 22 never repeats the verb "submit" from verse 21. Virtually all editions of the Greek New Testament omit "submit": NA, UBS, Nestle, Westcott-Hort, Tasker, Souter, Alford, Tischendorf. The inclusion of "submit" in The Greek New Testament Produced at Tyndale House Cambridge is inconsistent with its aim "to present the New Testament books in the earliest form in which they are well attested," p. vii. The United Bible Societies' text ranks the omission of "submit" as "almost certain." The view that "submit" was originally in the text and that all the earliest manuscripts of this passage and citations of it removed "submit" must not be true, because once "submit" first appears in the text of Sinaiticus circa 360 AD, no scribe ever removed it. The missing verb must be implied from Ephesians 5:21's "submitting to one another out of reverence for Christ."  The command that wives submit to their husbands, therefore, should be understood in the context of mutual submission. This context requires that husbands, too, should submit to their wives.
In this chapter, Paul calls all Christians to mutual submission and sacrificial love. Since Ephesians 5:21 uses the reciprocal pronoun, it cannot refer to submission to superior rank. Rather, it is about "submission in the sense of voluntary yielding in love" (BDAG 1042 1.b.β.). This includes husbands and wives within their marriages. Paul's words are crafted to fit the Greco-Roman households he addresses. Paul encourages wives to respect the man who provides them with food, shelter, clothing, companionship, and love. But this does not exempt them from loving their husbands. Husbands then, like husbands today, could be emotionally distant and have their separate worlds. They needed to be told to love their wives, and this applies to husbands today. But this does not exempt them from respecting their wives. Paul does not give any command here in Ephesians 5 that applies only to husbands (and not to wives) or applies only to wives (and not to husbands).
In sharp contrast to patriarchal Greco-Roman "household tables," which directly address only the father of the family and assign him final authority in the household, Paul addresses all members of the household and calls all to be accountable to Christ. He tells husbands to love their wives self-sacrificially and masters to treat their slaves justly and with equality (isotēs, Col. 4:1). He forbids masters from threatening their slaves and reminds them that there is no favoritism with God (Eph. 6:9; Col. 3:25). These statements by Paul undermine the foundation of Greco-Roman patriarchy -- that male masters are superior to females and slaves. Paul's Christ-centered reframing subverts their Greco-Roman hierarchical purpose.
Paul's closely parallel wording in Ephesians 5:23 and 1 Corinthians 11:3 favors the translation, "because man [Adam, not "the" husband] is the source of the woman [not "his" wife]." Respect for man as woman's source can motivate a wife to submit. As explained in my previous op-ed article, "authority" was not an established meaning of "head" in the Greek of Paul's day like it is in English, but "source" was. "Source" is also what Paul means by "head" in the Eph. 4:15–16, Col 1:18, "he is the head of the body, the church, who is its source [archē]," and 2:19).
Furthermore, "source" fits how Paul explains "head" in Ephesians 5:23. Robertson's Grammar, 399 explains that "head" is in "emphatic apposition" with "savior." As savior, Christ is the source of the church, as Paul explains in verse 25: Christ "gave himself up for her." Similarly, the husband, in that culture, was the source of life for his wife since he provided all that was essential for her to live. "Head" is a natural metaphor for "source" because the head is the source from which the body receives nourishment, breath, sight, hearing, smelling, and taste.
This Ephesians passage goes on to command husbands to love, give themselves for (5:25), nourish, and cherish their wives just as Christ does for the Church (5:29). Nowhere does it say that husbands have authority over their wives. Paul applies "submit to one another" first to wives in verses 22–24 and then to husbands in verses 25–33.
Some people assert, "the husband is told to love his wife — the wife is not told to love her husband. Furthermore, Christ is the model for the husband only, not his wife." Neither is true. In the first two verses of this chapter, Paul uses identical words for all believers, including wives and husbands, "love ... as Christ loved ... and gave himself up for us." Additionally, Paul writes that wives should "love their husbands" in Titus 2:4.
This passage highlights Christ's love and self-giving, not Christ's authority. It teaches how much love Christ has for the Church, and therefore how much love husbands should have for their wives. The key point of the analogy Paul stresses is, "love your wives as Christ loved the Church" (5:25, 28 twice, 29, 33), not that the husband has authority over his wife, and certainly not that the husband's authority corresponds in any way to the authority Christ has over the Church. That would be like deifying husbands! Ephesians 5:32, "This mystery is profound — but I am speaking about Christ and the church" expresses the mystery of Paul's analogy.
This understanding of the submission of wives to husbands as one aspect of mutual submission fits Paul's instructions — far more extensive and also radical in his culture — for husbands to love, cherish, and nourish their wives. The following passages about children and slaves use a different verb, "obey."
Colossians 3:18 states, "Wives submit to your husbands in all ways that are appropriate in the Lord." The Greek text has no comma after "husbands." Wives should not submit in ways that are not appropriate in the Lord, such as Sapphira's collusion with her husband's deceit in Acts 5. The NIV's added comma changes "as is fitting in the Lord" from a restrictive clause into a separate affirmation.
Colossians 3:19 explicitly addresses abuse since it commands husbands not to be harsh with their wives. Harshness has no place in Christian marriage.
Philip B. Payne (Ph.D. The University of Cambridge) has taught New Testament in colleges of the University of Cambridge and has been a Visiting Professor of New Testament at Trinity Evangelical Theological Seminary, Gordon-Conwell Theological Seminary, Bethel Seminary, and Fuller Theological Seminary. He is well known for seminal articles on the parables of Jesus, women in the teachings of Paul, textual criticism, and Codex Vaticanus. His books include Man and Woman, One in Christ: An Exegetical and Theological Study of Paul's Letters, Why Can't Women Do That? Breaking Down the Reasons Churches Put Men in Charge, and (forthcoming April 4, 2023) The Bible vs. Biblical Womanhood: How God's Word Consistently Affirms Gender Equality. He founded Linguist's Software, which provides fonts and input systems for over 2600 languages, including the fonts used to publish the Nestle-Aland Novum Testamentum Graece 28th edition, the UBS The Greek New Testament, and HALOT (The Hebrew and Aramaic Lexicon of the Old Testament). He and his wife Nancy were missionaries in Japan. Their three children and six grandchildren all love the Lord.