Why 1 Timothy 2:12 shouldn't be used to ban women ministers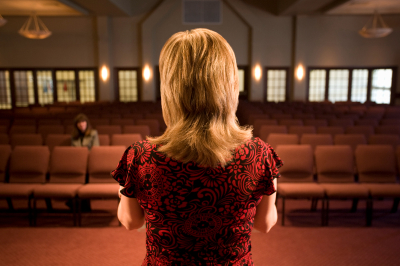 Should we use 1 Timothy 2:12 as the proof text on the topic of women Bible teachers?
It is commonly acknowledged among Evangelical Christians that it is unwise to build a doctrine on one verse or on one passage of Scripture. Still, many Christians use 1 Timothy 2:12 as the primary text and cornerstone of their understanding of women in ministry, especially of women as Bible teachers. This verse begins with, "I do not allow a woman to teach …"
1 Timothy 2:12 is the only verse in the entire Bible that places a restriction on a woman's teaching. Elsewhere in the Bible, however, there are examples of men who were instructed by women, and these men accepted and appreciated this correction and teaching.1
Moreover, Paul mentions over a dozen women as ministry colleagues in his letters, and always in a positive light. What did Paul think, generally, about women teaching? Did he intend to restrict all women from teaching men, which is how many understand 1 Timothy 2:12?
Priscilla's ministry and Paul's authority
Apollos, an up-and-coming apostle, was teaching in Ephesus when Priscilla and Aquila saw a lack in his teaching, so they corrected him. Luke writes that, "they explained to him the  way of God more accurately" (Acts 18:26).  In the oldest Greek manuscripts of Acts 18:26, Priscilla is named before her husband. In Romans 16:3–16, Priscilla's name is first in a list of 28 Christians based in Rome. First of 28 Christians!
Surely being mentioned first in Acts 18:26 and Romans 16:3ff says something about the nature and prominence of Priscilla's ministry in Ephesus and in Rome (cf. Acts 18:18–19; 2 Tim. 4:19).
Some say that Acts 18:26 doesn't specify that Priscilla and Aquila instructed Apollos in a church meeting, and so Priscilla's example does not serve as a valid precedent for women teaching in a congregational setting. But what does it matter where Priscilla, with Aquila, corrected Apollos?
By way of example, the authority and influence of Paul's teaching didn't change if he was in a synagogue, a public square, a prison cell, a lecture hall, a house church, or having a private conversation. Paul was still the same person, guided by the same Holy Spirit, called and authorised for ministry by God.
We know that Priscilla and Aquila hosted a house church in Rome and in Ephesus (Rom. 16:5; 1 Cor. 16:19–20). And there should be little doubt that these friends of Paul, who had travelled and worked closely with him, frequently gave spoken messages in their house churches that included teaching.
Paul's theology of ministry: Teaching and prophecy
It is usually Paul's words in 1 Timothy 2:12 and, to a lesser extent, 1 Corinthians 14:34–35 that are used to silence and restrict the ministry of women.[2]  However, his lists of ministries in other passages ― Romans 12:6–8, Ephesians 4:11, 1 Corinthians 12:28, 1 Corinthians 14:26, Colossians 3:16 ― and each of them mentions teaching in some way, do not specify gender in the Greek. There is no hint in Paul's original words in these five passages that the ministry of teaching is for men only or off-limits to women.
Very few people are identified as teachers in the Bible, but many men and women are identified as prophets. There was a respected place for female prophets in Israel, early Judaism, and the early church, and prophecy usually included teaching or instruction. The Corinthians were told, for example, that prophesy is "… so that all may learn and all be encouraged" (1 Cor. 14:31, italics added).
Paul considered prophecy to be the most desirable of the spiritual gifts (1 Cor. 14:1), and he listed prophets and prophesying before teachers and teaching in Romans 12:6–8, 1 Corinthians 12:28, and Ephesians 4:11. As Ben Witherington has pointed out, "one cannot argue that prophesying — whether by women or by men — is less important, less enduring or less official than teaching or preaching."3
Furthermore, Paul's favourite words for ministers who he knew personally were coworker, diakonos ("minister, deacon"), apostolos ("missionary, apostle") and labourer. He uses these terms for men such as Timothy and for women such as Priscilla, Junia, Evodia, Syntyche, Phoebe, Persis, and more.4 Paul valued the ministry of his female colleagues.
Domineering behaviour in Ephesus
As well as being the only verse in the Bible that prohibits a woman from teaching, 1 Timothy 2:12 is also the only Bible verse where the Greek verb authenteō is used. This word is not related to the usual Greek word (or English word) that means "to have authority." 1 Timothy 2:12 is not about prohibiting an ordinary or healthy kind of authority.  
Cynthia Westfall has looked closely at the surviving ancient texts that contain the verb authenteō. She has observed that "the people who are targets of these actions are harmed, forced against their will (compelled), or at least their self-interest is being overridden because the actions involve an imposition of the subject's will, ranging from dishonour to lethal force."5
The Vetus Latina (Old Latin) translates authenteō in 1 Timothy 2:12 as dominari ("to dominate"). The Old Latin was produced in the second–fourth centuries when both Koine Greek (the language of the New Testament) and Latin were living languages. To dominate is bad behaviour for a woman and it is bad behaviour for men. Chrysostom, an early church father, used the same verb in a comment about Colossians 3:19 and said a husband must not dominate (authenteō) his wife.6
I suggest the first two phrases of 1 Timothy 2:12 are better understood as, "I do not allow a woman to teach, nor to dominate a man." But why is Paul only speaking about a woman's actions here? What is the context of 1 Timothy 2:12?
The broader context of 1 Timothy 2:12
When we zoom out from 1 Timothy 2:12, we see that in 1 Timothy 2:8-15, Paul is addressing and correcting problem behaviour from certain members of the Ephesian church: angry quarrelling men in verse 8, overdressed rich women in verses 9–10, and a woman who needed to learn quietly (as it says in verse 11) and not teach, and not domineer a man.7
1 Timothy 2:8–15 does not contain Paul's general teaching on ministry. Rather, it refers to specific people and specific problems in the Ephesian church. Likewise, in 1 Corinthians 14:26–40, Paul silences three groups of unruly speakers in Corinthian assemblies, not just wives who wanted to learn but should keep their questions for home.
The reason Paul wrote 1 Timothy was because of false teaching in the Ephesian church (1 Tim. 1:3ff). The worst false teachers in Ephesus, however, were men, not women (1 Tim. 1:29; 2 Tim. 2:17–18).  So, it doesn't make sense that Paul would permanently restrict women from teaching, but not men. It makes more sense that Paul was saying that a certain ill-informed woman shouldn't teach anyone and shouldn't domineer a man who was probably her husband.8 She needed to learn! (1 Tim. 2:11).
Paul prohibited unsound teaching and silenced unruly speaking (1 Cor. 14:26–40) from men as well as from women. On the other hand, he never silenced or stifled edifying ministry from anyone. In his general teaching on spoken ministries, Paul encouraged participation from gifted people and did not specify gender.
We should be cautious about applying 1 Timothy 2:12 ― the only verse in the Bible that restricts a woman from teaching ― to all women for all time, especially to gifted women who have learned and are not domineering. Using one verse as the basis for prohibiting women from teaching, especially when men are present, is unwise.
---
1. For example, King Lemuel's mother taught him an inspired message, an oracle, that is still relevant and continues to teach men and even kings (Prov. 31:1ff).

2. The qualifications for overseers in 1 Timothy 3:1–7 are also sometimes used to restrict women.
3. Ben Witherington, The Paul Quest: The Renewed Search for the Jew of Tarsus (Downers Grove: InterVarsity, 1998), 225.
4. Paul doesn't identify any individual church leader in his letters, male or female, with the words poimēn ("pastor"), episkopos ("overseer, bishop") or presbyteros or presbytera ("elder").
5. Cynthia Long Westfall, Paul and Gender: Reclaiming the Apostle's Vision for Men and Women in Christ (Grand Rapids, MI: Baker Academic, 2016), 292.
6. See Chrysostom's Homily 10 on Colossians. Authenteō is translated as "act the despot" in this homily in volume 13 of The Nicene and Post Nicene Fathers of the Christian Church (First series). (Online source: New Advent)
7. 1 Timothy 2:11–12 is written as an inclusion; these verses belong together, and quietness (not silence, as in some translations) is emphasised.
8. After speaking about plural "men" in verse 8 and plural "women" in verses 9–10, Paul uses singular words for "woman/ wife" and "man/ husband" in the Greek of 1 Timothy 2:11–15. And he uses a singular verb, meaning "she will be saved," in verse 15. I discuss verses 13–15 on my website, MargMowczko.com.
Margaret Mowczko lives north of Sydney, Australia, with her husband and extended family. She has a BTh from the Australian College of Ministries and an MA from Macquarie University with a specialisation in Early Christian and Jewish Studies. For the past decade, Margaret has hosted a blog at MargMowczko.com that receives thousands of visits (or, hits) daily. Here she writes about the biblical basis for mutuality, or equality, between men and women in Christian marriage and in the church, as well as related topics. Margaret considers the online engagement that the blog generates to be her primary ministry.