Women Take Their Faith to the Olympic Games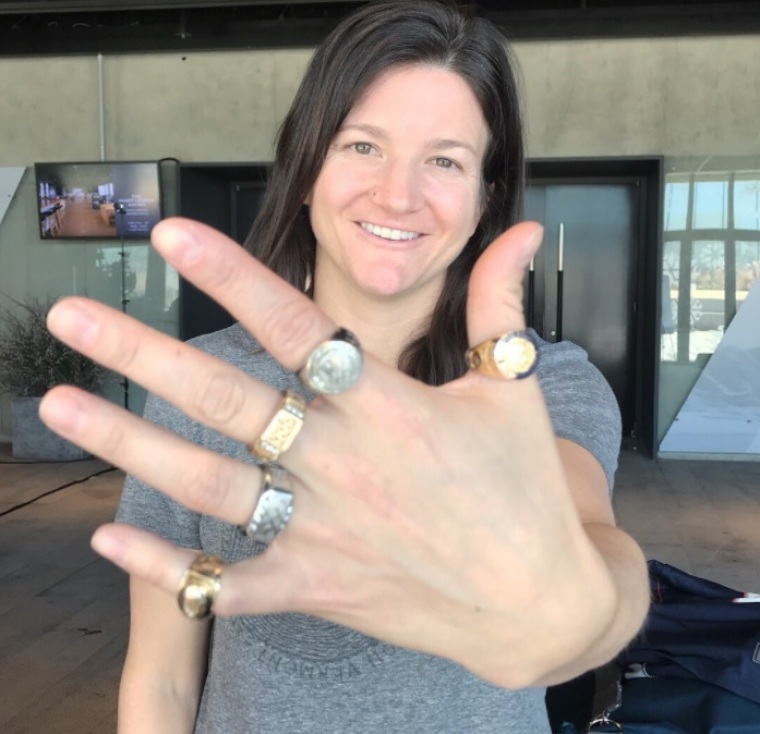 For the athletes in the Olympic Games, all the training and preparation comes down to a few moments over two weeks in PyeongChang, South Korea. Countless hours, sweat and sacrifice go into the biggest competition of their lives. Not only do Olympic athletes carry the weight of their personal performance, but also heap an entire country's expectations upon their shoulders.
During the Olympics, the Fellowship of Christian Athletesis praying for these competitors from around the world, and our most recent FCA Magazine profiles several U.S. Olympians who share about their faith journeys in advance of some of the biggest sports moments of their lives.
Among them are three strong women armed with their strong faith in PyeongChang.
USA Hockey's Gisele "Gigi" Marvin wrote an essay for FCA titled "More Than Medals," where she says that she knew hockey would be part of her life while growing up in "Hockeytown, USA"—Warroad, Minnesota.
"I still remember watching women play hockey in the 1998 Nagano Winter Olympics, and I dreamed I would be able to do the same one day," Gigi says. "I knew early on, though, that it wouldn't be possible without the support of my family and friends. Fortunately, I was blessed to be part of a terrific family with the best parents who loved and cared for me and my younger brother.
"Sports were important to us, but I'm grateful that church was a non-negotiable aspect of our lives," she added. "My mom gave me my first Bible and she modeled to me the servant heart of Christ. My parents also helped me understand at a young age that God had given me this amazing talent to play hockey. It was so natural for me, and it was evident it was a gift from Him."
Marvin's God-given gift allowed her to experience success at every level of youth hockey and gave her the opportunity to play at the University of Minnesota, where her life and walk with the Lord was radically changed because of an invitation to an FCA Huddle her first day on campus. In college, Gigi continued in FCAleadership, all the while playing hockey and loving it. She realized, though, that God had placed her at Minnesota not for hockey—but for Him.
"That just solidified my heart," shared the 30-year-old hockey standout. "I felt Him say, 'Gigi, you are here for Me. To grow in relationship with Me, and to share that with others.' My journey since that time has been one of faith and trust in the Lord to lead me where He wants me to be. By His grace, my childhood dream came true two times when I competed as a member of Team USA at the 2010 Winter Olympic Games in Vancouver, winning the silver medal. Then, in 2014 at the Winter Olympics in Sochi, we won another silver medal.
"But all the success and accolades I've experienced haven't come without trials and setbacks," Marvin continued. "I've been cut from teams. I've faced injuries, position changes and uncertainties that, under my own power, I couldn't have overcome. But God has used each of those points in my life to draw me closer to Him, to teach me what it means in Proverbs 3:5-6: 'Trust in the LORD with all your heart; do not depend on your own understanding. Seek his will in all you do, and he will show you which path to take.'"
Decorated bobsledder Elana Meyers Taylor has the unique opportunity of experiencing the Olympics with her husband, Nic, also a world-class athlete.
Our FCAstory, "Taylor-Made," details how Elana and Nic met at the U.S. Olympic Training Center after a God-directed phone call. Two years later, the engaged couple was baptized together in Lake Placid on a chilly day in October 2013; they were married six months later.
Elana, 33, is a two-time Olympian in two-man women's bobsleigh. Winning the bronze medal as a brakeman in 2010 and the silver medal as the pilot in 2014, she became the first American—male or female—to medal in both positions. Nic, 30, is an alternate member of Team USA's four-man bobsled team. He's won the America's Cup event twice and won a bronze medal during the 2012-13 World Cup season. Both are African-Americans in a sport that doesn't have many minorities. Above all, both are Christians.
"We know God is using our time here for a purpose," Elana told FCA. "It's exciting to be able to go through this and think about what stories we'll share with our kids later, and what will come of all of this."
Growing up in Georgia, Elana Meyers excelled at just about everything—good grades, the editor of the school newspaper, basketball, softball, soccer, and track and field standout. She says she attended church on "significant dates," but struggles with depression and an eating disorder early in college brought her to a closer relationship with God.
"Christ spoke to me and told me I didn't have to have control of everything, and He would take control of me," she says. "Ever since then, I've walked this journey with Him."
Over time, Elana overcame her struggles. She attended FCA events and participated in a life-transforming Bible study through Athletes in Action. After college, and after failing to make the elite U.S. Softball Team, Elana began her bobsled career in 2007, making the national team in her rookie season. Along the way, she remained involved with a Bible study at the Olympic Training Center in Lake Placid, as well as with the U.S. Bobsled and Skeleton Federation.
When injury ended Nic Taylor's track career, he switched gears to bobsledding. He called the Bobsled and Skeleton Federation in the fall of 2011 to start the paperwork for his new path. Elana Meyers answered the phone. A conversation that should have lasted just minutes went on for hours. A few weeks later, Nic moved to New York to begin training, and the two began dating—and training together.
By 2013, Elana established herself as the best American bobsled pilot and also enjoyed seeing the sport from a new perspective by teaching Nic.
"It's really shaped our relationship and really taught us a lot about each other," she said. "We've seen each other at our lowest, but we've also seen each other at our highest."
Kelly Clark's quick rise in the world of snowboarding has made her a legend in the sport. But as she literally soars to incredible heights in the snow, it took getting grounded in her faith for Clark to really know herself.
FCA'sstory on Kelly, titled "Purpose Found," details how the snowboarder burst onto the scene and joined the U.S. Snowboarding Team in 2000 at the age of 16. After graduating from Mount Snow Academy in her hometown of Dover, Vermont, she began winning everything—X Games gold, U.S. Open gold and the overall Grand Prix tour title.
At 18, Clark arrived in Park City, Utah, for the 2002 Olympics as the youngest rider ever to reach the finals. A star was born and fans fell in love as Clark earned gold. Now, at 34, Clark is preparing for an unprecedented fifth Olympics—something no snowboarder has ever done. What's transpired over the years has been part inspirational and part miraculous.
In the beginning, Kelly Clark just wanted to convince her parents that she could make a career in snowboarding despite the risks. But soon, she became a national symbol. Clark's Olympic victory in 2002 was an important moment for the country—the first gold medal won by an American in the aftermath of the Sept. 11 attacks. Back at home, she was featured in TV interviews, marketing campaigns and a hometown parade.
But, for Clark, something was missing.
"In all those external successes, I was really looking for that sense of significance," she said. "I think our greatest need as humans is to be significant, and we'll look for that everywhere. That's just what I did with my snowboarding."
Christian friends of Kelly's began praying for her, and as she became more well-known in snowboarding, Clark asked herself: "Now what?"
Two years after the Park City Olympics, Kelly was back in Utah for the start of the 2004 snowboarding season, but she was in despair. No one, including herself, knew her outside of the label: "Snowboarding Champion." She had no idea of her purpose in life. Despite feelings of depression, Clark qualified for the finals and heard an exchange between two women—one consoling her friend who didn't qualify after a fall. "Hey, it's all right," the friend said. "God still loves you."
Clark couldn't ignore that simple sentence—"God still loves you." That night, she went back to her hotel room, knowing a Bible would be there. She didn't even know how to begin reading, but the woman from the event was staying at the same hotel. Kelly knocked on her door.
"I think you might be a Christian," she said, "and I think you need to tell me about God." Years later, Clark still feels forever grateful for that moment. "I knocked on the right door"
After exploring everything she could about Christianity, Clark was baptized, changed her habits when she competed on the road and began living what she calls a "genuine life" as a Christian. Today, she believes her longevity in snowboarding is a result of God's blessing. Along the way, she's amassed more than 70 wins, three Olympic medals, a slew of X Games medals and five World Snowboard Tour titles.
And even though she's the winningest athlete in snowboarding history, Clark finds her identity beyond the sport and receives the love and acceptance she'd always wanted—from Jesus, from Christian friends and from non-believers, too. Clark demonstrates her commitment to Christ with a message printed on the topside of her snowboard: "Jesus, I cannot hide my love."
Despite her age, Clark is still one of the best snowboarders in the world. These Games could bookend an incredible career; in 2002, she became the youngest Olympic snowboarding champion, and in South Korea, could become the oldest Olympic snowboarding medalist. Kelly has grown to cherish the steps it takes to remain competitive.
"I love sports because you get to see what you've built, from physical to mental to emotional," she said. "I believe I haven't hit my potential."
And she is grateful her statement is no longer confined to what she does on her snowboard.
Please pray with the Fellowship of Christian Athletes for every Olympian, and that those who have the love of Jesus in their hearts will find daily chances to glorify God during the Winter Games.
When to Watch
· Gigi Marvin and the rest of the USA women's hockey team will play on Feb. 11 against Finland in the preliminary round, then versus the Olympic Athletes from Russia (OAR) on Feb. 13.
· Kelly Clark's snowboarding competition begins Feb. 12, with the ladies' halfpipe qualification run. For those who qualify, the final run is set for Feb. 13.
· Elana Meyers Taylor will team up with Lauren Gibbs as medal favorites for the two-man women's bobsled. The women's team begins competition with official training heats on Feb. 17. The men's team, for which Elana's husband, Nic, is an alternate, begins competition with two-man official
Shane Williamson is the president and CEO of the Fellowship of Christian Athletes. For information on how to bring FCA to your school or campus, or for details about FCA Camps or events, visit www.FCA.org.