5 things pastors can do to support the truth and beauty of creation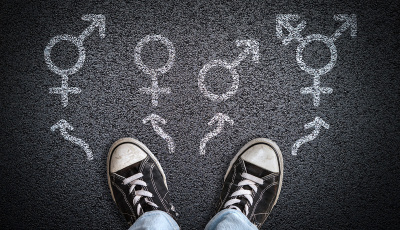 Our culture's deconstruction of male and female is happening rapidly with devastating effects. The media and schools encourage children to question whether they're trapped in the wrong body. Those who fall prey to this deception are led down a dangerous path. Their search for fulfillment in a new "gender identity" might begin with pronouns and clothing and end with sterilizing hormones and surgeries.

The deconstruction of the sexes ultimately leads to the destruction of people's ability to form marriages and families of their own. As the cultural confusion grows, the Church can illuminate the darkness by pointing to the truth and beauty of God's creation. Here are five things pastors can do:
1.Pastors can pray for the truth of the Gospel to form the next generation's identities

Generation Z and those coming up behind them face fierce cultural headwinds. They are told that their status is based on "identities" determined by skin color, sex, sexual orientation, or gender identity. The culture pits them against each other in an endless power struggle regardless of their individual circumstances, decisions, and actions. Helena Kerschner, for example, was labeled part of a privileged group because of her race. She sought a way to escape the label's stigma by adopting a new gender identity.

Young people need to know that relationship with Christ offers a source of identity that doesn't depend on any human act of penitence for the misdeeds of a group. Understanding this truth can inoculate them against the culture's attempts to shame them. They also need to hear Genesis 1 and 2 — why God's design for men and women, marriage, and the family leads to human flourishing. Silence cedes ground to the culture's aggressive attempts to deconstruct all three.
2. Pastors can counsel those struggling with gender confusion

After being dressed in girl's clothing by his grandmother, Walt Heyer struggled with being a man and lived as a woman for years. When a church harshly rejected him because of his struggles, he found it challenging to trust Christians. Pastor Jeff Farrar created a safe environment when Walt eventually tried church again. Through the course of many discussions, Walt realized "transgender identities were man's idea, not God's." Although doctors made a "total wreck" of his life, Pastor Jeff's care led Walt to see himself as Jesus does: a beloved son in need of love and redemption.

Because of legal restrictions on counselors, the Church is specially situated to meet this urgent need. Laws in 20 states and the District of Columbia forbid licensed counselors from telling boys and girls that they can become comfortable with their bodies. But pastors in these states can still typically counsel people who want to bring their hearts, minds, and conduct in line with their faith and biology.
3.Pastors can prepare parents to teach their children about God's design

The Church can equip parents to give their children a biblical alternative to the prevailing cultural narrative. Rev. Jim Supp hosted an event for parents at his church. They learned about rapid-onset gender dysphoria, received Alliance Defending Freedom's Parents' Toolkit on Critical Theory, and heard teaching on how to talk with their own children about the beauty of God's created order.

When schools undermine the ability of parents to teach the truth, pastors can support them. In Albemarle, Virginia, students were told that their races, sex, and religious beliefs put them into categories of "oppressed" or "oppressor." When a Catholic student was called "transphobic" for expressing biblical beliefs, his school treated him as the troublemaker. Five families are now bravely challenging the school district's policies in court.
4.Pastors can stand alongside courageous truth-tellers

Those who stand up for truth face strong opposition. Elementary school teacher Tanner Cross watched a 60 Minutes episode on young people who regretted gender transition. Tanner knew his own school district was considering a policy that would require teachers to validate those "transitions," so he spoke up. After he told the school board, "I love all of my students, but I will never lie to them regardless of the consequences," the district swiftly suspended him. Rev. Gary Hamrick stood alongside him and publicly defended his freedom to speak according to his conscience.
5.Pastors can speak truth to everyone everywhere

Pastor Zach Ritz of Veritas Church testified in support of Virginia Gov. Glenn Youngkin's proposed model policies. The policies protect children by ensuring that parents determine how a school treats a child's gender confusion. Pastor Ritz says he was motivated to speak because parental rights are a scriptural commandment America's legal tradition protects.

The Church speaks truth clearly not just to preserve a cultural place for Christians, but so that all can flourish according to God's design. Pastors can treat gender-dysphoric individuals like they would anyone suffering from disordered thinking. Anorexia distorts a person's self-image and can lead to self-harm. Similarly, gender dysphoria creates mental incongruence between sex and gender identity. As Walt Heyer writes, "Affirming false cross-gender identities is not love; helping someone reclaim their true identity in Christ is." Some Christian leaders accept and encourage the use of pronouns at odds with a person's sex, but affirming disordered thinking doesn't lead to healing. The path to healing affirms the truth of Creation.

To cope with the trauma of an abusive father, KathyGrace Duncan once identified as a man. She writes that had she not encountered "caring leaders in my church, I might still be living a lie. When I confessed the truth of my identity, however, they lovingly stood by me as I explored a return to womanhood. It was a decisive turning point in my faith."
Lies harm, but truth heals. Shining the light on Christ's love and His design for male and female can lead more people to find their true identity in Christ. By praying, counseling, teaching, standing, and speaking, pastors and ministry leaders can point the next generation to the One who is the Way, the Truth, and the Life.