The American Church and the Idol of Comfort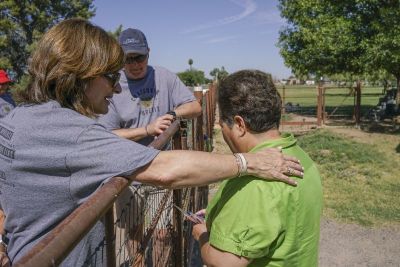 It's 7:30 in the evening and I'm laying on my couch. The kids are running around like wild animals and the doorbell rings.
"Oh oh, it's Wednesday," I thought.
I sprang off the couch ran to my room and threw a shirt on. I walk to the door trying to get my story straight because once again I forgot about the commitment I made. Waiting for me at the door is, Timothy and Daphany, the Jehova's Witnesses who visit every Wednesday.
They've given me a pamphlet the week before, which I told them I would read.
We engaged for about 15 minutes; Daphany didn't talk much, and Tim was doing his best to steer the conversation back to the pamphlet topics. Topics like, "Do you know what the future holds" and "Why is there pain in this life?"
I, however, wanted to talk about key doctrinal differences between Jehova's Witnesses and Christians. Every time I brought up the divinity of Christ, Tim would nod his head, and bounce back to the track. It was clear he didn't want to debate, and that's okay.
Here's the point though, Tim and Daphany care. That's why I opened my door and what opened my eyes.
At some level, Tim really does want me to hear the good news. Although the doctrine he preaches is toxic, in his mind, it's true. So true, he spends his Wednesday evenings walking door to door sharing his faith.
The question I asked myself is: why am I not doing the same?
If the Gospel is indeed good news; why am I not shouting it from my rooftop? Literally. I don't know if that method would be beneficial; I would probably have a handful of complaints from my neighbors. The point is the Gospel beckons to be shared. It calls out to believers everywhere to open their mouths and speak truth.
We find it far easier to talk about topics which don't matter. But there is something inside of us that wants to get to know our friends, neighbors, and co-worker on a deeper level.
When the opportunity to talk about God presents itself, do we speak up?
The evidence of faith is actions. In James, it says, "Be doers of the word, and not hearers only. Otherwise, you are deceiving yourselves."
So logically, if one cares, actions follow. If you love something or value it, you talk about it.
When the Spirit of God dwells in a someone, it changes them. They ought to look, act, and sound different than their unbelieving counterparts.
If Tim, the Jehova's Witness, without the Spirit of God, is evangelizing, what excuse do I have? One doesn't have to have a silver tongue to spread the Gospel. God spoke truth through the mouth of a mule; therefore there is no room for excuse.
It's too common to find ourselves neglecting to talk about the Gospel. On the flip side, the apostle Paul said he's trying to stay in his right mind, concerning his joy in Christ.
Do you see the difference?
Being a Christian is not a private affair. It's wildly unbiblical to believe your faith is better left undiscussed. Jesus Christ is all that matters, and all that will ever matter.
In God's kingdom, worldly matters are going to be forgotten. On the other side of eternity, no one is going care how many championships Michael Jordan won, no one will care about politics, and no one will care about the latest sitcom. We will all be on our faces before an almighty God. After a thousand years, when we get the strength to stand in His presence, we're going to fall right back down in awe of his Glory for another thousand.
Christ, and Christ alone will be our eternal fixation. Our choices and the way we decide to live on this earth matters. When we take our last breath in this life, we all will be held accountable. Throughout the gospels, Jesus emphasizes the importance of producing fruit. We find Jesus does not have kind words for those who don't bear fruit.
Maybe it's not going door to door, Jehova's Witness style. It might be speaking up at the right time, and sharing your faith. Evangelism comes in many forms, but there is a story in every Christian worth being told.
We must fight the never-ending urge to seclude ourselves in our climate-controlled castles. Too often do we opt to indulge in the comforts of this world, rather than spend our time serving. If, all one does is live for their own comfort, then I believe they should examine their faith.
This is not to say we should never relax, or never binge-watch our favorite shows. There is plenty of time for that. However, if all we do is binge watch Netflix and attend church on Sunday, putting Jesus on the back-burner until the next Sunday, this shouldn't be.
The book of Ezekiel addresses the folly of Sodom,
"Now this was the iniquity of your sister Sodom: she and her daughters had pride, plenty of food, and comfortable security, but didn't support the poor and needy."
If we, compare Sodom to America the phrases "comfortable security" and "plenty of food" should stick out.
God is calling his children to serve the world. We are called to live life to the fullest.
There are plenty of ways to serve or evangelize. Your local church should have a handful of opportunities. There is a hurting world outside our front doors cloaked in thick darkness. We have the privilege to take part in rescuing a world held in bondage.
We must examine ourselves daily, and find out if we are keeping the faith. Do we more so opt to pick up the remote instead of the Bible? Do we rush home after to work to watch television instead of getting involved in our community?
The American Church is guilty of worshiping at the altar of Comfort. Bowing to the god of Comfort is subtle, and it's becoming more prevalent in our generation, due to the advancement in technology. It's something we need to be aware of, and address often.
There is much more to life than acquiring wealth only to spend it on ourselves. Life is not about financially investing in the future so one day we can retire, though permissible. Life is about serving the poor, the sick, and needy. It's about laying ourselves down at the expense of our neighbors. Most importantly it's about Christ and his kingdom.
We ought to follow the example of our Master, who served the world until his last breath.
"For whoever wants to save his life will lose it, but whoever loses his life for My sake will find it." Matt 16:25
Will Vining is a passionate follower of Jesus who lives in Austin, Texas. In his free time, he enjoys writing and going to the lake with his family. Follow Will on his Facebook page
Will Vining