During World War II, my father, who was born in Serbia, endured nearly four years in a Nazi prison camp before he was liberated by General Patton's Third U.S. Army. For the rest of his life, my father idolized America. Because he spoke English, he chose to work for the U.S. Army as a translator after liberation, and five years later, the Serbian Orthodox Church sponsored him to emigrate to the U.S.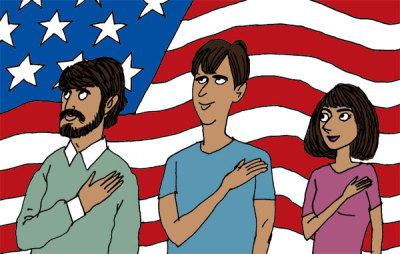 Displaced persons like my father typically found jobs in essential industries where there were labor shortages – hard jobs that were difficult to fill as the post-war industrial ramp up was taking place. My father worked on the smelting floor of a steel manufacturer. Eventually, he met my mother, who was also used to hard work – her immigrant father had worked in a coal mine and the Ford Motor Company assembly line. 
Both of my parents got a chance at the American dream. That's why the recent xenophobia of the past year has spurred me to help refugees build the foundations they need for a better life in the U.S. During the pandemic, I (virtually) connected with refugee women sponsored by World Relief and have been teaching them to sew. 
Before COVID-19, World Relief Memphis's Resiliency Program was working on a partnership with a local warehouse to help these women secure jobs as seamstresses in the community. Unfortunately, because of the economic impact of the past year, this opportunity has been put on hold, but we hope for (and welcome) new partnerships with local employers.  
While learning a new skill is a big incentive for the students, the course also helps them with their English and teaches soft skills employers are looking for, like work ethic and problem solving. Many of my students also want to be able to make their own clothing, in the manner of their culture, that isn't typically available to buy near them. 
They have learned a lot from the course, but I have also learned a lot from them. I am humbled by their eagerness to learn and their resilience. And while I am a Christian, I have been able to learn a lot about the many religions and cultures of my students. No nationalities are excluded from God's love.
Recently, I read a Facebook post that said, "If you are an American, your heritage is either Native American, slave, immigrant or refugee." I think some Americans have forgotten this truth, and how important it is to continue to welcome newcomers into our country – especially those who have endured unimaginable hardships. In my experience, these hardships make them more grateful for opportunity and more eager to give back to their new communities.  America has a lot to offer these refugees, but they (and their descendants) also have a lot to offer our country. American icons like Madeleine Albright, Nikola Tesla, Elie Wiesel, Joseph Pulitzer and Yo-Yo Ma were all immigrants.
In the generations after my father and my mother's parents immigrated here, our family has produced American engineers, doctors, electricians, teachers, lawyers and U.S. service members who served in World War II and the Vietnam War. I want my students to see their children and grandchildren pursue similar opportunities. And I want them to see a Christ-follower who lives her faith through action. 
Everyone has a part they can play in welcoming refugees into our communities – whether this is volunteering as a sewing teacher, ESL partner, mentor, interpreter, or Good Neighbor team; becoming an employment partner; or simply praying that these men and women find jobs, friendship and a place they can call home. 
Many Americans throughout the country are eager to welcome immigrants into our communities and long to see refugees finally find protection in the U.S. Last week, President Biden raised the refugee ceiling for FY2021 from 15,000 to 62,500. As we start the process of rebuilding our nation's dismantled resettlement infrastructure, it's important to recognize that welcoming the most vulnerable into our fold isn't a partisan issue; it's a matter of loving our neighbors and embracing the rich culture of diversity and inclusion that America was built upon.
Ann Cox is a volunteer with World Relief Memphis.