An Invitation to God to Invade Our Schools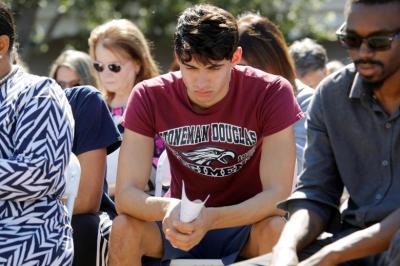 In light of the latest, tragic school massacre, I want to make a simple proposal. It was prompted by a phone conversation with my dear friend James Robison.
We were talking on the day of the tragic, Santa Fe school massacre, and he said, "Forget about trying to get prayer back in schools" – by which he meant, let's not put all our efforts into trying to change these laws right now. "We need to start praying in our schools," he exclaimed.
Then the light went on inside of me. So simple!
To be clear, this is not a substitute for a discussion about school security or gun access or family life or mental disease or violent video games or anything else that is practical or relevant. This is in addition to all the other conversations we need to have. That being said, this topic is as important as anything we can discuss.
Simply stated, I want to encourage committed Christian young people on our campuses throughout America to join together for a few minutes each day for prayer. Focused prayer. Faith-filled prayer. United prayer. A simple cry to heaven for God to come and touch each school. "God, save our school!"
It can be before classes start. It can be during a lunch break. But let it be at the same time and same place every day, joining together in faith and asking God to move powerfully in each school.
Whether it's three students standing side by side or 30 students in a big circle. Let it be done in simple faith every day, and we will see the results together.
I'm aware that many young people have been doing this for years.
I'm aware that there are formal prayer movements already advocating this very thing.
I'm aware that I'm saying nothing new.
I simply want to add my voice of encouragement, offering testimony as well.
I'm also confident that, as Christian young people do this on a regular basis, they'll be more to prone to share their faith as well. They'll be more aware of "divine appointments" and more overflowing with love for their fellow-students. All this is a natural extension of prayer.
Some might say, "God is sovereign and He doesn't need our invitation or permission for anything He does. If He wants to 'invade,' our schools, He will."
There's much truth to that, but it's also true that, "Whether we like it or not, asking is the rule of the Kingdom" (Charles H. Spurgeon).
Or, in the classic formulation of Matthew Henry, "When God intends great mercy for His people, the first thing He does is set them a-praying."
Or, to quote John Wesley, "God does nothing but in answer to prayer."
Let us, then, give ourselves to prayer for our schools!
In the fall of 1997, I met with the Superintendent of Schools of Escambia County, Florida. Pensacola was the largest city in the county, and there had been a remarkable spiritual outpouring that had been taking place there since June, 1995, called the Brownsville Revival.
Ultimately, when it ended in late 2000, more than three million people had attended services there (this is the rough, cumulative total), traveling from more than 130 nations. And every night, hundreds of young people were there, many from the local area.
I met with the Superintendent to ask him about the impact the revival had on the schools. Did something tangible happen to the students? Were lives visibly and dramatically changed?
He was quite happy to speak with me, saying he could testify firsthand to the extremely positive results. He had also served as a local principal and saw many young people changed before his eyes. He was glowing with praise for what the Lord had done.
But I mention this story here because these students were praying students. When they got touched at the revival – delivered from addictions; set free from violent or self-destructive behavior; transformed in their attitudes and lifestyle – they immediately wanted to share their faith with others. And they began to gather in prayer for their schools. The fire quickly spread!
Richard Crisco, now a pastor in Rochester, Michigan, was the youth pastor at the church where the revival took place, and he carefully charted what was happening to these kids.
In September, 1995 – so, just a few months into the revival – there were about 300 kids who gathered in early September for the "See You At the Pole" prayer meeting. One year later, there were 2,000 kids who joined in prayer on that day. And at quite a few of the schools, these young people would gather for daily prayer, often with tears, saying those simple words, "God, save our schools!"
Of course, it was a sovereign visitation that sparked this prayer movement in the schools. But it was the prayers of these young people that helped deepen and sustain the movement once it started.
All the more, then, should we pray if there is no sign of revival in our region. All the more should we pray for rain in a time of drought.
I'm not saying this is the cure-all. I'm not saying that we do not need to take other, practical steps to protect our schools. I'm not saying that, overnight, everything will change.
I'm just putting out a simple call for young people across America to gather daily in prayer for their schools. And I'm encouraging parents to encourage their kids to do so.
Schools are letting out now across the country, but why not start while you can, with plans to pick up in September?
Our kids (and grandkids and great grandkids) are hurting right now. They're having to put up with things most of us never even thought about. Let's believe with them for God to come and touch their classmates and teachers. Let's believe with them for the Spirit to invade their schools.
Let's believe together and pray, "God, save our schools!"