Biblical principles for aging joyfully: Building a spiritual legacy (part 3)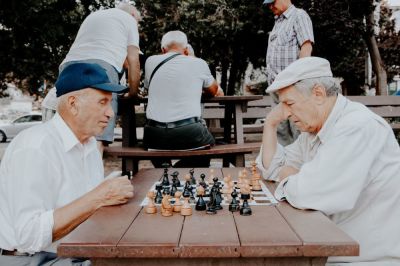 It is the season when politicians, incumbent and otherwise, start thinking about and touting their legacy.
Presidents especially lead the charge in search of long-remembered (they hope) accomplishments.
This is important because it sparks reviews of deeds done, policies that failed or worked, and other important considerations.

President Joe Biden has been reminding audiences that the legacy he wants to leave is that of restoring the American soul. There should be special concern here. Recovering and healing the soul is a spiritual issue, not a political one. The politicians are not priests and soul healers.

The season of legacy search and evaluation is dangerous because, as Biden's soul restoration project shows' political leaders can begin to see themselves as messianic figures.

Restoring the soul is the business of church and family. The best thing political leaders can do is cancel policies that hinder healthy families.

One of the great joys of aging is that of the elderly person who can look at his or her progeny and know that they are cared for through the legacies of the previous generation.
The spiritual focus of legacy builders is foundational and vital. Dr. Martin Luther King Jr. understood it and told us that the end goal of life "is not to be happy, or to achieve pleasure and avoid pain, but to do the will of God, no matter what."

C.S. Lewis wrote that as we think of the future, if we "aim at Heaven you will get Earth thrown in but aim at Earth and you get neither."

Building the spiritual legacy should be at the core, but there are other categories of legacy building that are important.

The way we approach aging and death is itself an important legacy. Some years ago while I was a pastor, and over a several-month period, I worked with a young cancer-stricken woman I will call here "Rhonda." Rhonda wanted to minister to them personally over the months of life she had left. She designated her closet as a prayer room and would kneel there with the children and their dad. Rhonda kept a journal describing her journey toward Heaven.

Early one morning I received the call that Rhonda had passed. She had no great wealth to give to her loved ones, but I saw the legacy of faith and strength she had poured into her young daughters, and which had strengthened her husband, as she held to her goal of leaving a legacy in the way she approached death.

When I entered her room that morning, the only other person present was a nurse. She motioned me to look at Rhonda's face. There was a smile on it, etched on her countenance — the smile of a great faith that would not go away.
"Do not grow old no matter how long you live," said Albert Einstein. "Never cease to stand like curious children before the great mystery into which we were born." In this Einstein was echoing the words of Jesus regarding the childlike faith and heart, capable of seeing not only the "great mystery" of birth but also of death before the awesome reality of Heaven that loved ones will never forget and from which they will draw much hope.

Sadly, I worked with others who left their loved one's legacies of bitterness, blaming God for the illness or accident that caused their death. In most of those cases, loved ones were inconsolable.

The primary legacy on which many focus is material, rather than spiritual. Most of us are unable to leave our loved one's fabulous wealth, but we can experience joy as we age when we know that we have faced the future with our loved ones in mind materially as well as spiritually and mentally (Proverbs 13:22).

I remember three elderly men who left rich social legacies that would prove great comfort for their families. One had been on the scene and watched the American flag raised on Iwo Jima during World War Two — an iconic scene that still inspires many. Another had been a soldier at Normandy, while the third had seen and remembered seeing some 600 of his shipmates go down at Normandy.
In each case, there was great sadness, but also joy would beam from the faces of loved ones and the many friends who comprised the social legacy shaped by the old soldiers in their lifetimes.

Then there is also the legacy of intimate knowledge of marriage and family … vows honored, unified families … But for most folk in this morally decaying society, those legacies have been shattered. Yet there is still an important legacy even though families were broken — the legacy of the immense sweep of God's unfathomable grace.

This legacy speaks through testimony. Even though stories might be sordid, receiving the grace of God inscribes on us the legacy of mercy and eternal hope that can heal broken hearts.

Others who did not experience a fall into immorality can leave behind a moral legacy. However, because we are all sinners, we all have sinned and can present a grace-filled moral legacy.

If you have aged to the point that your hair is becoming "hoary," don't forget that now is the time to speak and tell about God's grace and goodness in the closing years of life in this world … frame your testimony and speak it to your friends and loved ones whenever there is opportunity.
Some of your listeners may roll their eyes or label you as a geezer wishing for the old days. But they will remember and draw strength when your time comes to leave them, and many will be comforted and encouraged by your testimony.
Whatever the case, Psalm 71:18 holds true: "Now also when I'm old and gray-headed, O God, forsake me not until I have showed thy strength unto this generation and thy power to everyone that is to come."
Wallace B. Henley is a former pastor, daily newspaper editor, White House and Congressional aide. He served 18 years as a teaching pastor at Houston's Second Baptist Church. Henley is author or co-author of more than 25 books, including God and Churchill, co-authored with Sir Winston Churchill's great grandson, Jonathan Sandys. Henley's latest  book is Who will rule the coming 'gods'? The looming  spiritual crisis of artificial intelligence.