Biden admin. remains complacent about Iran despite escalating threats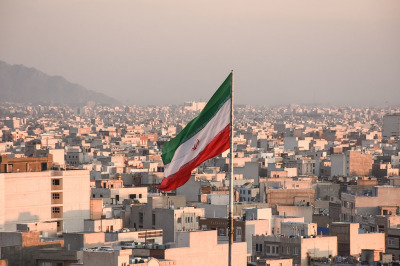 The Biden administration's dogged determination to revive the dangerously flawed nuclear deal with Iran has not been shaken by a series of attacks launched by Iran's Islamist dictatorship against the U.S. and its allies.
Far from it.
The administration already would have rejoined the nuclear misdeal if not for Tehran's insistence that Washington must also lift sanctions on Iran's Revolutionary Guards, a concession that was not part of the original agreement.
Simply put, Iran is overplaying its hand. This is in part because President Ebrahim Raisi's ultra-hardline regime, installed in August, seeks to extract a better deal for Iran than his predecessor, Hassan Rouhani, negotiated in 2015.
But a key factor motivating Iran's diplomatic overreaching can be traced back to the Biden administration's policy mistakes. Tehran was emboldened by the complacent posture adopted by the administration in not only ending the Trump administration's "maximum pressure" sanctions strategy but in condemning it as a failure and allowing sanctions to erode by turning a blind eye to Iran's illicit oil exports to China.
Tehran also was encouraged to think that it could pressure the administration to lift its designation of the Revolutionary Guards as a foreign terrorist organization because the administration unwisely lifted that same designation last year on Ansar Allah, the radical Islamist Yemeni militia supported by Iran.
Instead of rejecting Iran's demand for whitewashing the Revolutionary Guards, the administration reportedly sought to tie that act of appeasement to a public Iranian promise not to attack American interests.   
Even that limp, easily discarded commitment apparently was rejected by an Iranian regime bent on revenge for the January 2020 U.S. drone strike that killed an iconic leader of the Revolutionary Guards, Gen. Qassem Soleimani. Soleimani had long orchestrated Iran's proxy-warfare strategy as the commander of the elite Quds Force of the Revolutionary Guards.
Soleimani's successor, Gen. Esmail Gaani, in a speech commemorating the second anniversary of Soleimani's death in January, threatened: "We will facilitate revenge on Americans in any place, even their own homes and by people close to them, even if we are not present."
The U.S. government has taken Gaani's threat seriously. Secret Service protection has been extended to three former Trump administration officials who took hard-line positions against Iran: former National Security Adviser John Bolton, former Secretary of State Mike Pompeo, and former State Department Iran policy coordinator Brian Hook.
In addition to threatening U.S. officials, Iran also has launched cyberattacks at critical infrastructure inside the U.S. FBI Director Christopher Wray noted in a speech in Boston on Wednesday that the FBI had taken action to thwart an attempted Iranian government-sponsored cyberattack on Boston Children's Hospital last year.
The hospital is one of the largest pediatric facilities in the United States, and the attack could have led to detrimental effects on services and capabilities. The FBI's Boston field office was able to quickly respond to identify the threat and mitigate the impact on the hospital's computer networks after receiving timely intelligence from a partner.
Wray observed it was "one of the most despicable cyberattacks I've ever seen."
This isn't the first time Iran has been caught red-handed conducting cyberattacks inside the U.S. Ahead of the 2020 U.S. elections, John Ratcliffe, then-director of national intelligence, released details of Iran obtaining U.S. voter registration information, including "sending 'spoofed' emails designed to intimidate voters, incite social unrest, and damage President [Donald] Trump."
Iran's cyberattacks aren't limited to American targets either. U.S. allies, including Israel, have seen critical infrastructure nodes targeted in recent years. An Israeli municipal water facility was reportedly targeted by Iranian-backed hackers in 2020.
In 2021, Iran was identified by the U.S. government as launching disruptive cyberattacks against a range of U.S. companies, including transportation firms and health care providers. Microsoft security analysts warned in a November report that Iran's capabilities have grown in recent years across a full range of cyberoperations.
The most recent annual threat assessment by the Office of the Director of National Intelligence detailed how Iran's "growing expertise and willingness to conduct aggressive cyberoperations make it a major threat to the security of U.S. and allied networks and data," and warned that "[r]ecent attacks on Israeli and U.S. targets show that Iran is more willing than before to target countries with stronger capabilities."
Iran must be opposed, not appeased.
The Biden administration squandered the leverage amassed under the Trump administration's "maximum pressure" Iran policy, relaxed sanctions against Iran, and downplayed the threats posed by proxy militias armed, trained, and often directed by Iran's Revolutionary Guards.
These complacent policies have emboldened Tehran to make maximalist demands at the nuclear talks in Vienna and take greater risks in orchestrating proxy attacks against U.S. military forces and allies in the Middle East.
After a year of mistakenly blaming the Trump administration — rather than Iran — for rising bilateral tensions, it's time for the Biden administration to hold Iran's hostile regime accountable for its violations of its commitments under the Nuclear Non-Proliferation Treaty Safeguards Agreement, terrorist attacks, proxy missile and drone attacks, and cyberattacks against the U.S. and its allies.
For more information on this topic:
Dangerous Ramifications of Reshuffled Iran Nuclear Deal
Iran Escalates Shadow War With US, Israel in Latest Missile Attack
What We Know About DarkSide, the Russian Hacker Group That Just Wreaked Havoc on the East Coast
2 Actions US Must Take in Wake of Colonial Pipeline Crisis
Iranian Drones Cast Intimidating Shadow Over Iraq
---
Originally published at The Daily Signal. 
James Phillips is the senior research fellow for Middle Eastern affairs at the Douglas and Sarah Allison Center for Foreign Policy Studies at The Heritage Foundation. He has written extensively on Middle Eastern issues and international terrorism since 1978. Read his research.
Dustin Carmack is a research fellow in the Center for Technology Policy at The Heritage Foundation.