Church leaders wandering past the cross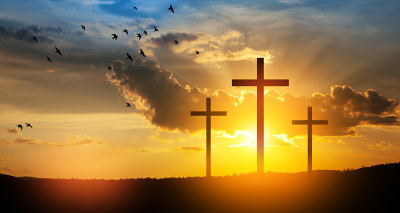 Many years ago, I visited a rocky hillside in Jerusalem that some scholars believe is the site of Jesus' crucifixion. On this hillside were three trees that reminded me of the crosses at Jesus' death, and in front of the hill was a busy bus station. The stench of diesel fuel hung in the air. The loud hum of old bus engines was compounded by a continual chorus of horns blowing in the traffic.

What seemed like thousands of people speaking multiple languages stood in the station, waiting for transportation to take them to nowhere important. 
A young believer at the time, I stood as quietly and respectfully as I could, looking toward the trees growing on that small hill. "Here Jesus died for me," I thought, "and I can't believe that everyone is ignoring this place. How do people just drive by this holy place as if nothing happened here?" 
Years later, I have sadly learned that I, too, can get so busy with life that I inadvertently wander past the cross as if it didn't happen.¹
Maybe we church leaders are most susceptible to this problem because our ministry responsibilities never end. How, then, do we know when we're wandering past the cross? Perhaps my personal reflections and confessions can help you think about your own heart: 
1. I know I'm wandering past the cross when the story of the cross no longer melts my heart like it did when I first followed Christ. Back then, the whole story was amazing; now, too often, it's routine.
2. I can sing songs of the cross with little brokenness and gratitude. It's been a long time now, but I remember singing, with much gratefulness, hymns like, "The Old Rugged Cross" and "At Calvary." The songs we sing are different now, but how I wish my brokenness over the cross were still the same!
3. When I tell my testimony, I speak more about my life change than about the cross and God's gracious love. I certainly don't skip the cross, but I do fear I don't always focus there like I should. I admit that I don't always sufficiently camp out at a wooden cross and a borrowed tomb.
4. Observing the Lord's Supper with my church family becomes routine. And, that's not because our church shares the ordinance too often; it's because I don't always dwell deeply enough on the significance of the Supper. I wander past the cross ...
5. Writing or teaching things like this post calls me to repentance ... again. I wrote the words of the first two paragraphs of this post more than 10 years ago. I confessed my struggle back then, and I confess today that I still have much room to grow. 
Being a church leader is no guarantee you will live in the shadow of the cross. Busyness can, in fact, get in the way of that focus. For those leaders who need it, may the Lord take us back to Calvary and then to an empty tomb.


¹These first two paragraphs are found in Chuck Lawless, Nobodies for Jesus: 14 Days toward a Great Commission Lifestyle (pp. 23-24). Rainer Publishing. Kindle Edition. I wrote this book to challenge all of us to regain our fascination with Jesus—and consequently, to do the Great Commission.
---
Originally published at Church Answers.