George Verwer: Radical 'missions DNA' and disruptive thinking will live on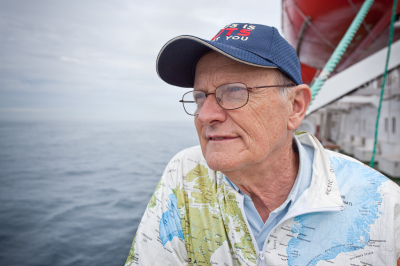 George Verwer was quite simply the most extraordinary, revolutionary person I've ever known. His courage and willingness to push beyond the existing norms changed the face of missions. Since his death on April 14, the tributes have been amazing, many lauding George — founder of Operation Mobilization (OM) — as a "missionary statesman."
But that was not always the case.
When George, as a teenager from New Jersey, first burst onto the scene, his radical approach gave the 1950s mission establishment heartburn.
Courage to change the 'who' of missions

At that time, mission agencies required would-be missionaries to have a seminary degree and lifetime commitment. George told his generation, "If you love Jesus, and you'll come for a summer, God will use you." He stood against 60s social norms at a time of racial segregation in the U.S. Shocked when an African American asked if it was okay for him to join a mission team because he was Black, George broke down in tears and embraced him.
Thousands of young people from all over the world accepted George's invitation and joined him in Europe for the summer. Many wanted to stay longer. Some did, and they began to spread out across the globe.
As a 19-year-old, I was one of those enthusiastic, young missionaries, and today — decades later — I'm privileged to come alongside others as president of OM USA (www.omusa.org).
As OM grew, George recognized the importance of national leadership. He invited a whole new group into the 'who' of mission. The work in India led by nationals became similar in size to the rest of OM, becoming its own movement.
One of the leaders from that time told me: "Many missions' leaders did not take George or OM seriously because we were a bunch of untrained young people. We didn't fit their idea of a missionary." But George pressed on, and thousands more followed.
Courage to take risks

George had an incredible ability to think disruptively and then take huge risks as he courageously executed his ideas with relentless focus. As a 24-year-old, he decided things were moving too slowly. "What if we had a ship?" he said. Once again, the doubters came out in force, believing this would never work. They let him know this in no uncertain terms.
Fifty years later, OM has had five ships transporting crews of hundreds of Jesus followers and a "floating bookshop" carrying Christian literature to port cities worldwide, impacting hundreds of millions.
Courage to change

During the Kurdish refugee crisis in the 90s, George realized that demonstrations of mercy and compassion were needed, not just "handing out gospel tracts." Many thought he and OM had lost their way, drifting into a "social gospel." George championed this holistic approach, and this view of the gospel remains at the very heart of OM.
Today, OM workers from 134 nations are active in almost 150 countries as we work to see vibrant communities of Jesus followers among the least evangelized.
Carrying the mantle

Our commitment is to continue George's legacy by being willing to take courageous risks as we live out the gospel, extending the invitation to every follower of Jesus to be part of God's mission in the world.
We continue to build new pathways for every Jesus follower to go "live on mission" as engineers, doctors, teachers, nurses, businesspeople, and more.
As George showed us, we continue to push for national and local leadership, with those of us from the West coming alongside as servants.
We continue to see the Gospel as something we live out with love and compassion, and share with conviction.
My prayer is that we will build on George's legacy by being people with the courage to take risks, change, and push the boundaries so the world will hear the good news of Jesus and see the gospel in action.
That would be the highest possible tribute to George Verwer.
Andrew Scott is president and CEO of OM USA (www.omusa.org) and author of Scatter: Go Therefore and Take Your Job With You.