American missionary abducted in Niger released after 6 years in captivity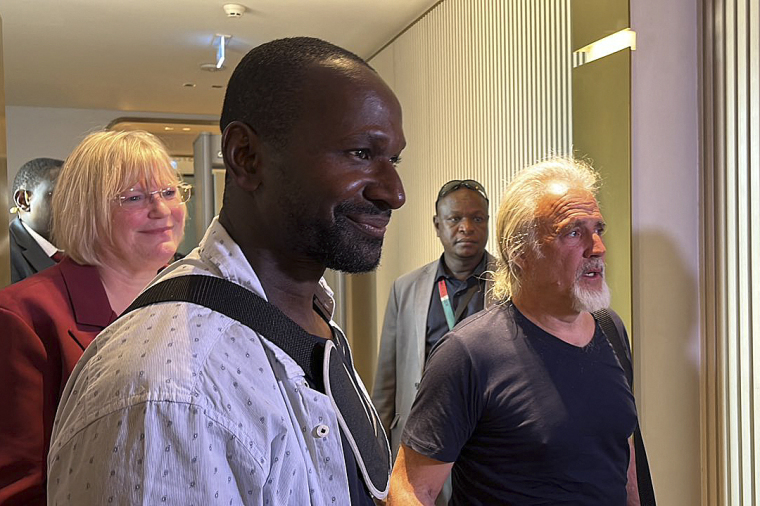 A California missionary and a French journalist abducted in Niger by an Islamic terrorist group have been released. 
Jeffery Woodke of McKinlyville, who was abducted in October 2016, was released this month, according to an update that his church, Arcata First Baptist Church, posted to Facebook on Monday. Woodke served as an aid worker with Youth With A Mission. 
"Please keep Jeff and Els in your prayers as he navigates through his newfound freedom and the many challenges that are before him. We are so thankful for God's faithfulness," the church's Facebook post states. 
White House National Security Advisor Jake Sullivan wrote on Twitter that he is "gratified" to hear about the releases of Woodke and the French reporter, Olivier Dubois.
"I'm relieved to see the release of U.S. hostage Jeff Woodke after over 6 years in captivity. The U.S. thanks Niger for its help in bringing him home to all who miss & love him," Sullivan tweeted. "I thank so many across our government who've worked tirelessly toward securing his freedom." 
Dubois was abducted by the same group in April 2021.
Details about what led to the releases remain unknown. However, one government official told reporters that no ransom was paid and that the releases came as a result of years of advocacy, according to USA Today.
Woodke was abducted when armed militants barged into his home in Abalak, murdered his guards and kidnapped him. Woodke had traveled back and forth to Niger for roughly three decades. His work in the West African country included the construction of wells and schools in the region.
He was also an instructor at Redwood Coast School of Missions, which is operated by the Arcata First Baptist Church.
"Jeff Woodke is a home grown product of Arcata First Baptist Church where as a student at Humboldt State University he gave his life to Christ," the church said on the school's website at the time.
"Jeff's passion in providing humanitarian aid to those who are amongst the poorest in the world, coupled with his desire to see God's Kingdom advanced in a largely Muslim world has played a large part in the life and ministry of AFBC."
USA Today reported that even though Woodke was believed to have been abducted by a West African affiliate of the Islamic State, it is thought that he could have been present in Africa's vast Sahel region and held by JNIM, a West African affiliate of al-Qaida. 
According to Open Doors USA, a Christian persecution watchdog group, Niger is a Muslim-majority nation known for having multiple Islamic terrorist groups operating in the country. Open Doors ranks Niger as the 28th most dangerous country when it comes to Christian persecution on its 2023 World Watch List. 
Niger's rise on the list coincides with the sharp increase in Islamic extremist attacks across the Sahel region of Africa in the past half-decade. 
"The presence of militant groups such as Boko Haram, Islamic State's West Africa Province (ISWAP) and Al-Qaeda in the Islamic Maghreb (AQIM), remains a constant threat both to the state authorities and to Christians in the country," noted Open Doors. 
"In border areas under Islamist control, militant groups are known to use violence against Christians meeting publicly, so Christian gatherings are conducted covertly to avoid detection."