I asked ChatGPT if I could lose my salvation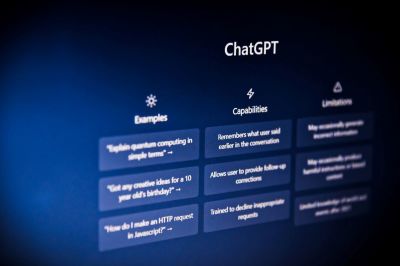 If you haven't heard, ChatGPT is taking over the world. Just ask and it'll tell you.  
Need to write a research paper but don't know squat about your subject? ChatGPT can do it. What about troubleshooting bugs that somehow elude you in software code? ChatGPT will help find and squash them without breaking a sweat.
ChatGPT stands for "Chat Generative Pre-trained Transformer" and is a chatbot developed by a company called OpenAI. Launched in November 2022, it's being hailed as a quantum leap forward in making artificial intelligence practically available to you and me.
Of course, not everyone thinks it's the bee's knees.
There seem to be legitimate complaints that bias exists in the software, a charge that OpenAI addressed in a blog post. That favoritism lives in such a product shouldn't be surprising because behind this and every other set of AI systems are human beings who (surprise!) aren't exactly neutral on many subjects.
Moreover, remember that software like ChatGPT is only as good as the source data feeding it, even if it has the ability to learn and modify itself based on various corrective inputs and algorithms. Because the adoption and usage of such software hinges on trust that its output will be reliable, you'd think AI suppliers would strive to ensure that what they churn out is as factual and balanced as possible.
OK, sounds good in principle, but let's get real for a minute. It seems these days it's hard to get consensus on almost any general "fact" (e.g., what is a woman?), let alone when you start sailing into the choppy waters of politics and religion.
So, naturally, I was curious how ChatGPT would do when queried about specific subjects in religion that can be a bit, ahem, divisive and controversial.
ChatGPT and Christian salvation
      
I thought I'd start with a topic that has certainly rattled the cages of Christian thinking for a long time — can a believer lose their salvation? What say you, ChatGPT?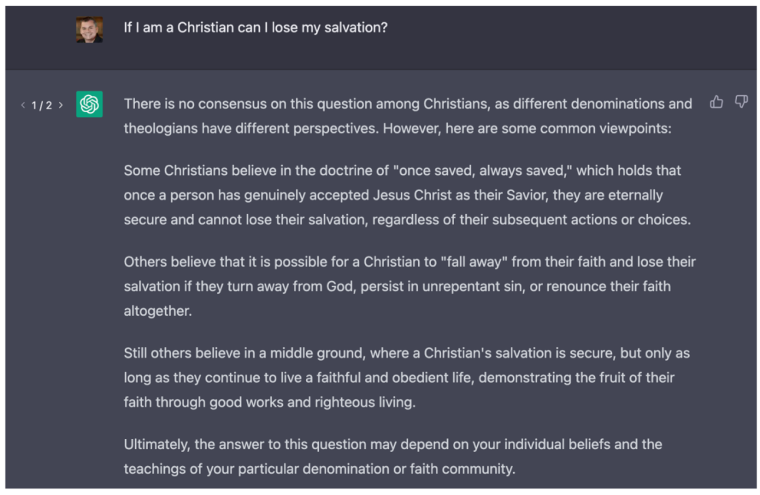 Not bad at all, very middle of the road and more educational vs. directive.
How about something along the same lines, but a little more nuanced? If I can/do lose my salvation, can I get it back?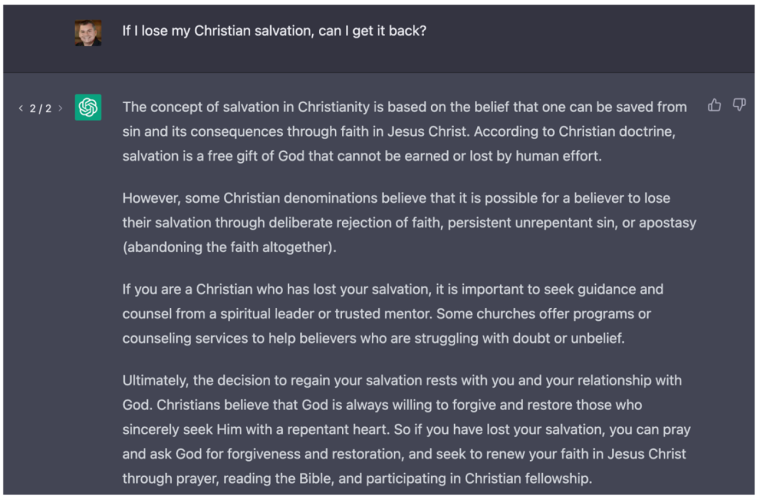 Uh-oh. To use bad English, them there are some fightin' words for some Christians!
Alas, ChatGPT, you were doing so well up to your last paragraph (some might quibble about the first and beginning of the third paragraph too). Notice the more authoritative construct vs. the presentation of various opinions the utility kicked out before.
But take solace in the fact that you can use ChatGPT's "Regenerate Response" button that allows the software to take another stab at your question. A good feature for sure, but I found that it mostly repeats the same themes with perhaps some added content or references.   
While you might agree or disagree with ChatGPT's conclusions on a Christian losing/being able to regain their lost salvation, I think you see how relying on AI software such as this for serious, I-really-need-to-get-this-right-for-eternity matters can be iffy. Caveat emptor.  
Who you really need to be chatting with


While interesting to play with, needless to say, I don't recommend you go to ChatGPT to discover the truth about God or salvation. Instead, I'd advocate for time spent in Scripture that's bathed in prayer and look to a number of trusted resources to help with some of the rougher patches that come up in Bible study.
I'd be remiss if I didn't quickly add that, on the subject of a Christian losing their salvation, I'm in the eternal security camp for reasons I've spelled out in previous posts. Further, I don't think the question of a Christian regaining their salvation is a valid inquiry (given you can't lose it), and I agree with A. A. Hodge on the subject who said: "Regeneration is a single act, complete in itself, never repeated".
Or as Steven Lawson so well puts it: "No one is born again…again."
Getting back to ChatGPT, I'll finish by saying I do appreciate how it ended one of its regenerated responses to my question of a person losing their salvation. Regardless of whether you're Yes or No on the subject, ChatGPT's last sentence is good advice:



Robin Schumacher is an accomplished software executive and Christian apologist who has written many articles, authored and contributed to several Christian books, appeared on nationally syndicated radio programs, and presented at apologetic events. He holds a BS in Business, Master's in Christian apologetics and a Ph.D. in New Testament. His latest book is, A Confident Faith: Winning people to Christ with the apologetics of the Apostle Paul.