Jesus came to save us from Jesus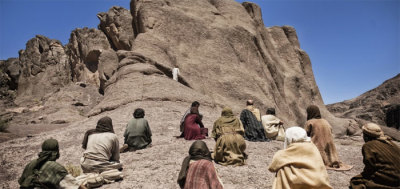 Virginia Stem-Owens is a Christian writer and English teacher at a major university who, from time to time, has handed out an interesting assignment to her students. She asks them to read Jesus' Sermon on the Mount and write an essay on it.
Given the negative responses she's received, they're evidently not a fan:
"I did not like the Sermon on the Mount. It was not only hard to read, but it makes me feel I have to be perfect and nobody is."
"The things asked for in the sermon are absurd. It's 'killing' to have a grudge? It's wrong to look at a woman like that? These are the most extreme un-human statements I've ever heard."
"This stuff is extremely strict and allows for almost no fun in life without thinking, is this a sin, or isn't it?"
"There is an old saying that 'you shouldn't believe everything you read' and it applies in this case."
If you're like me and have read the part in Jesus' biographies where He says, "Blessed is he who does not take offense at Me" (Matt. 11:6, Luke 7:23) and wondered who could ever be offended at Christ, well here you go.
That kind of irritation towards Jesus brings to mind the story of Aristotle's "perfect man".  Long before Christ, Aristotle was once asked what would happen if a perfect man was introduced to a society, and he responded by saying the man would naturally have to be killed because his beauty and goodness would painfully highlight the imperfections of everyone else.
You'd think the harsh feedback on Christ's most famous address would discourage Owens, but her response is just the opposite and quite insightful: "I find it strangely heartening that … the Bible remains offensive to honest, ignorant ears, just as it was in the first century. For me, that somehow validates its significance. Whereas the scriptures almost lost their characteristically astringent flavor during the past century, the current widespread biblical illiteracy should catapult us into a situation more nearly approximating that of their original, first century audience. The Bible will no longer be choked by cloying cultural associations."
Tim Keller agrees with Owens and sums up the candid response of a first-time Sermon on the Mount reader this way: "Any thoughtful person who comes to the Sermon on the Mount and begins to understand what God wants you to do, what kind of life we ought to live, does not walk away saying, 'What a beautiful teaching, what wonderful thoughts.' No — a thoughtful person looks to Heaven and says, 'God, save me from the Sermon on the Mount!'"  
Saved from Jesus by Jesus
The Scriptures tell us that Jesus' most famous sermon was delivered after He had spent a night in prayer (Luke 6:12), which was then followed by the choosing of the 12 disciples (Mark 3:13–19; Luke 6:13–16; Matt. 10:1–4), and the healing of many sick people (Luke 6:17–19). The actual location is still debated, but it would appear that the mountain referenced was in the general vicinity of Capernaum and was well known given the definite article ("the" mountain, not just "a" mountain).
Many Christians understand one key lesson in that message, which is summarized by Hendriksen & Kistemaker in their commentary on Matthew: "The unconverted person should listen in order that he may recognize his total inability to keep these precepts and may flee to Christ for refuge".
But there is a deeper truth in that famous discourse, which is recorded in both Matthew and Luke: Jesus is the Sermon on the Mount.  
He's the one who turned the other cheek, the meekest of all men, the quintessential peace-maker, mourned so that we can be comforted, delivered the ultimate in mercy, was persecuted for righteousness' sake, became poor so we can become rich and inherit a new earth, and represents perfection where goodness and righteousness are concerned.
That being true, the reactions of those who read Jesus' words in the Sermon on the Mount for the first time and hate them mean this: those who hate it despise Christ as well.
And when they cry out to be saved from the Sermon on the Mount as Keller says, they're really crying out to be saved from Jesus. The irony is, the only thing that can save them from Jesus is, well, Jesus Himself.      
If they don't embrace Jesus the Savior now, they will be confronted with Jesus the Judge. Scripture says that God "has given all judgment to the Son" (John 5:22) and will "judge the world in righteousness through a Man whom He has appointed" (Acts 17:31); that Jesus will "judge the living and the dead" (2 Tim. 4:1) and deal "out retribution to those who do not know God and to those who do not obey the Gospel" (2 Thess. 1:8), with there being a day when "we must all appear before the judgment seat of Christ" (2 Cor. 5:10) "when the Son of Man comes in His glory, and all the angels with Him, then He will sit on His great white throne" (Matt. 25:31-32; Rev. 20:11).
For every one of us, Jesus will either be our blessed hope (Titus 2:13) or our holy terror (Rev. 20:15). Which means just one thing.  
The only escape from the Sermon on the Mount is the literal Sermon on the Mount. Which Jesus you choose is not a hard choice to make if you ask me.  
Robin Schumacher is an accomplished software executive and Christian apologist who has written many articles, authored and contributed to several Christian books, appeared on nationally syndicated radio programs, and presented at apologetic events. He holds a BS in Business, Master's in Christian apologetics and a Ph.D. in New Testament. His latest book is, A Confident Faith: Winning people to Christ with the apologetics of the Apostle Paul.