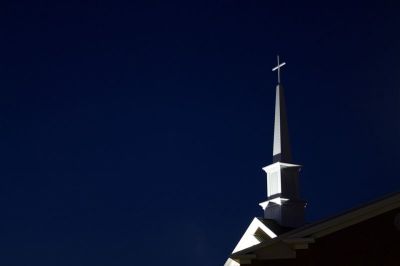 I am about to say something that I thought I would never say. I am embarrassed by modern evangelicalism. It has nothing to do with politics. It has nothing to do with theology. But it does have everything to do with human decency.
Recently, Rachel Held Evans, a woman who is known for her progressive views and departure from the conservative evangelical form of Christianity, died at the tender age of 37. Evans left behind a loving husband and family. Apparently, Evans created a firestorm due to her opinions on social and theological matters, especially due to leftist political ideologies. She was considered by the Washington Post as "the most polarizing woman in evangelicalism" (Bailey, WP.com, 2015). Evans died after being placed in a medically induced coma following an allergic reaction to medication treating an infection.
For those familiar with my writings, you know that I come from a conservative evangelical position. I am aligned with a conservative denomination and have gone to mostly, although not all, conservative schools. With that being said, I have found it atrocious how some individuals on the right have verbally assaulted Evans, even cheerfully contemplating her slate in hell. Some of the comments I read on social media made me ashamed to be aligned with conservative evangelicalism because of the distasteful and hate-filled rants that were posited. I read everything from how individuals gleefully delighted at the thought that she was burning in hell to how she was responsible for the youth of America straying from the faith. Is this what modern evangelical Christianity has come to?
Didn't someone very important once say, "love your enemies and pray for the ones persecuting you" (Mt. 5:44, translation mine)? Whatever happened to the love that we are supposed to have even for others with whom we disagree? Is not the love that we possess in Christ supposed to transcend areas of disagreement?
Society has most certainly lost its decency. But, unfortunately, the church is caught up in this spiral and is quickly losing its own sense of decency, too. We have become entrenched by the nuances and nuisances of living in a culture driven by social media. Decency has been lost in three areas.
The loss of decency in political opinion. In my 40 plus years of life on planet earth, I have never seen a time where politics has become as polarizing as it now stands. It does not seem as if people from different political spectrums can sit down and discuss issues without the debate becoming hostile. Nearly no one is listening to the concerns of those on the other side. Furthermore, when is the last time that we stopped to pray for those on the other side of the political aisle?
The loss of decency in social discourse. People have lost the ability to debate. Now, if you disagree with someone, you must barrage the person with insults and polemics. Rather than discussing the issues intelligently, now matters from a person's days in high school are mentioned. It's like grown adults are still stuck in their high school days. In fact, I believe people acted more mature in high school before the advent of social media than the way many grown adults behave on social media today.
The loss of decency in theological convictions. We all have strong theological convictions. Evans did. Her convictions often clashed with my own. But again, are we willing to sit down and have an intelligent conversation with a person who holds different perspectives than we do? Are we not supposed to love and pray for those who hold different theological moorings? Isn't there greater power in prayer than posting petulant and obscene posts?
Perhaps part of the issue is a matter of confirmation bias—that is, only listening to individuals who agree with you. Social media has increasingly made it possible for one to strengthen his or her beliefs no matter what perspective one has. Look long enough and I am sure you will find someone who possesses beliefs similar to your own.
But the greater problem is a loss of love. If we as a church cannot mourn the loss of an individual without slamming her beliefs, then how do we expect to make an impact on culture? Why should we expect anyone to listen to our theological expositions on love and grace when we show none ourselves?
Perhaps one of the reasons that people no longer attend church the way they had in times past is partly because we as a church have lost our first love. We have forgotten the importance of love. Remember, Jesus said, "By this will all people know that you are my disciples, if you have love for one another" (Jn. 13:35). This does not mean that we don't stand for what's right and for what's true. But if we do not express the truth in love, will people listen? Do people see the love of Christ in us by the statements we make online and offline? Oh, that we would once again regain our first love for God and for our fellow man! My heartfelt prayers go out to the family of Rachel Held Evans.
Sources
Sarah Pulliam Bailey, "How Rachel Evans Became the Most Polarizing Woman in Evangelicalism," Washington Post.com (Apr. 16, 2015), retrieved May 6, 2019, https://www.washingtonpost.com/news/acts-of-faith/wp/2015/04/16/how-rachel-held-evans-became-the-most-polarizing-woman-in-evangelicalism/?noredirect=on&utm_term=.5aae6d07a9a9
Unless otherwise noted, all Scriptural quotations are the author's own translation.
© 2019. BellatorChristi.com.
Brian G. Chilton is the founder of BellatorChristi.com and is the host of The Bellator Christi Podcast. He received his Master of Divinity in Theology from Liberty University (with high distinction); his Bachelor of Science in Religious Studies and Philosophy from Gardner-Webb University (with honors); and received certification in Christian Apologetics from Biola University. Brian is enrolled in the Ph.D. program in Theology and Apologetics at Liberty University. Brian has been in the ministry for over 15 years and serves as a pastor in northwestern North Carolina.