Mexico rejects abortion imperialism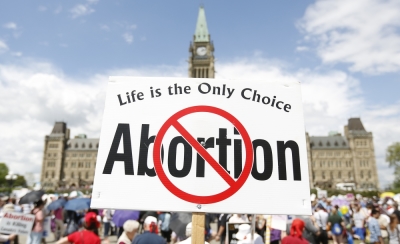 Recently, Mexico's Supreme Court refused a sweeping Roe v. Wade kind of ruling on abortion. This ruling was in response to another by a lower court judge which ordered the state legislature of Vera Cruz to amend its penal code and allow abortion in the first twelve weeks of pregnancy. In a 4-1 decision, the Court ruled that the Vera Cruz judge exceeded his authority.
According to Justice Norma Piña, allowing courts to dictate the meaning of laws written by state legislators would be "to fall into judicial activism." The ruling was an unpleasant surprise for many Westerners (especially Americans) who believe judicial activism is what courts are supposed to do. And of course, progressives expect that as nations such as Mexico develop, they will expand so-called abortion rights and reject what the left-leaning Guardian newspaper called Mexico's "strong traditions of Catholicism and machismo."
Over the last decade or so, Mexican states have repeatedly voted to maintain abortion restrictions. Western promoters of abortion, however, simply cannot imagine a society knowingly and willingly rejecting their ideas. Anyone who disagrees must be either brainwashed, backward, or both.
Obianuju Ekeocha, the founder of Culture of Life Africa, has appropriately labeled this attitude "ideological colonialism" and "cultural imperialism." Ekeocha, a featured speaker for our recent Truth.Love.Together virtual event, has spoken out repeatedly against Western attempts to export a "culture of abortion" to developing countries.
"The issue of abortion," says Ekeocha, "has already been decided by many African countries (who) have decided that abortion is an attack on human life at its earliest stages." On top of that, African culture includes a strong preference for large families.
Rejecting African values and culture, Western abortion advocates instead parallel the worst colonialists of the 19th-century who claimed to bring "Civilization, Christianity, and Commerce" to unenlightened natives.
The same dynamic can be seen in a bill currently being debated in the Kenyan Senate. The "Reproductive Health Care Act" is intended to reduce the number of women who die during pregnancy or childbirth and addresses issues such as family planning, "free [pre]natal care, delivery care and postnatal care," as well as "assisted reproduction services." But the bill also permits abortion in cases where "in the opinion of the trained health professional … the pregnancy would endanger the life or health of the mother."
While this might seem like a narrowly tailored provision, pro-abortion Western groups who support the bill reject any narrow interpretation of the phrase "the life or health of the mother" as a violation of a Western woman's "reproductive rights." Their intent is not to reduce the number of Kenyan women who die during pregnancy. Rather, it's to increase the number of abortions in Kenya and other developing countries.
After all, loosely interpreted phrases such as "the life and health of the mother" have created a highly lucrative regime of abortion-on-demand in the West. The goal is to reproduce — pun not intended — that same outcome in places like Kenya.
The average Kenyan, like many non-Westerners around the world, understand phrases like "the life and health of the mother" very differently, but a few activist judges are all that's required to export what Ekeocha calls the "culture of abortion" to the rest of the world. Though the plan in Mexico was to ignore the expressed political choices of the Mexican people and enlist local elites, thank God that, at least in this case, the Court refused to impose the culture of death on the locals.
Perhaps we can learn a thing or two from our southern neighbors, that an advanced culture need not kill its children or compromise its integrity through judicial malpractice. With our own election looming, we should at least pray to such ends. That's why we are hosting a weekly prayer time, beginning August 12th and continuing each Wednesday until November 4th, the day after the U.S. elections. You can join us via Zoom or Facebook Live each week. Just come to breakpoint.org for details.
And to watch Obianuju Ekeocha's describe the West's abortion imperialism, come to Conference.colsoncenter.org.
Originally posted at breakpoint.org
From
BreakPoint
. Reprinted with the permission of the Colson Center for Christian Worldview. All rights reserved. May not be reproduced or distributed without the express written permission the Colson Center for Christian Worldview. "
BreakPoint
®" and "The Colson Center for Christian Worldview®" are registered trademarks of The Colson Center for Christian Worldview.