One year after Russia invaded, millions of Ukrainians want to go home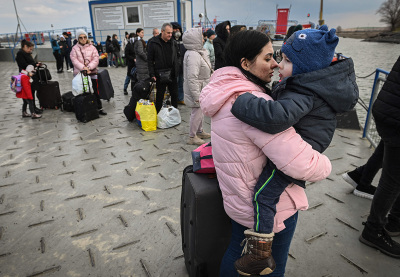 Olga, a mother of three from Odessa, Ukraine, chose to flee with her ailing mother when she realized nowhere in her home country was safe.

They traveled first to Moldova, then to Romania, where they're now safe and receiving support from Bethany Christian Services. Keeping her family together and unharmed has been her central goal for a year now: The first anniversary of Russia's invasion was February 24.

That's one year without their old community. That's one year away from their home, their family, their culture, and their way of life. And she's just one of 7.5 million Ukrainians who fled their homeland during the war.

At first, the outpouring of prayers and support for Ukraine was overwhelming. One year later, they've largely fallen out of the news cycle.

But they need our help more than ever. Ukrainians facing a brutally cold winter with gas shortages, as well as the ongoing trauma of a yearlong war. They are exhausted, and they still don't know when they'll be able to go home for good — and they desperately want to do so.

Overwhelmingly, the reported reason for returning to Ukraine in spite of active conflict is a simple desire to go home and to be reunified with family. Over 6 million return trips to Ukraine have been documented since the beginning of the war. Most of these have been attempts to visit family members, collect documents, or check on property. In the long term, 81% of displaced Ukrainians hope to return home permanently.

It's important that we do everything we can to make that return home possible. Pray fervently alongside us for a peaceful end to the conflict. Donate to organizations involved in crisis support for the families who suffer as it continues. Advocate on their behalf when you see the opportunity. If you can, volunteer in refugee support programs in your area or in the nations that now harbor so many Ukrainians.

But they also need our support as they wait out the war — and there are real, practical steps we can take to help. Bethany's own programming focuses, among other things, on family strengthening and reunification. And that isn't just because Ukrainian families want to stay together. They need to stay together, now more than ever. Every person deserves to feel safe, loved, and connected — and families provide that best.

That's why we focus on offering wraparound crisis support, psychosocial services, medical and material supplies, transport, and legal assistance to Olga's family and others like hers.

These vulnerable, precious families are the future of Ukraine. What's more, we as American Christians have been given a rare opportunity to witness and minister to them in their moment of greatest need. Their future, and their nation's future, depend upon it.
Tawnya Brown serves as Senior Vice President of Global, Refugee, and Immigrant Services at Bethany Christian Services.