Pro-choice and Superbowl LIV's halftime show: Over promising, under delivering in empowering women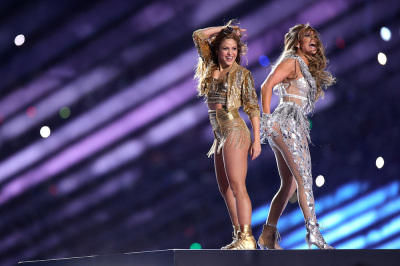 Several weeks ago pro-life advocates, both Evangelicals and Catholics, descended upon our nation's capitol for the March for Life. The theme for the 2020 March was "Life Empowers: Pro-life is Pro-woman." The pro-abortion or pro-choice movement has long presented their agenda as "a woman's right to choose," and argued that they, in fact, are the ones who are actually pro-woman.
Abortion as a pro-woman strategy, however, over promises and under delivers. In reality, abortion is neither about helping a woman attain her goals, nor escaping harmful relationships or finding lasting support. Abortion is simply a cold, relationship-ending procedure which takes the life of both baby boys and girls and leaves a woman empty and childless. Leave it to marketing and talking points to turn an act of death and emptiness into a movement and a cause.
The same pro-abortion lobby that champions abortion as pro-woman also accuses Evangelicals, the Church and the broader pro-life movement of objectifying and demeaning women. The pro-abortion lobby has looked to religious institutions and the Church disparagingly by pointing fingers at an "antiquated" view of women and family from the Bible by blaming a Christian view of marriage as the root cause.
Yet after Sunday's Super Bowl Halftime performance, lauded as the first Latina act to headline the Super Bowl, we are left with a puzzling view of women's empowerment. Two brilliantly talented women were completely objectified, complicit as they may be, in front of a worldwide audience. The act contained no shred of modesty as if to say that the only way a woman can perform at halftime of one of the world's most watched sporting events is if she appears half-naked and dances on a pole. While I could not bring myself to watch the performance in its entirety, I read enough and saw enough to know that this show did nothing more than show a false picture that a woman is nothing more than sensual and sexual.
During an event that according to the Polaris Project is one of the most visible days for human trafficking and exploitation, two women gifted by God and made in His image, embarrassed themselves by demonstrating the exact view and desire that human traffickers standing outside of Miami's Hard Rock Stadium hold. Jennifer Lopez and Shakira sadly missed a massive opportunity to show little girls and boys watching at home that women can sing and perform without making it sexual.
In praising the performances, People Magazine said, "After shedding her studded black leather bodysuit for a sparkly silver one, Lopez showed off moves of her own on a stripper pole, echoing her role as a stripper in the movie Hustlers." Continuing, the article comments that Shakira was dressed in a sparkling tight two-piece and showed off her tongue in a moment that will go down forever in Internet infamy. 
This performance at the Super Bowl is just another in a long line extending from Janet Jackson's wardrobe malfunction that has turned the most widely watched sporting event into a moment when families with children need to turn off the television. Not only is this not pro-family or pro-child, it is not pro-woman. In contrast, acts such as these fuel the abortion industry, which relies on men desiring women physically and then fleeing the moment she finds out she is pregnant.
Being pro-life is pro-woman because it means that we love women and fight for their dignity and honor. It's the pro-life advocates who are also fierce defenders of family and strong advocates for men taking responsibility. It's the Church of Jesus Christ that has long been the leader in caring for vulnerable women and children.
In AD 125, the Apology of Aristides described the Church in this way, "They do not worship strange gods, and they go their way in all modesty and cheerfulness. Falsehood is not found among them; and they love one another, and from widows they do not turn away their esteem; and they deliver the orphan from him who treats him harshly. And he, who has, gives to him who has not, without boasting."
Long before abortion came to be seen as a women's rights issue, the Church was defending the dignity and honor of young women; however, in the church growth movement that flourished in the 1980s, churches began catering to the preferences of women and children while simultaneously failing in the discipling of men to cherish and love those same women.
Our children and families are reaping the consequences of this dramatic shift. The U.S. now leads the world in no-contest divorces. Millennials are abandoning marriage as an institution. Men are pleasing themselves selfishly by impregnating women and fleeing. Consequently, abortion is being used as birth control.
When the Bride of Christ loses its influence to affect culture, marriages crumble, children struggle, and healthy families dwindle. The Church must be the shaping force of culture and cannot waiver in standing on her convictions and principles in the name of love and inclusion. Mercy and justice must not be replaced by fussiness or mere politics.
Men, we are called to love our wives like Christ loved the Church. This means that we love this precious, image-bearer of God even when the dailiness of life seems boring, even when her sin makes her unlovable, even when she wounds our ego, or even rebels against our love. 'Til death do us part.'
As the Church, we have to be the protector of all image bearers. In the end, it's appropriate that the March for Life 2020 was labeled as, "Life Empowers: Pro-life is Pro-woman," because in the abortion debate, protecting all life is truly the only pro-woman stance.
Herbie Newell is the President and Executive Director of Lifeline Children's Services and its ministry arms including (un)adopted, Crossings, Families Count and Lifeline Village.   Lifeline has achieved international accreditation under The Hague Treaty and started its (un)adopted strategic orphan care ministries in more than 10 countries.  Herbie and his wife, Ashley, live in Birmingham, Alabama, and are parents to a son, Caleb, and daughters Adelynn and Emily. His first book Image Bearers: Shifting from Pro-Birth to Pro-Life, released on January 21, 2020.