The Angel Gabriel's Amazing Prophecy of "The Christ"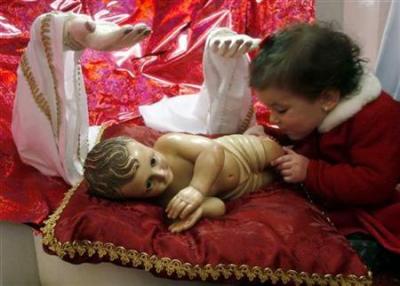 Before "The Anointed One" – "The Christ" of Christmas – was born, what did the ancient peoples in the east know about Him and why were they eager for His upcoming ministry? What background knowledge may have been available to the Magi (the famous wise men who visited and worshipped the baby Jesus) and other highly literate people? What mattered to them is intensely important to us now, too.
Daniel's passionate prayer for forgiveness was already remarkable in three ways. First, within 16 dramatic verses in Daniel 9 he finds 13 different ways to ask God's forgiveness for himself and the Jewish people. Second, Daniel concludes his historic prayer pleading for God's attention. He is even demanding: "Lord, listen! Lord, forgive! Lord, hear and act!" Daniel lived a life of obedience to God and intimacy with the Lord – including faithful prayers near his window and in the Lion's Den – and other places. Third, at the end Daniel appeals to God's own Name. "For your sake, my God, do not delay, because your city and your people bear your Name." It is truly about God's Name then and now. Notably, all the names in Daniel 9 already give specific reference the Lord God: "Israel" = Power with God, in two senses; "Daniel" = God is my Judge; "Gabriel" = God is my Strength; and "Jeremiah" = Exaltation of the Lord. In Daniel's life, God's Name was not used in vain.
One of the most remarkable prophecies of The Christ was then entrusted to Daniel – whom many love and admire for his remarkable courage and devotion to the Lord – immediately after his intensely deep prayer that God forgive his people Israel and himself (Daniel 9:1-19). Sent on a special mission to Daniel at the beginning of his prayer, the angel Gabriel revealed core aspects of Messiah's work and ministry. Most amazing is the formula he gave to Daniel for calculating the time of Messiah's upcoming appearing and ministry. Talk about one more way that prayer changes things.
Very significantly, in this historic story Daniel notes that Gabriel arrived at "about the time of the evening sacrifice" (9:21). Curiously, since the Temple had been destroyed about 70 years before, there was no evening sacrifice. However, Daniel still grieves over that horrific loss and continuing spiritual vacuum. No Temple. No Tabernacle. No evening sacrifice. But Daniel still observed the daily moment.
Moreover, Daniel's timely reference to the broken sacrifice system is also awesome background information preparing us for Gabriel's amazing revelation. Gabriel announced the astounding truth that the divine Messiah would also become the ultimate Sacrifice, "put to death, but not for himself" (9:26). About one hundred years earlier, Isaiah had alluded to the same stunning fact in Isaiah 52 and 53. For example, in Isaiah 53:5-6, that prophecy ironically twice focused especially on God's honored Servant paying for our iniquities, our inward sin condition:
But he was pierced for our transgressions,
he was crushed for our iniquities;
the punishment that brought us peace was on him,
and by his wounds we are healed.
We all, like sheep, have gone astray,
each of us has turned to our own way;
and the Lord has laid on him
the iniquity of us all.
And then in verse 11 Isaiah adds:
By knowledgeof him, my righteous servant will justify many,
and he will bear their iniquities.
In Gabriel's prophecy given to Daniel, the coming Messiah – "The Anointed One," "The Christ" – was going to (1) finish transgression off, (2) make an end to sins and (3) make atonement for "iniquity," the inward sin condition – and do even more (9:24)! God's grace is so awesome! The Christ is not primarily a political force, but he atones for even our iniquities!
At this time, Daniel's own hope was that the Messiah would come to complete these needed ministries very soon. Personally, he was now well into his 80s, having experienced first-hand the gruesome Babylonian destruction of the Temple and Jerusalem, having been a captured slave brought to Babylon, and now having lived through nearly all of the prophesied 70 years of the Israelites' Babylonian captivity (Daniel 9:2 and Jeremiah 29:10).
However, when Gabriel gave him the prophecy, he indicated that the Messiah (sometimes literally translated "the Anointed One" or "the Christ") would do his main work after seven "sevens" (49 years) and then sixty-two "sevens" (434 years) – for a total of 69 "sevens" (483 years) after the work of restoring Jerusalem would begin. This would be a long time after Daniel. He would not live to see Messiah on earth. But Daniel was thrilled that the Messiah would atone for all iniquity. Daniel's prayer was answered in a very significant way.
The work of the restoration of Jerusalem that would start Gabriel's count-down to Messiah's ministry was authorized by Cyrus in around 538-536 BC, at about the time of Gabriel's prophecy. However, it did not begin under Cyrus. Nevertheless, that Jerusalem-restoration work began 80 years later in the reconstruction of the Temple under the Biblical Ezra in 458 BC, authorized and supported by Emperor Artaxerxes. Gabriel's prophecy clock for 483 years starts at 458 BC. More reconstruction for the rest of Jerusalem was led by Biblical Nehemiah beginning in 444 BC, also authorized and supported by Emperor Artaxerxes. These dates would place the Messiah's ministry to begin literally 483 years after 458 BC, according to Gabriel's prophecy – which would be AD 25.
In AD 25, Jesus was about 30-years old (since Jesus was likely born in 5 BC). This was the very time of the beginning of Jesus ministry (Luke 3:23). Gabriel's amazing prophecy had a wonderful fulfillment in Jesus!
Even more amazingly, as we mentioned earlier, Gabriel revealed to Daniel the deep, ironic, and stunning mystery of the Christ's ministry – that "the Anointed One will be put to death, but not for himself" (Daniel 9:26 NIV's literal translation in a footnote). God's promised "Anointed One," the Messiah, would not rule as a new emperor, but as one who would die for others. This is a shocking, life-changing prophetic revelation that is so deeply essential to the precious grace of the Gospel – fully revealed in Jesus of Nazareth.
Perhaps the very literate Magi later understood that the Messiah would need to be around 30-years old to accomplish such a ministry – and so they were ready and eager to travel a great distance "from the East" when they saw the special Bethlehem Star in about 5 BC. After all, Daniel wrote down this prophecy in his book while he was in Babylon (present-day Iraq). Daniel's book was important enough to be widely read among very literate peoples in Persia, India, and perhaps even China and elsewhere in the East – both (1) because of Daniel's deserved reputation as an intensely wise sage, and (2) because he had served three successive powerful emperors as a very wise, competent and trusted advisor and government leader. Besides, as an official advisor to emperors, (3) Daniel himself was one of the "Magi" of his own time, a wise-man, a wise-person – in a role similar to the later Magi at the time of Jesus' birth. The Magi were not kings, although some Magi were kings' advisors, kings' wise-persons, as was Daniel.
By God's grace, the Joy of Christmas freely made available to everyone is deeper than we can ever realize in this world. Still, the deeper truths of God's long-standing grace-filled plans – such as those revealed to Daniel, one of the Lord's most impactful servants, and from Daniel to us – can help make our Christmas joy even more joyous, even more profound. By grace, helping to bring Joy to the World is now our awesome purpose and our ministry.
Paul de Vries, PhD, is the president of New York Divinity School, and a pastor, author, and speaker. He is a specialist in Biblical hermeneutics and ethics and a life-long advocate of Biblical activism.
Dr. Paul de Vries is the president of New York Divinity School, and a pastor, speaker and author. He is a specialist in Biblical hermeneutics and ethics and a life-long advocate of Biblical activism.