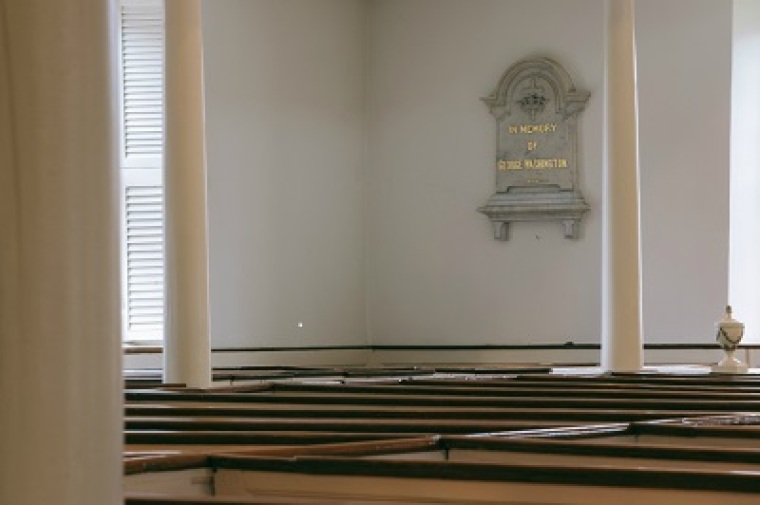 The suburban Washington church known for its historical ties to George Washington and Robert E. Lee made headlines last year when it decided to remove monuments of the country's first president and the controversial Confederate general.
Christ Church in Alexandria, Virginia, sits prominently a block off King Street, the main thoroughfare, on Washington Street (how appropriate!) in the city's Old Town district. Nearby you find a mixture of colonial and faux colonial architecture intermixed with 19th century townhomes and some modern edifices. The architectural styles vary, but brick is predominant.
This gives the city a charming appearance, much like Georgetown but with slightly more affordable real estate and considerably better public schools than the nation's capital.
Designed by the architect James Wren, of no relation to the considerably more famous Sir Christopher Wren, Christ Church was built between 1765 and 1773. Back then it was a parish of the Church of England, when the established church of the mother country was also established in Virginia and some of the other original 13 colonies.
As such, it epitomizes the stereotype that many have of the Episcopal Church — you know, the church of presidents and the establishment. While that was true once upon a time, Episcopalians today are increasingly uncomfortable with their history, particularly against the intersectionality that dominates Mainline Protestant denominations.
The parish's Vestry, a quaint Anglican term for the church council or board of directors, decided Washington and Lee's individual records on slavery was indefensible even against the greatness of America's first president. Because memorializing the simple fact that Washington and Lee sat in their pews made some, to quote the church, "feel unsafe or unwelcome" the monuments had to come down.
This provoked significant controversy. Just consider the following sensational headline, "Washington and Lee's Christ Church to obliterate their memorials over slave ownership."
When I visited Christ Church on a recent Saturday morning I was surprised to find the Washington and Lee monuments still up. Turns out, they haven't been taken down, at least not yet. And by the way, it really isn't accurate to call them monuments. While identical to each other, save for engraving, they are little more than glorified plaques that, frankly speaking, look like low-budget gravestones.
The friendly docent on duty that morning, who confessed he was a Roman Catholic married to an Episcopalian, was open about discussing the controversy.
He said the overwhelming majority of visitors — the church is one of Alexandria's main tourist sights — were against removal. I asked him for a rough percentage.
"It isn't even close," he said. "Everyone wants them to stay up."
Most visitors are surprised to see such simple monuments, he says. Apparently, many have the impression that the church has statues of Washington and Lee.
"This is an Episcopal church," he told me, stating what I thought was the obvious. "Catholics have statues."
For starters, that's just not true as there are plenty of so-called Anglo-Catholic parish churches with statuary of Mary or other saints. Regardless, I understood he was pointing out that much grander monuments than the plaques to Washington and Lee are being removed across the Old Confederacy.
I disagree with the reason Christ Church gave — they need a better public relations adviser — but I agree they should come down.
Not because I support the whitewashing of history. I don't. Rather, neither monument is in keeping with the mostly 18th century interior. In fact, both are actually quite modern, having only been installed in 1870.
Christ Church is a fine example of Georgian church architecture. It is also a style that, unlike Romanesque (Norman) or Gothic, was never really revived.
It should be preserved, which means removing the Washington and Lee monuments.
Spires and Crosses is published every week.