What About the Me In #MeToo?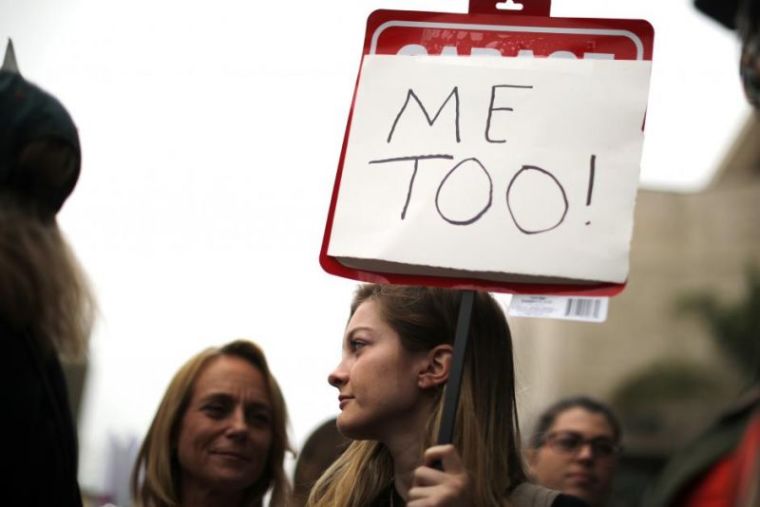 On October 15, 2017, Alyssa Milano tweeted, "If all the women who have been sexually harassed or assaulted wrote 'Me too.' as a status, we might give people a sense of the magnitude of the problem." By the end of the next day, #MeToo had been tweeted more than 500,000 times and the hashtag had been used on Facebook by more than 4.7 million people. Now, months later, the momentum of this movement has not slowed, it's created an international tsunami, with the hashtag having trended in at least 85 countries.
Swept up in the flood are dozens of men who have been identified and exposed as being guilty of sexual harassment or assault, often leading to the demise of their reputations and careers.
Personally, I'm grateful for that. There should be consequences for crimes, perhaps especially so when the powerful prey on the weak. The prophet Amos implored, "Let justice roll on like a river" (Amos 5:24), and that's happening. Men who think women can be used and abused for their pleasure—men who are guilty of using their positions and power to intimidate, exploit, or assault women—are getting thrown against the rocks of repercussion by this wave of justice.
"Me Too" was actually coined by social activist Tarana Burke on Myspace in 2006. Burke created the campaign to promote "empowerment through empathy," for women who had experienced sexual abuse, especially women of color. Burke was inspired to do something after a 13-year-old girl told her she had been sexually assaulted. Heartbroken, Burke couldn't find any words to say to comfort the girl. She later realized she wished she had simply said, "Me too." Burke believes that listening to victims and taking them seriously is often what they need most.
I'm not so sure.
As a son of a woman, the husband of an amazing lady, and the father of a 16-year-old daughter, I am grateful for Tarana Burke and Alyssa Milano and other brave women who have brought this issue to the forefront of our social consciousness. Calling attention to, and—please God—bringing an end to sexual harassment and abuse is absolutely necessary.
In fact, it's long overdue. But it's incomplete. It's not enough.
The attention these last few months has been placed almost exclusively on the misconduct of the perpetrators, but the question I keep asking is this: What about the misery of the victims? They've had to live with gaping wounds because of what was done to them and in the shame of what happened.
Yes, they need to be listened to, and yes, they need to be taken seriously, but I don't believe that's what they need most. They need a path to healing.
It's time for sexual predators to face judgment, but it's also time for sexual victims to find healing.
I'm afraid that, far too often, people don't find healing; they don't how or where to look for it. Not just victims of sexual abuse, but people with all kinds of hurts in their pasts, which, unaddressed, often lead to all kinds of shame and self-destructive behavior. In doing research for starting a recovery ministry and writing a book on how we heal from our hurts, I interviewed rehab clinic directors. One told me, "Addicts feel desperate, so they cry out for help. Normal people feel desperate, so they watch TV." So often we don't know what to do with our pain, so we simply try to escape from or medicate it.
My heart aches for the victims using the #MeToo hashtag, and I know they don't just need justice or to be taken seriously. How do I know that? #MeToo. Well, more accurately, #MeKindaToo. I have notbeen sexually abused, but I was abused by my father. Growing up I experienced years of intimidation, name calling, fists through walls and in my face, running, and fear. My father wounded me. For years after I just stewed in toxic shame and bitterness, which poisoned my life and relationships.
Yes, I wanted justice, and, yes, it helped when I was finally heard, but what I really needed was a path to healing.
Unfortunately, I didn't know how. I tried on my own. I welled up my will power to try to forgive, to move past my past, to convince myself I was ok. But I wasn't ok, and my attempts at "self-healing" were inadequate and ineffectual.
That's when I went to rehab. I was twenty-nine years old. (It took me quite a while to get to "That's when.") I went to a recovery program that was designed for a problem I didn't have, hoping it could help me with the problem I did have. Honestly, I didn't have much faith that it would work. A few years later I went to another. It was also not designed for people who had been abused by and who hated their fathers, but I was desperate, and I wondered if maybe the steps of healing and recovery for other issues could apply to mine.
They did.
Through the principles I learned I finally found a way out of my shame, a way past the bitterness, and a way into freedom. The way out wasn't through my power but through God's power. It was real, it was tangible, and it transformed me. To my surprise, everything in my life changed. My wife would tell you I'm a different person.
I've been able to share those principles with people who attend my church and in our recovery ministry, and I've seen them help all kinds of people who have experienced all kinds of hurts. In fact, I recently authored a book called Restore: Break Out of Your Past and Into God's Future, which shares a path to healing for those of us who are still hurting.
My prayer for victims of sexual abuse is that this movement would take them beyond #MeToo to #MeHealed.
Vince Antonucci is the pastor of Verve in Las Vegas and the author of Restore: Break Out of Your Past and Into God's Future.