What Nigeria's presidential election means for beleaguered Christians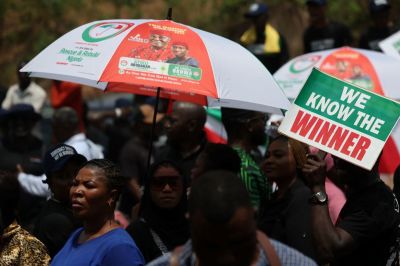 For years, Nigeria has earned the dubious honor of being the most deadly country on planet earth for Christians. While they comprise 49% of the population, Nigerian Christians are at great risk of violence, discrimination, and social ostracization by the country's many extremist Muslims. In 2022, more than 4,000 Christians were killed by terrorists in Nigeria.
In the lead-up to the country's presidential election, held on Feb. 25, many hoped new leadership would open the door for Nigeria's transformation into a place marked by religious freedom and protection. When the ballots were finally tallied, Bola Tinubu, a Muslim candidate from the ruling All Progressives Congress (APC), was declared the winner.
While some religious freedom advocates worried that a Tinubu victory would serve to perpetuate the status quo, there are many reasons to maintain hope that he can usher in a freer Nigeria. While he admittedly has his work cut out for him, Tinubu can turn the tide of Islamist extremism and make Nigeria safe for Christians again.
After eight years, outgoing President Buhari and his administration have left parts of Nigeria on the verge of collapse. Under his watch, the northern part of the country has become a frontier for Islamic extremist groups, warlords, and violence. What began as a crisis of human rights and religious freedom, has now tipped the country into a position where many experts believe Nigeria is already a failed state.
More Christians are killed for their faith in Nigeria than in all other countries combined. The tragedy at St. Francis Catholic Church in Ondo State is just one example of the senseless attacks that have recently taken place in the country. In June 2022, terrorists armed with explosives stormed into the church during a service, shooting those who tried to escape and killing dozens. Global Christian Relief, the organization I lead, is helping the Christian community in Nigeria with trauma care and other aid. I have heard firsthand the shock and fear that the community is experiencing, and trust me, it's harrowing.
Leading up to this election, many religious freedom advocates hoped that third-party candidate Peter Obi, a self-avowed Christian, would be swept into office. In the end, Obi only earned about 25% of the vote. While President Tinubu is a Muslim himself, his faith tradition does not necessarily compromise his ability to lead the country toward a more just future. He made assurances along the campaign trail that he will not run his administration on the basis of religion. It's also notable that Tinubu's wife is a Christian and an ordained pastor of the Redeemed Christian Church of God.
Civil society must protect churches, synagogues, and mosques. Tinubu needs to focus like a laser on the key issue: dealing with extremists head-on to protect religious freedom and faith communities in Nigeria while restoring order and stopping the literal bleeding.
In many ways, the situation in Nigeria represents what is taking place across the greater African continent. Nigeria's northern states are largely Muslim, while southern states are predominantly Christian. The rising violence in the country began more than a decade ago when extremist groups, funded largely by ISIS sources, began attacking Christian minorities in the northern states. Twelve states in northern Nigeria now impose Sharia law and the violence has caused over two million people to flee to the south. Sadly, more than 10 Christians have been killed on average every day for the last several years.
The Buhari administration proved to be incompetent, perhaps willfully so, when it came to dealing with extremism. He claimed Boko Haram had been defeated while continuing attacks by the group proved that was not the case. Well-equipped and technologically advanced, terrorist groups like Boko Haram and Islamic State West Africa Province follow sophisticated patterns. They cut off a community's communications by sending jamming signals and then move in to burn and attack known Christian homes, businesses, and churches. When people try to escape, the terrorists have already set up roadblocks to trap and inflict further injury.
The Biden administration has been tip-toeing around the issues concerning Nigeria, failing to do everything it can to help strengthen the country. Despite evidence of egregious human rights violations against Christians and religious minorities, the U.S. State Department inexplicably removed Nigeria from its Countries of Particular Concern (CPC) list in 2021 and refused to add it back in 2022 despite much public confusion and outcry.

Nigeria immediately needs to be added back to the CPC list. Not having that designation in place prevents the U.S. from publicly recognizing the full scope of the problem and imposing targeted sanctions on bad actors there. The State Department and Biden can play an important role in helping Tinubu create Nigeria so many hope for.
The U.S. also needs to appoint a special envoy. In 2001, President Bush appointed John Danforth as a special envoy to Sudan when that area spun into chaos. A special envoy can coordinate responses across borders and bring together regional governments to coordinate more effectively to stop terrorism. Our embassy in Nigeria has fought this, and thus far the State Department has followed their lead, but the current crisis now demands a wider lens. Neighboring countries like Burkina Faso, Mali, and Cameroon are all facing escalating violence from Boko Haram, ISIS West Africa, and others.

As Africa's largest nation with 220 million people, and abundant natural resources including oil, natural gas, and minerals, Nigeria is primed to be the continent's economic leader. It could also become Africa's religious rights leader. For this to happen, President Tinubu must work to regain the people's trust and President Biden must leverage every tool available to make sure that Nigeria and the Sahel region do not become the next caliphate of murder. Only time will tell if both leaders are up for the challenge.
Dr. David Curry is President and CEO of Global Christian Relief (GCR), America's leading watchdog organization focused on the plight of persecuted Christians worldwide. In addition to equipping the Western church to advocate and pray for the persecuted, GCR works in the most restrictive countries to protect and encourage Christians threatened by faith-based discrimination and violence.